Henry's Quick Pickle Sticks 

A lot of people think that pickle recipes are both complicated to make, and then need time in the jar before you can eat them. Whilst that can be true, these pickled courgettes are so simple to put together – just 20 minutes – and can be eaten the very next day. A great accompaniment to cheese, cold tapas and pies.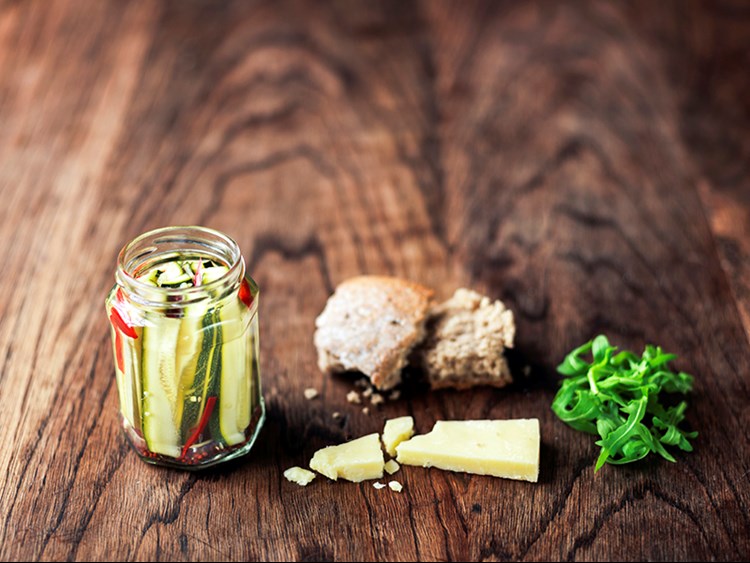 Recipe
Ingredients
120ml organic cyder vinegar
40ml water
pinch of salt
1 dessert spoon of white sugar
1 courgette
1 garlic clove
1/2 fresh red chilli
1 tsp black mustard seeds
Method
1. In a small pan heat the vinegar, water, sugar and salt until the sugar has dissolved.
2. Cut the courgette in half to shorten; halve again lengthways; then slice again lengthways to the thickness of a pound coin
3. Half, de-seed and thinly slice the chilli lengthway, halve and thinly slice the garlic
4. Arrange the vegetables with the mustard seeds in a pre-prepared sterilised jar (approx 200ml) so the courgette slices are upright with garlic and chilli showing against the side of the jar.  Add the vinegar solution to cover the courgette sticks (add extra vinegar if necessary).
5. Allow the pickle to cool before storing in the fridge. The pickle should keep for about a week. 
Please visit Aspall's for the original and for more delicious recipes!