Lamb with butternut squash & almonds
Higher Hacknell's Organic Lamb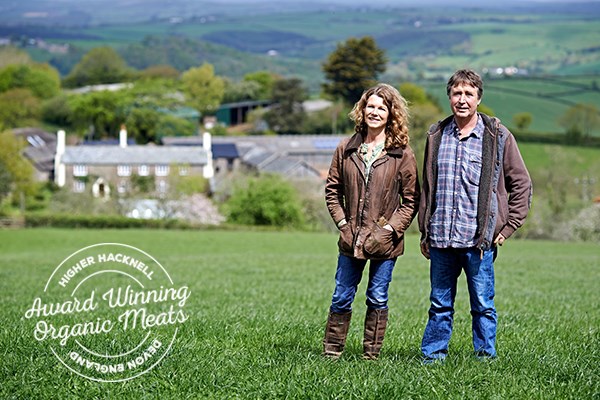 Serves 2
Ingredients
2 x 2 lamb loin chops, cutlets or Barnsley Chops (double chop)
1 small Butternut squash
8 sprigs of thyme
2 tbs butter
100g blanched almonds
Sea salt and freshly ground black pepper
Extra virgin olive oil
Method
Preheat an oven to 180oC. Slice the butternut squash in half lengthways and scoop out the seeds. Score the flesh deeply, drizzle with a little olive oil and sprinkle over salt, pepper and the leaves from the thyme. Place in the preheated oven and cook for 45-50 minutes or until tender.
Meanwhile, toast the almonds in a small frying pan over a medium heat until golden on all sides. Remove and crush to a rough breadcrumb texture in a pestle and mortar.
Once the squash is cooked scooped the flesh out of the skin and place in a blender with the butter. Blend to a smooth puree and keep warm.
To cook the lamb, season the chops on both sides, heat an ovenproof frying pan over a high heat. Drizzle the lamb with olive oil and place into the hot pan. Cook on either side for 2-3 minutes, or until lightly coloured and cooked to your liking. If the chops are large or thick and need longer to cook place the pan in the oven for 3-4 minutes. Remove and rest until ready to serve.
To serve, roll the lamb in the crushed almonds. Reheat the puree if necessary in a small pan with a knob of butter. Taste and adjust the seasoning if needed. Spoon the puree onto a serving plate, top with the lamb and serve immediately.

Find out more amazing organic recipes or order your organic meat visit Higher Hacknell farm's site.