Scottish Smoked Salmon Pancakes
Beremeal Pancakes with Loch Duart Salmon, Connage Highland Dairy Crowdie and Phantassie Organic Beetroot.
A great lunch or brunch alternative for Pancake day by the talented Neil Forbes of Café St Honoré in Edinburgh www.cafesthonore.com
Follow Neil: @ChefNeilForbes
"I'm a passionate supporter/user of Orkney beremeal – so this seemed to be a perfect fit to celebrate Pancake Day in Scotland!"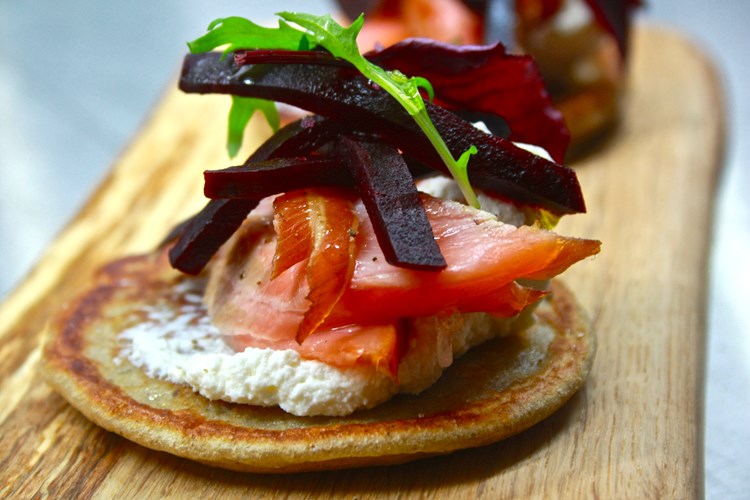 Ingredients
Serves 4 (2 pancakes per person)
125g beremeal
125g plain flour
2 eggs
250ml milk
Pinch of salt
100g salt for curing
Twist of pepper
A handful of smoking chips
300g piece of salmon
4 spoons of crowdie
1 medium beetroot
Lemon juice to taste
A few salad leaves
Knob of butter
Method
Boil the beetroot for 1 and 1/2 hours until soft, allow to cool. Slice into strips.
To cure the salmon, combine 100g salt with 600ml water and dissolve with a little heat to make a brine. Allow this to cool, then submerge the salmon in the brine and leave for 1 and 1/2 hours. Remove the salmon from the brine and lay on oiled cooling wire.
Place a handful of oak chips on a large sheet of kitchen foil and fold into a parcel.  Stab a few holes in the top and place in a pan. Lay the cooling wire with the salmon on top, and upturned pan on top of that to sandwich the salmon in between. Smoke the salmon on a medium heat for 20 minutes until just cooked. Allow to cool.
To make the pancakes, combine the beremeal, flour, eggs, and milk with a pinch of salt and pepper and whisk into a thick batter.
Heat a little butter in a non-stick pan or girdle and ladle the batter into the pan and cook like a Scotch pancake for around 5 minutes on each side.
To plate, spoon the crowdie onto the warm pancakes, then flake on the salmon with a twist of pepper and lemon juice to taste. Next, arrange the beetroot on top and garnish with salad leaves.
Makes a great brunch or lunch dish.