Spinach Soup with Wild Garlic Toasts
This delicious recipe from Adam Gray uses wild garlic to bring extra flavour into this delicious organic spinach soup and creamy cheese toasts on the side.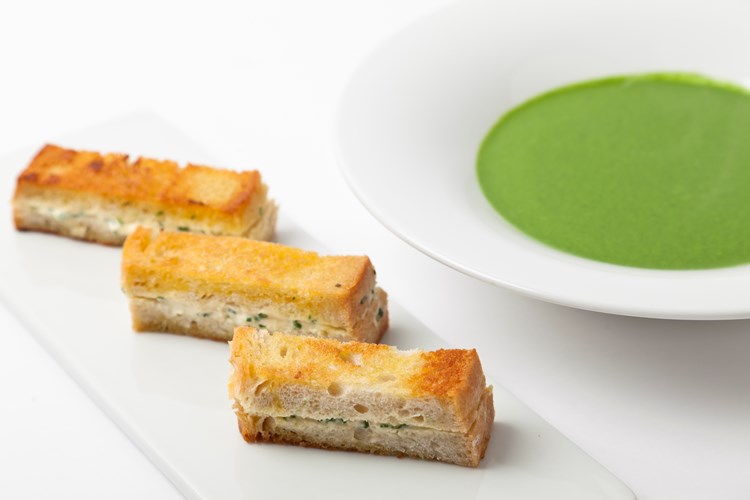 Organic Spinach Soup
Ingredients
1.5kg organic spinach leaves – washed
250g shallots – peeled and finely sliced
200g organic potatoes – peeled and finely sliced
1.2 litres vegetable stock - boiling
50g wild garlic leaves
50g unsalted Organic butter
Salt
Ground white pepper
Method
Melt the organic unsalted butter in a thick bottomed sauce pan. 
Add the sliced shallots and potato. 
Cook the potatoes and shallots with no colour until they start to soften.
Add the picked, pre-washed organic spinach leaves and wild garlic leaves. 
Cook for a further minute only
Add the boiling stock and liquidise immediately to retain fresh, green colour
Pass through a fine sieve into a bowl over ice. 
Season to taste with salt and pepper
Wild Garlic Cheese Toasts
Ingredients
200g Philadelphia cream cheese
30g wild garlic leaves - finely chopped
1 egg yolk
Salt
Ground white pepper
Method
Mix all ingredients together and season to taste
Slice top and bottom off a small brown organic wholemeal roll and then cut in half.
Spread 2-3mm thick cheese mix on onside of one half of the roll, evenly.
Place the other half on top, making sandwich. 
Place in fridge for 10-15 minutes to set.
Place the sandwich in hot fry pan with rapeseed oil and fry on both sides until golden brown.
Serve with spinach soup on the side.