Rice And Quinoa Tabbouleh
This recipe from Clearspring uses their quick cook rice & quinoa for an alternative version of the classic tabbouleh salad from the Middle East. This recipe has inspirations from South American and Japan:
"Bursting with flavour from fresh herbs, tabbouleh is a classic Middle Eastern salad made with Bulgar wheat. By using Clearspring's Quick Cook Rice & Quinoa I've made this dish more substantial and for a Japanese twist I've added a miso dressing. Dress it up by using a serving ring for pretty presentation, or make a double quantity for a packed lunch the following day.
Quantities are somewhat approximate - experiment with any fresh herbs you have, this would also be delicious with coriander."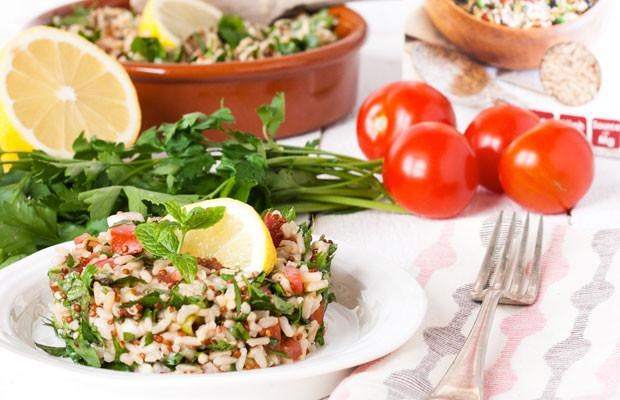 Serves 2 - Preparation time: 15 mins - Cooking time: 10 mins
Ingredients
160g Clearspring Quick Cook Rice & Quinoa
Juice ½ lemon
1 tbs sweet white miso
1 tbs extra virgin olive oil
Dash of tamari soya sauce
6 medium sized tomatoes - finely chopped
25 bunch flat leaf parsley - finely chopped
3 stalks of mint - finely chopped
2 spring onions - finely chopped
Method
Bring a large pan of water to the boil, add the grains and simmer for 10 minutes.
Drain and rinse with cold water to cool.
Whilst the grains are cooking put the lemon juice, miso, olive oil and tamari into your serving bowl and gently stir to mix.
Add all the other ingredients, mix well and allow to sit for 30 minutes to allow the flavours to develop.
Garnish with a few slices of lemon and extra herbs to serve.
Recipe, photography & styling by Helen Best-Shaw, Fuss Free Flavours, for Clearspring Ltd.