Black Lentil And Salsa Verde Salad
An easy salad with asparagus, black lentils and cherry tomatoes that's simple to make, healthy and great after exercise:
"This simply beautiful and tasty salad is high in protein, so it's perfect for a high-energy day after a workout. If you're pushed for time, you can buy pre-cooked lentils; but you might need slightly less than the weight listed below."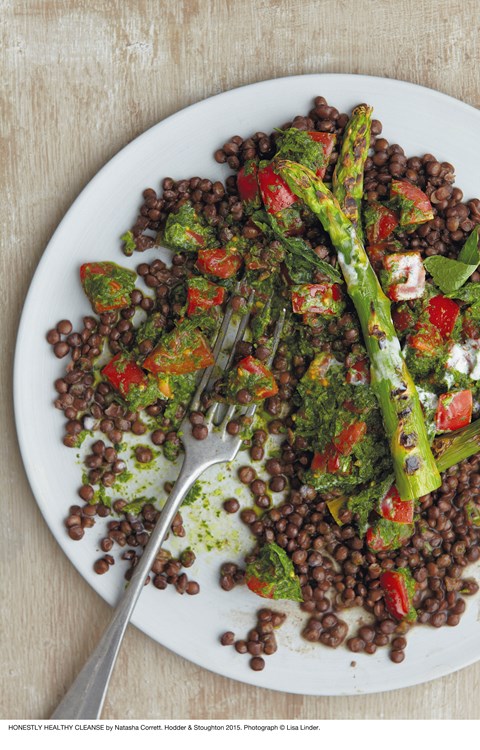 Ingredients
(serves 2)
100g dried dark speckled lentils or Puy lentils
1 tsp rice wine vinegar
20g sorrel
10g mint
10g coriander
65ml olive oil
finely grated zest and juice of 1 lime
200g baby tomatoes, chopped
sesame oil, for griddling
250g asparagus
Himalayan pink salt
Ingredients, mint yogurt
(optional)
120ml goat's milk
yogurt or coconut milk yogurt
10g mint leaves
¼ tsp smoked paprika
Method
Cook the lentils according to the packet instructions. When cooked, stir in the rice wine vinegar and set aside.
Next, make the salsa verde. Put the sorrel, mint, coriander, olive oil and lime juice into a food processor or blender and pulse until you get a chunky texture. Alternatively, chop and combine them by hand.
Transfer this salsa verde to a bowl and stir in the chopped tomatoes.
Add a splash of sesame oil to a griddle pan over a high heat and grill the asparagus each side until soft and striped with lovely dark charcoal lines.
Put the lentils on a serving plate and season with salt. Then, pile the salsa verde–tomato mixture and asparagus on top, with a final garnish of lime zest. If you'd like to have this salad with the minty yogurt, simply mix all the ingredients together in a separate bowl and serve alongside.
© Natasha Corrett.  Recipe taken from Honestly Healthy Cleanse by Natasha Corrett (Hodder & Stoughton £25)