Founder of The Urban Kitchen Toral prepared this Chicken Pho live in our Organic Kitchen Pop-Up at WFM on Organic September Saturday. We had the chance to taste it and can confirm that it is quickly made and amazingly tasty.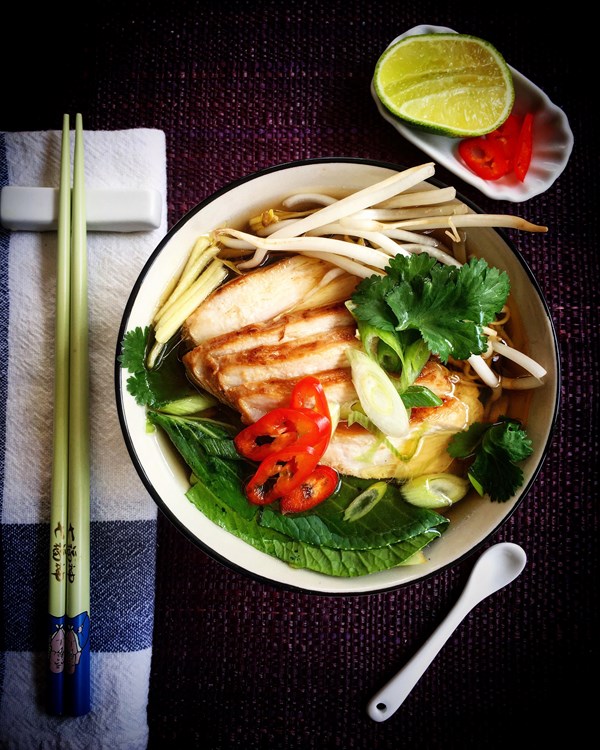 Ingredients
300ml good quality chicken stock
2 stars anise
1 small thumb of ginger, peeled and cut into matchsticks
1 small head of Pak Choy
1 organic spring onion, sliced on the diagonal
50g bean sprouts
1 red chilli, deseeded and finely sliced
some sprigs of fresh coriander
50g King Soba rice noodles (I like pumpkin and ginger)
1 tbsp soy sauce
1 clove of garlic crushed
1 tsp toasted sesame oil
Juice of ½ lime
100g organic chicken breast
Method
Heat the chicken broth gently in a pan with the star anise.
Meanwhile, marinate the chicken breast in the soy sauce and garlic.
Cook the noodles according to the instructions
Heat a frying pan and cook the chicken until it cooked through.
Meantime, wilt the Pak choy in the same pan.
Add the noodles to the hot stock and heat up until almost boiling and the noodles are cooked (about 6 min).
Pour the stock into a bowl with the noodles and add the Pak choy, noodles and ginger matchsticks.
Slice the chicken and arrange on the broth.
Garnish with the bean sprouts, chilli, coriander, spring onions and drizzle with sesame oil and lime juice.
Find out more about The Urban Kitchen here: theurbankitchen.co.uk