Risi e Bisi with Pea Shoot Pesto
One for the veggies amongst us - try this River Cottage's melt-in-the-mouth risotto - the perfect way to use up a glut of garden peas.
"This soupy, Venetian risotto is made for home pea-growers: it uses both the pods (to form a lovely sweet stock) and baby pea shoots (in a pesto). However, you can make the dish using about 600ml good light vegetable or chicken stock instead, and any pesto – or just a final swirl of good oil. You can also use broad beans in this recipe: small fresh ones can be added straight to the risotto, though they may need a little more cooking than peas; older ones should be cooked and skinned first."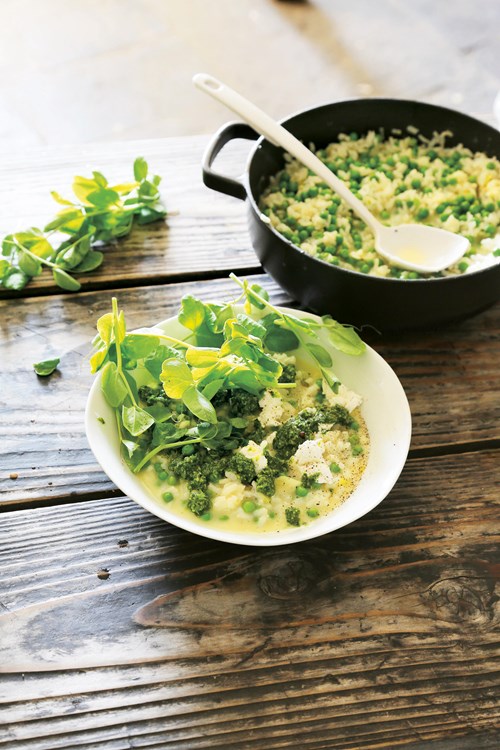 Ingredients - Serves 2
200g organic peas in the pod (or 80g podded peas, fresh or frozen)
1 organic carrot, thinly sliced
4 organic spring onions, trimmed and sliced (trimmings saved)
1 organic bay leaf
1 tsp organic black peppercorns
A few organic parsley stalks (optional)
10g organic butter
2 tsp organic olive oil
1 organic garlic clove, sliced
100g organic arborio rice
25g organic Parmesan, Berkswell or hard goat's cheese, finely grated
For the pesto
70g organic pine nuts
About 60g organic pea shoots
½ small organic garlic clove, chopped
Juice of ½ small organic lemon
120–150ml orgqanic rapeseed oil
25g organic Parmesan, Berkswell or hard goat's cheese, finely grated
Organic sea salt and black pepper
To finish
50g organic mild, soft goat's or ewe's cheese
Organic extra virgin olive or rapeseed oil
Method
Start with the pesto: toast the pine nuts in a dry pan over a medium-low heat until lightly coloured. Transfer to a plate and leave to cool completely.
Put the pea shoots and garlic in a food processor and pulse until finely chopped (or roughly chop, then pound with a pestle and mortar). Add the pine nuts, lemon juice and salt and pepper. Process briefly then, with the motor running (or stirring, if using a pestle and mortar), slowly pour in the oil until the pesto is the texture you like – you may not need it all.
Stir in the cheese (and a trickle more oil if needed), then taste and add a little more salt, pepper and lemon juice as needed.
Pod the peas; set the peas aside. Roughly chop the pods and put them in a pan with the carrot, spring onion trimmings, bay, peppercorns and parsley stalks if using. Pour on 750ml water, bring to a simmer and cook for 25–30 minutes. Strain, return to the pan and keep hot over a very low heat.
Heat a medium pan over a medium heat and add the butter and olive oil. When bubbling, add the spring onions and cook, stirring regularly, for 3–4 minutes.
Add the garlic and rice and cook for a further minute. Now add one-third of the hot pea stock and stir well. Bring back to a simmer and cook, stirring occasionally, until the stock is absorbed. Add another third and repeat, stirring regularly.
Add the remaining stock along with the peas, and cook for 3–4 minutes or until the rice and peas are just tender: and the risotto has a loose consistency, almost like a soup. Take off the heat and stir in the grated cheese and some salt and pepper.
Spoon the risotto into warm bowls and top with crumbled cheese and a generous spoon of pesto. Finish with a few more fresh pea shoots if you have them.
Recipe taken from River Cottage A to Z [Bloomsbury, £40]
Photography copyright Simon Wheeler
River Cottage has given millions of TV viewers a taste for great cooking since 1998, when Hugh Fearnley Whittinsgtall first brought his famous food ethos to Channel 4. Their hard-hitting campaigns have changed the eating habits of a nation and improved the welfare and sustainability of animals and fish.
Find more about River Cottage here: rivercottage.net