You can't beat a hot cross bun at Easter. This easy to follow recipe is also packed with organic Kefir, 
so whilst you're getting your fingers sticky you can also get your fix of 
live, gut-friendly bacteria.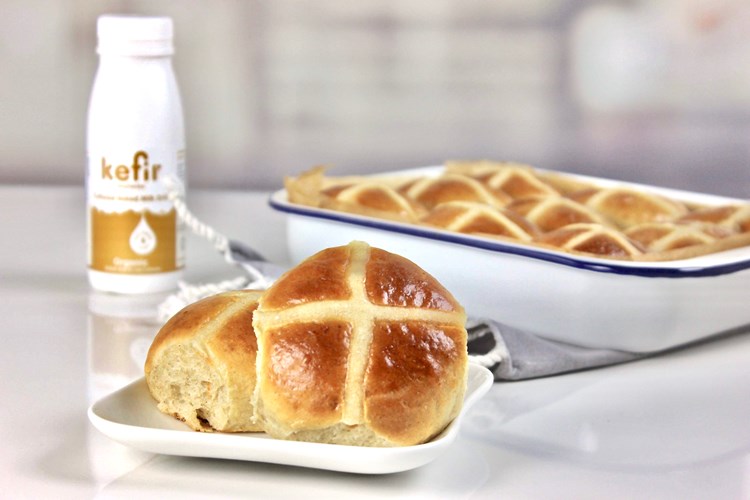 Ingredients
250ml Bio-tiful Kefir or Baked Milk Kefir
30ml water
450g strong white flour, plus extra for dusting
60g soft unsalted butter
1 medium egg
80g sugar
1 tsp sea salt
2 tbsp ground sweet mixed spice
7g sachet fast-action dried yeast
1 orange, zest only
120g sultanas or raisins
Top Decoration:
50g plain flour
40g water
1 tsp vegetable oil
Apricot jam for glazing
To make your own sweet mixed spice 
1 tablespoon ground cinnamon
1 teaspoon ground nutmeg
1 teaspoon ground cloves
1 teaspoon ground coriander
1 teaspoon ground ginger
1 teaspoon ground allspice
1 teaspoon ground cardamon

Instructions

In a small bowl, combine the sultanas or raisins with 1 cup of boiling hot water. Let it sit for 10 mins then drain well and set aside.
In a cup, combine very warm water with a pinch of sugar and a pinch of flour, sprinkle yeast over the top. Stir and let sit at room temp until bubbly and doubled in volume (10 min).
Add the Kefir or Baked Milk Kefir, warm water, egg, sugar bowl and mix well.
Sift the flour into a large bowl, then add 1 teaspoon of sea salt, the ground sweet mixed spice, the sugar, orange zest and stir it into the mix.
Make a hole in the centre and pour in the Kefir mixture, followed by the yeast mixture and soft unsalted butter, mix together. Use a wooden spoon to stir, then turn out onto a well-floured surface and knead for around 10 minutes until soft and springy. Carefully work the mixed dried fruit into the dough until well combined. Knead lightly for 2 minutes.
Return the dough to a bowl, cover with a damp tea towel and leave to proof in a warm place for at least 2 hours or until doubled in volume.
Line a 31.5 x 23.5 cm / 9 x 13" tray with baking paper with overhang.
Transfer the dough to a clean flour dusted work surface. Knock the air out by bashing it with your fist. Divide the dough into 12 equal pieces and roll each into a ball.
Place the ball with the smooth side up on the tray. Line them up 3 x 4.
Cover with the tea towel and leave in a warm place for a further 1 hour, or until triple in size.
Place the plain flour, 40ml water and 1 tsp vegetable oil into a small bowl and mix to a thick paste.
Preheat the oven to 190C/375F/Gas 5. 
When the buns have risen, take the baking paper and the piping bag. Spoon the flour mixture into a piping bag and pipe a cross on each bun.
Transfer the buns to the oven and bake for 16-19 minutes, or until pale golden-brown. As soon as you remove the buns from the oven, brush them with the hot apricot jam, then set aside to cool on a wire rack.