This recipe for mincemeat sponge pudding is supplied by Crazy Jack, providers of organic dried fruits, grains, syrups and pulses.
Their dessert is a fruity sponge pudding, a delicious alternative to mince pies over the festive season that works wonderfully with ice cream or custard.
Serves 4-6
Time: 60 minutes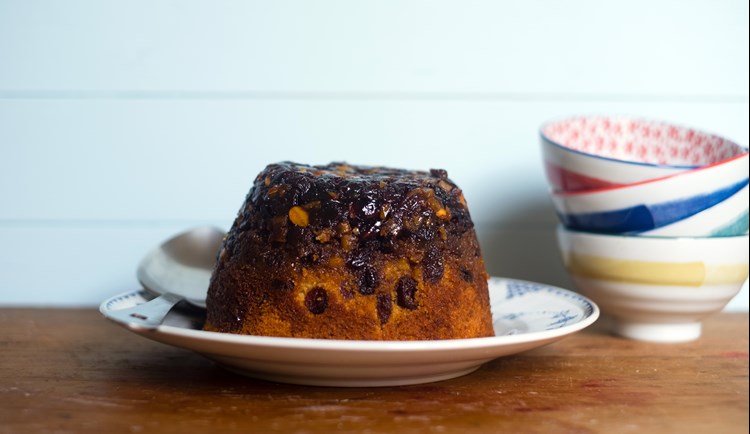 Ingredients
Mincemeat
175g of Crazy Jack Organic raisins 
100g of

Crazy Jack Organic

dried cranberries
175g of

Crazy Jack Organic

sultanas
175g of mixed peel
175g of

Crazy Jack Organic

dried apricots
1 apple, for eating
125g of butter, cut into cubes
50g of 

Crazy Jack Organic

whole almonds, roughly chopped
225g of dark muscovado sugar
1 1/2 tsp mixed spice 1 lemon, grated rind and juice
150ml of spiced rum
Sponge Pudding
75g of golden syrup
130g of plain flour, sifted
1 1/2 tsp baking powder
100g of 

Crazy Jack Organic

ground almonds
130g of unsalted butter, softened
130g of caster sugar 3 eggs 5 tbsp of milk
Method
Begin by making the mincemeat. Place all of the ingredients apart from the rum in a large saucepan. Heat the mixture, allowing the butter to melt, and simmer very gently, stirring regularly. After 10 minutes remove the mincemeat from the heat.
Allow to cool completely then stir in the spiced rum. You can omit the rum if you don't want to use it, just add a little water if the mincemeat is too dry.
The mincemeat will make more than you need for this recipe. Reserve 200g of the mincemeat and place the rest in sterilised jars. The mincemeat will keep for a few months, maturing the longer it is left.
To make the sponge pudding, preheat the oven to 180C/gas mark 4. Grease the bottom and sides of a 1 litre pudding basin.
Place the golden syrup in the bottom of the basin. Add the reserved 200g of mincemeat to the basin, completely covering the syrup. You may need more than 200g if it is looking a bit sparse.
To make the sponge pudding mixture, combine the flour, baking powder and ground almonds in a mixing bowl.
Beat the butter and sugar together until pale and fluffy then add the eggs one at a time, beating them in as you go. Next add the milk and stir it in. Finally, sift in the flour and almond mixture until evenly combined.
Take the sponge mixture and spread it over the mincemeat. Bake for 35–40 minutes until golden and risen, and a skewer poked into the sponge comes out clean.
Turn the sponge out onto a plate and carefully remove the basin. Serve the warm pudding with cream or custard. This pudding is best eaten on the day it's made, but leftovers can be warmed in the oven or microwave and enjoyed the next day.