Roasted Squash and Mushroom Salad
This salad from Gill Meller brings wild, earthy and seasonal flavours together for a tasty winter side dish.
Butternut squash and sage are a match made in heaven, whilst the richness of the blue cheese dressing makes this a side salad that's steeped in British culinary history.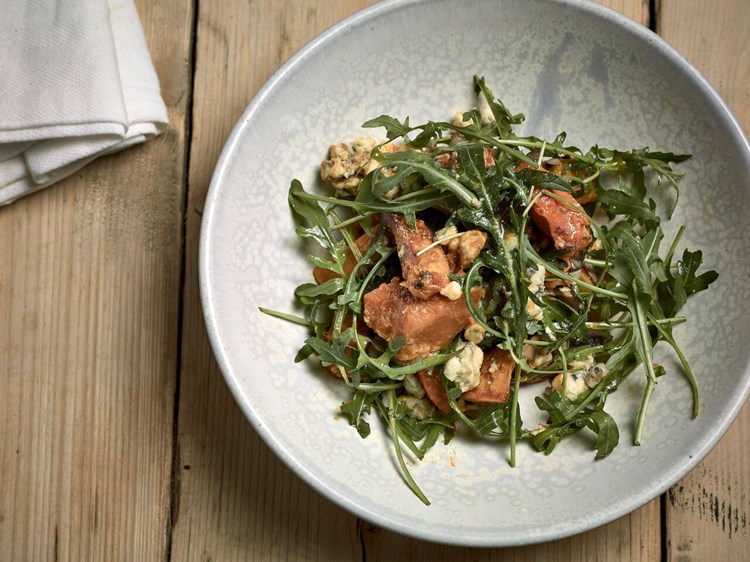 Ingredients
1 medium squash
Leaves from a medium bunch of sage
4 cloves of garlic
Olive oil
50g butter
250g chestnut mushrooms
Small bunch of wild rocket washed
200g soft blue cheese French dressing
Salt and pepper
Method 
Peel the squash.
Cut into 1 inch chunks, and place in a roasting tin along with the bruised sage leaves, the garlic, peeled and thickly sliced, 150ml of olive oil and a generous seasoning of salt and pepper.
Roast the squash in a pre-heated oven, set at 200°C, for 45 minutes or until soft and coloured round the edges.
Add 1 tbsp of olive oil along with the butter to a frying pan set over a medium heat, throw in the mushrooms that have been trimmed, cleaned and sliced, season them lightly with salt and pepper and fry for 4-5 minutes or until cooked through.
In a large mixing bowl, combine the cooked squash, mushrooms, rocket and cheese.
Lightly dress with the French dressing.
Toss this all together and divide between the plates.