Nominate Your Organic Hero

Vote For An Organic Ambassador
Cast a vote for your favourite organic ambassador 

The Organic Ambassador category was brand new for our 2021 BOOM (Best of Organic Market) Awards, recognising those working to grow the organic movement, in areas ranging from food, to fashion and farming, championing organic as a solution to the climate crisis.
Our shortlist featured people who work tirelessly to tell the story of organic as part of the solution for taking care of ourselves, nature and the planet.
Thousands of you cast your votes, but there could only be one winner! The 2021 Organic Ambassador is:
Julian Dunkerton:
Growing up at Dunkertons Organic Cider Mill in Herefordshire had a major impact on Julian Dunkerton. Taking over the family business in 2014, he's continued supporting traditional fruit growers to produce certified organic cider and perry.
As co-founder of Superdry, Julian's passion for organic plays a major role in his vision for the company's future. Superdry is currently supporting over 1,800 farmers to transition to organic farming methods, cultivating land across India. Superdry aim to convert 100% Pure Cotton garments to organic or organic in transition by 2025, and aim to convert 20,000 farmers to sustainable organic farming practices over the next 4 years.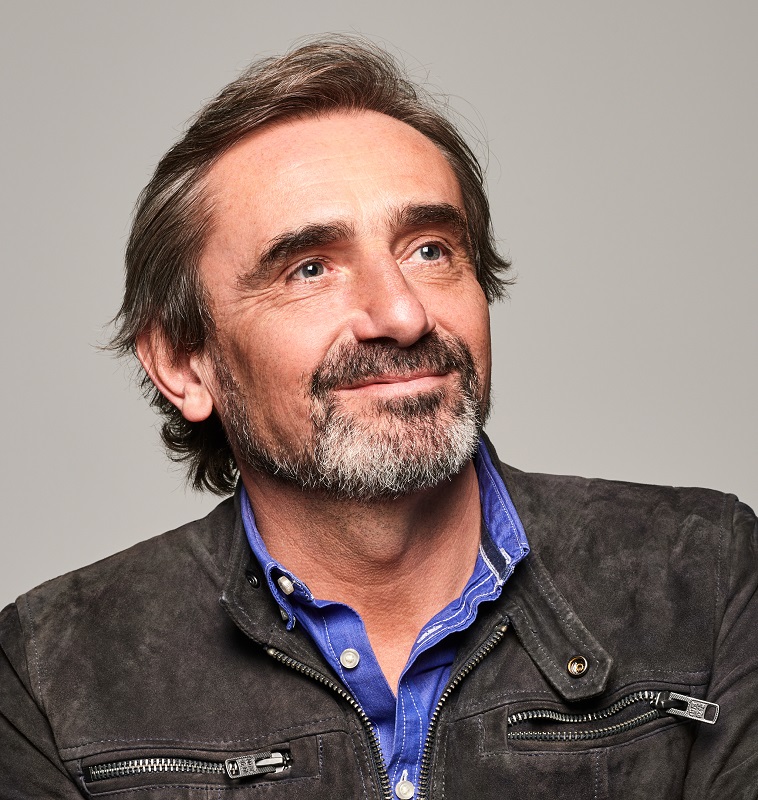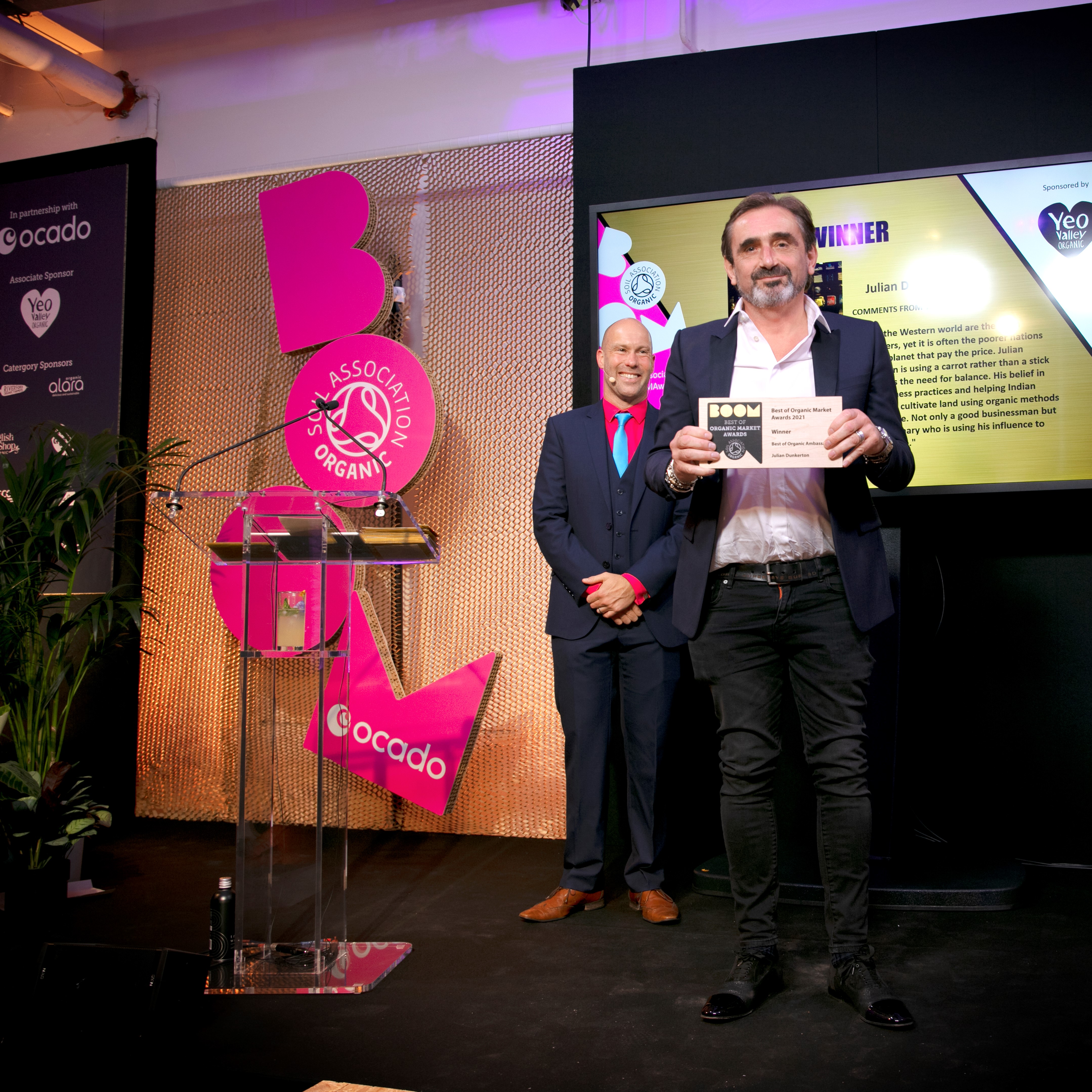 Julian also owns La Boulangerie, an independent and largely-organic French bakery in the heart of the Cotswolds supplying local people and businesses.
Here's what some of our voters had to say about Julian:
"His belief in local business practices and helping Indian farmers to cultivate land using organic methods is admirable. Not only a good businessman but also a visionary who is using his influence to drive change."
"Hard work pays off – Julian's commitment to bigger issues is admirable"
"Julian has an amazing work ethic and absolutely has an outstanding passion for his work"
"He is 100% engaged in his mission and practices everything he stands for. A local success who has stayed true to his roots"
"Julian Dunkerton's entire life has revolved around organic – this is second nature to him and something he holds close to his heart"
"Julian is never afraid to invest more to ensure that organic principles can be safeguarded!"
Our other incredible shortlisted ambassadors were:
Melissa Hemsley

Bestselling author Melissa Hemsley is an advocate of seasonal organic produce and reducing food waste - the latest of her four cookbooks 'Eat Green', celebrates sustainable and delicious flexitarian recipes. Melissa writes for the Telegraph and Vogue and regularly appears on cookery shows.

Championing the great work of farmers, producers, suppliers and artisans; all the faces behind the food we enjoy. She's a proud supporter of food waste charity The Felix Project and volunteers with them rescuing and cooking surplus food.

Melissa also hosts three event series - The Sustainability Sessions, Cook Together Cook Alongs and The Feelgood Sessions, where she chats to leading chefs and food experts about topics ranging from mental health to planet-friendly kitchen tips. 

Ben Andrews

Ben is a mixed organic farmer from Herefordshire, who works with nature to tackle pests and diseases on his farm, boosting biodiversity alongside crop production.

As one of the Soil Association's 'agroecology ambassadors', Ben uses social media, Instagram in particular, as a platform to teach the public and fellow farmers about agroecology and organic food production.

His posts show the nature-friendly techniques he uses that remove the need for artificial inputs, like pesticides and fertilisers.

Ben has also been heavily involved in Agrespect since it's beginning. Agrespect is a pioneering network for rural LGBTQ+ communities with the aim to unite, celebrate and encourage greater diversity and inclusiveness in the farming world.

Guy & Geetie Singh-Watson

Guy and Geetie Singh-Watson are the ultimate organic power couple! Learn more about how they've been championing the organic movement together since the 1990s...

Guy Singh-Watson – Riverford Founder:

Over the last 35 years, Guy has taken Riverford from one man and a wheelbarrow delivering homegrown organic veg to friends, to a national veg box scheme delivering to around 90,000 customers a week.

Guy converted the business to employee ownership in 2018, using the proceeds to buy a small farm and return to growing organic veg.

Guy advocates using business to shape a kinder, more considerate and sustainable world. His weekly newsletters connect people to the farm discussing the trials and tribulations of organic farming, and the occasional rant about the issues closest to his heart.

Geetie Singh-Watson MBE: Founder of organic pubs and inns

Geetie is the founder of the first official organic pub in Britain, The Duke of Cambridge, in Islington. Horrified by the wastefulness she witnessed working in the restaurant trade, she set up The Duke as a business that could thrive without harming the environment. Geetie's been leading the charge of sustainable hospitality since the 1990s, banning plastic bottles, packaged bar snacks and air-freighted food.

Geetie's fourth organic pub, The Bull Inn, Totnes, opened in November 2019. Radical and sustainable to its core, everything has been thought through for minimal environmental impact.

In 2009, she was awarded an MBE for 'Services to the Organic Pub Trade', has been named Business Woman of the Year, Asian Woman of Achievement and Entrepreneur of the Year. An active campaigner and environmentalist, Geetie firmly believes that businesses must act responsibly and be led by their values.

 
For those who voted and made nominations - read the full competition terms and conditions for the organic prize draw.