Paul Dovey of Goodwood Home Farm

Paul Dovey - Goodwood Home Farm
Meet Paul Dovey - Farm Manager at Goodwood Home Farm
Goodwood Home Farm is a 3,800-acre, mixed enterprise farm in West Sussex, owned by The Duke of Richmond and his family for more than 300 years. The farm sits within the 12,000-acre Goodwood Estate in West Sussex, providing the estate's venues and events with organic meat, dairy, cheese and ales. The estate has a history closely linked to the organic movement. The present Duke's mother, Duchess Susan, was one of the earliest members of the Soil Association and instrumental in the farm becoming the first 100 per cent organically fed dairy in the country.  
Paul Dovey is the farm manager looking after over 800 native breed cows, 500 pigs, and 2,000 sheep, all born and raised on the estate. Here, we chat to him about organic farming, and his work to increase biodiversity, nurture soil health, and exploring new regenerative agriculture methods on the estate.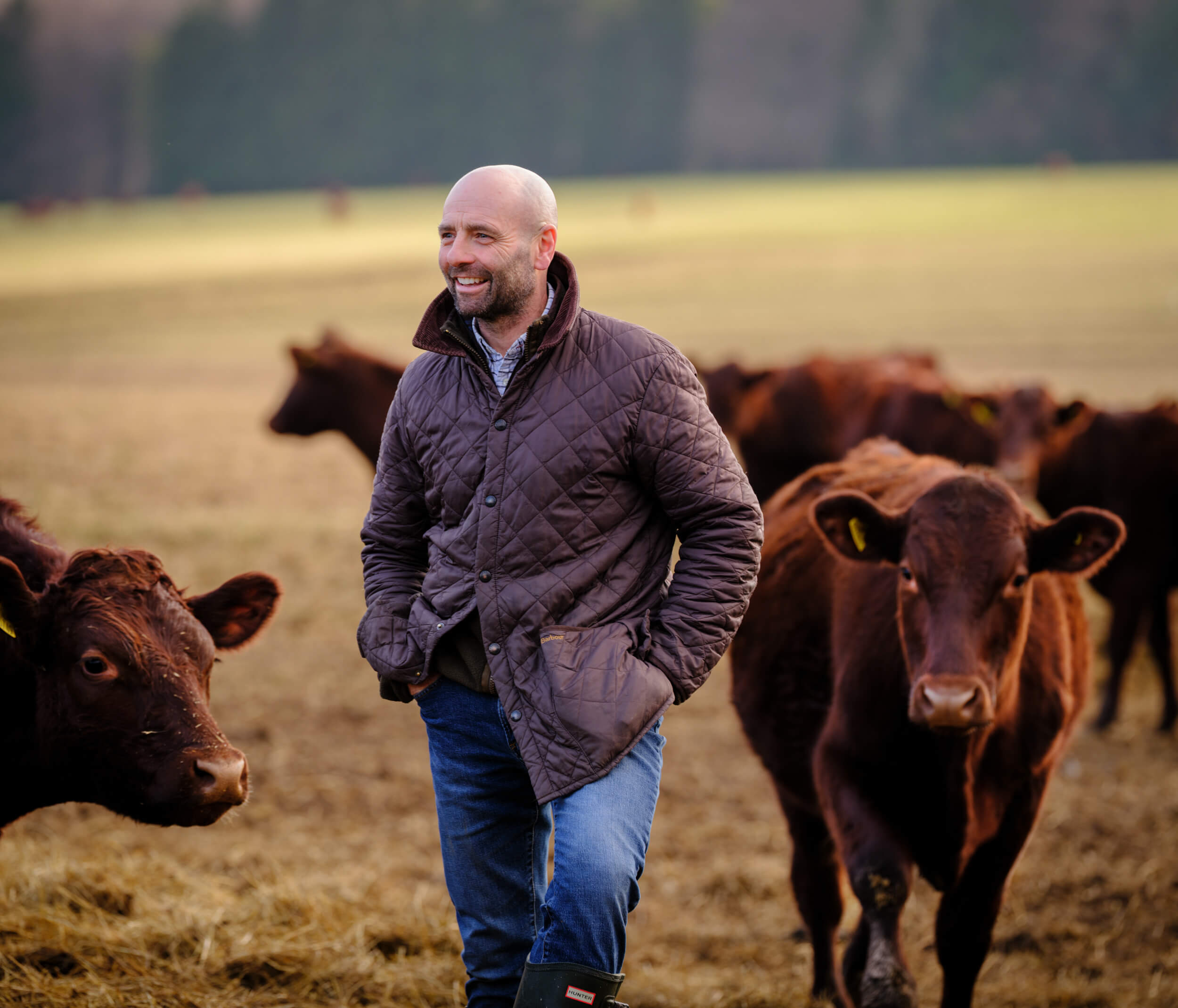 Why is organic so important to you?
I started work on a conventional farm as soon as I left school, then read 'Organic Farming' by N. Lamplin in 1990, straight away I knew this was the farming I wanted to do. It just 'made sense', a system of producing healthy food, with high animal welfare, that benefits the environment, increases biodiversity and is chemical-free.
What excites you about organic farming?
Every day on the farm there is something exciting to see or discover! I think when you break free of the treadmill of artificial nitrogen, agronomists, sprays and start to farm in tune with nature, you gain a real insight into natural systems and how they work. I have found I learn more when an idea doesn't work or produces surprising results, than when it succeeds. There are a lot of challenges ahead in farming and I believe organic farming is well placed and has the tools and techniques to tackle them.
How do you go about maintaining biodiversity at Goodwood?
We have committed 10% of our arable land to wildflower margins and bird and pollinator plots. We are replacing our temporary grass with multi-species leys. We mob graze and over-winter our cattle on the South Downs. We have a 50-year hedge and tree planting programme across the whole estate.
How important is regenerative farming in securing a future for the Goodwood Estate?
At Goodwood we talk a lot about soil, Duchess Susan has said it 'is the beginning of everything.' The Regen[erative Agriculture] movement focuses a lot on soil – its health, life and protecting it. We are taking on board a number of regen techniques to look after our soil, from mob grazing, cover crops, reduced tillage to deep rooting plants in multi-species leys. We have started an estate wide carbon/SOM soil testing programme to produce base-line figures which will form a big part in the future of farming at Goodwood.
The Goodwood Estate has historic links to the early work of the Soil Association, how important is building upon this legacy to you?
I was in the first batch of students that studied the Organic Agriculture HND course designed by the SA in 1992 and took place at Broomfield Agriculture College in Derbyshire. Since graduating my career has always been in organic farming. I hope by training new staff, passing on knowledge, converting more land and continuing to study organics I can build on this legacy.