What is Food for Life Scotland?

What is Food for Life Scotland?
About Food for Life Scotland
Food for Life is a nationwide Soil Association programme that works to make good food the easy choice for everyone.
In Scotland, we are funded by the Scottish Government to help local authorities to get more local food onto school dinner plates and serve fresh, healthy, sustainable meals in their schools.
The Food for Life Scotland team supports local authorities to achieve the Food for Life Served Here award for their school meals service.
By being part of the Food for Life Scotland programme, local authorities are:
Reassuring parents and pupils that their school meals are responsibly sourced and freshly prepared by trained cooks
Providing meals that support students to meet their highest learning potential
Improving pupils' health by putting more fresh fruit and vegetables, fish, and wholegrains on the menu
Protecting the environment for the future by reducing food miles
Supporting a thriving local economy by putting more Scottish food on the table
The Food for Life Served Here Award
We recognise and reward local authorities that are serving fresh, local, sustainable food by certifying their school meals with the Food for Life Served Here award. It's a recognised and respected mark of quality, available at three levels: Bronze, Silver, and Gold.
Food for Life Served Here standards are set by an independent Standards Committee, which is made up of industry experts from a wide range of sectors. The Food for Life Scotland team is on hand to help local authorities identify which standards they are already meeting for their school meals, and support them as they work towards a Food for Life Served Here award.
Standards for Bronze award holders
The Bronze level represents a significant step for most caterers towards improving food standards. To achieve Bronze Food for Life Served Here, meals must meet 13 key standards.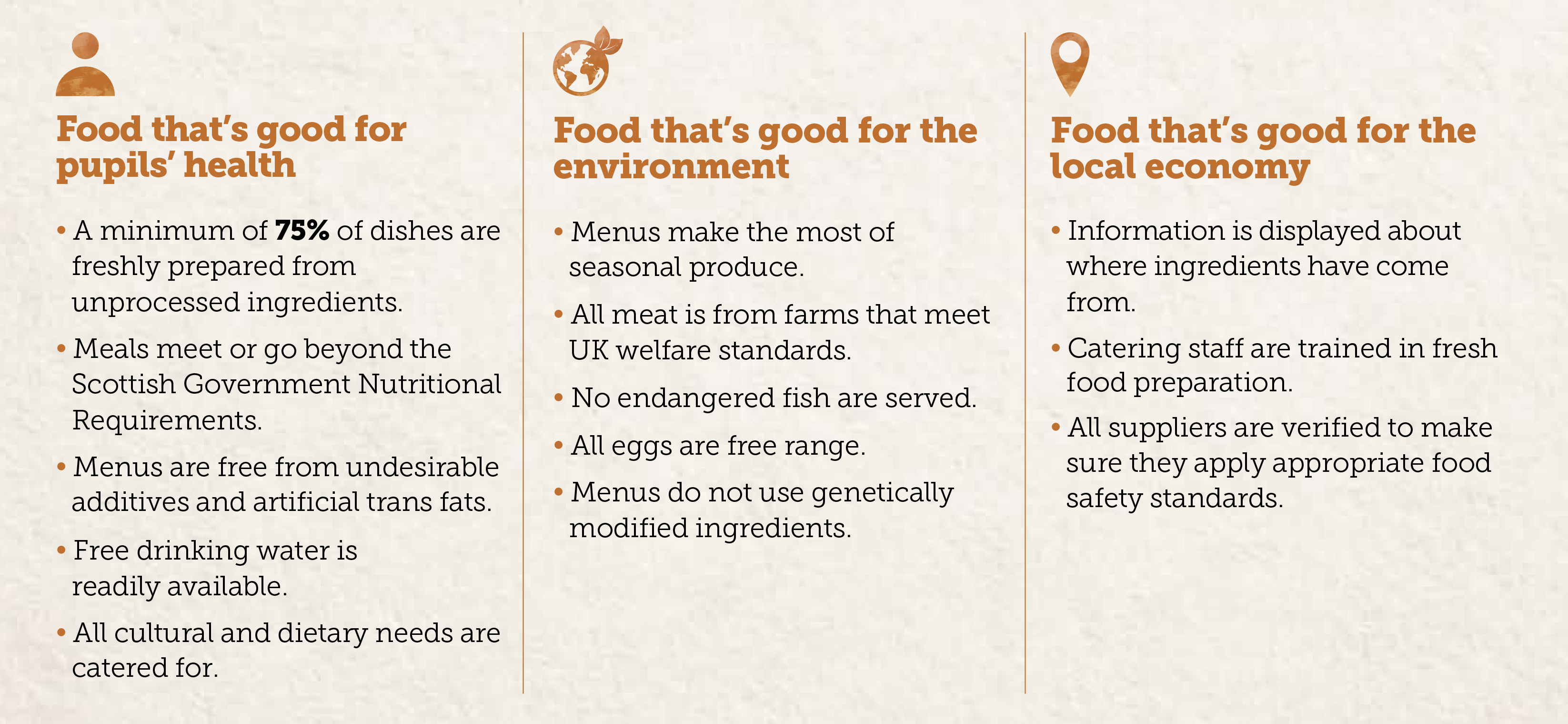 Standards for Silver and Gold award holders
The Silver and Gold Food for Life Served Here awards use a points system. In addition to meeting all of the Bronze standards, you need points for food served in three categories: sourcing ethical and environmentally friendly food, making healthy eating easier, and championing local producers.
Ethical and Environmentally Friendly Food
At Silver and Gold award levels, a proportion of your total ingredient spend must be on organic produce. Organic food is produced using environmentally friendly farming methods and the highest standards of animal welfare which are strictly regulated.
To achieve Silver, a minimum of 5% of the ingredient spend on your Food for Life Served Here menu must be organic. To achieve Gold, a minimum of 15% of your ingredient spend must be on organic food and at least 5% on free range pork and poultry.
Further points are awarded for ethical and environmentally friendly food such as:
Free range meat
Marine Stewardship Council (MSC) certified fish
RSPCA Assured
Fairtrade
Sustainable palm oil
Making Healthy Eating Easier
You can gain points in this category for a range of actions in line with Scottish Government health priorities, including:
Using herbs, spices, or lemon as alternative seasoning instead of salt
Carrying out pupil surveys to identify popular healthy dishes
Reducing the ratio of sugar to flour in sweet recipes to 1:2 or less
Making fruit or vegetables available as snacks or a dessert choice
The Food for Life Scotland team can help you identify the actions that are right for your menu.
Championing Local Producers
Points are awarded for every penny spent on food produced in Scotland, and for above average UK sourcing levels.
Sourcing produce locally helps support local farmers and local businesses. Our research has shown that every £1 invested by FFLSH certified local authorities over three years can give a social return on investment of £4.41 in value into the local economy.
Read The Full Standards
Download the full Soil Association Food for Life Served Here standards handbook for schools. Use the handbook to find suggestions on meeting our standards and guidance for the inspection.
Download the standards
Not a Local Authority?
Interested in Food for Life Served Here accreditation for your independent school, workplace, or visitor attraction? Contact our national team today to find out more.
Visit Food for Life UK