Aquaculture
Organic Aquaculture
Soil Association

Certification

is the leading organic aquaculture certification body in the UK and

inspect

s

to Soil Association,

COR,

BioSuisse

and

Natur

land

standards.
Why organic aquaculture?
Fish, shellfish, crustaceans, and seaweed from our oceans and rivers are a vital source of food and nutrients for millions of people around the globe and increasingly they are being used in products from cosmetics to packaging. However, the current pressure on our marine environment is unsustainable, in part due to overfishing and damaging intensive fish farming practices.  
Organic aquaculture standards ensure farmed aquatic foods are produced in a manner that protects the welfare of the animals and the environment, provides a high-quality product, and ensures full traceability across the supply chain.  
Our

organic a

quaculture

c

ertification

sc

heme
The Soil Association pioneered the development of organic aquaculture standards over 20 years ago with the first organic Atlantic Salmon produced in 1998. These standards are now written into law and we are working hard to drive change and further develop standards. Now, more than ever, it is crucial that aquaculture provides a solution to the pressures facing our oceans. Organic fish farmers are leading the way in reducing strain on our oceans to support our health, nature and the climate.    
Underpinning this work, Soil Association Certification deliver organic certification across the UK for finfish, bivalve and seaweed production. We offer expert certification to different organic standards, to help you reach new markets.
We

inspect and certify to the

following aquaculture standards:
Sell as organic in the UK and EU

The Soil Association Organic Standards are the core of what we do. First developed as private standards, our aquaculture standards are now written into UK and EU law. Soil Association organic aquaculture products comply with the requirement of retained regulations (EC) 834/2007, (EC) 889/2008, (EC) 1235/2008 in Great Britain and regulation (EU) 2018/848 in Northern Ireland.     

 

Aquaculture products must also meet our additional higher standards – as shown by the Soil Association logo. Higher Standards put our principles into practice and are at the heart of our work rewarding farmers for driving positive change.  

Soil Association organic aquaculture ensures:  

High levels

of animal welfare respecting species-specific needs  

 

Continuing health of the aquatic environment and the quality of surrounding aquatic and terrestrial ecosystems  

 

Organic, MSC or

Marin

T

rust

certification for all fish feed  

 

Organic certification at every stage of the production process and supply chain  

 

 

Interested in going organic?

Sell as organic in Canada

Soil Association Certification are the only UK certifier accredited by IOAS to certify to the Canadian Organic Regime (COR), enabling fish produced in the UK to be sold as organic in Canada.  

How to apply for COR certification:

 

In most cases you'll need to apply for COR certification 15 months before you intend placing organic fish on the Canadian market. You will also need to demonstrate that your production meets the COR aquaculture standard as well as any published interpretation.

We require payment of certification fees (when you apply, and every year thereafter) so that we can perform the inspection and certification tasks required by the Canadian Food Inspection Agency before you can make product claims.  

If you own the fish: we will issue your organic product certificate. 

If you process the fish on behalf of someone else who holds a COR organic product certificate: we will issue an attestation of compliance.  

You can check your supplier's current COR status on our COR certificate checker.  

Interested in adding COR to your existing Soil Association Certification organic aquaculture licence/application?  
If you're certified with us, we can also inspect to the BioSuisse and Naturland standards, allowing your product to reach more markets.
Start the journey to organic certification today

Get in touch with us at goorganic@soilassociation.org.

Get in touch
Ho

w

to get your

aquaculture produ

ction system certified
To start with, here's how to get your fish farm certified to the Soil Association standard: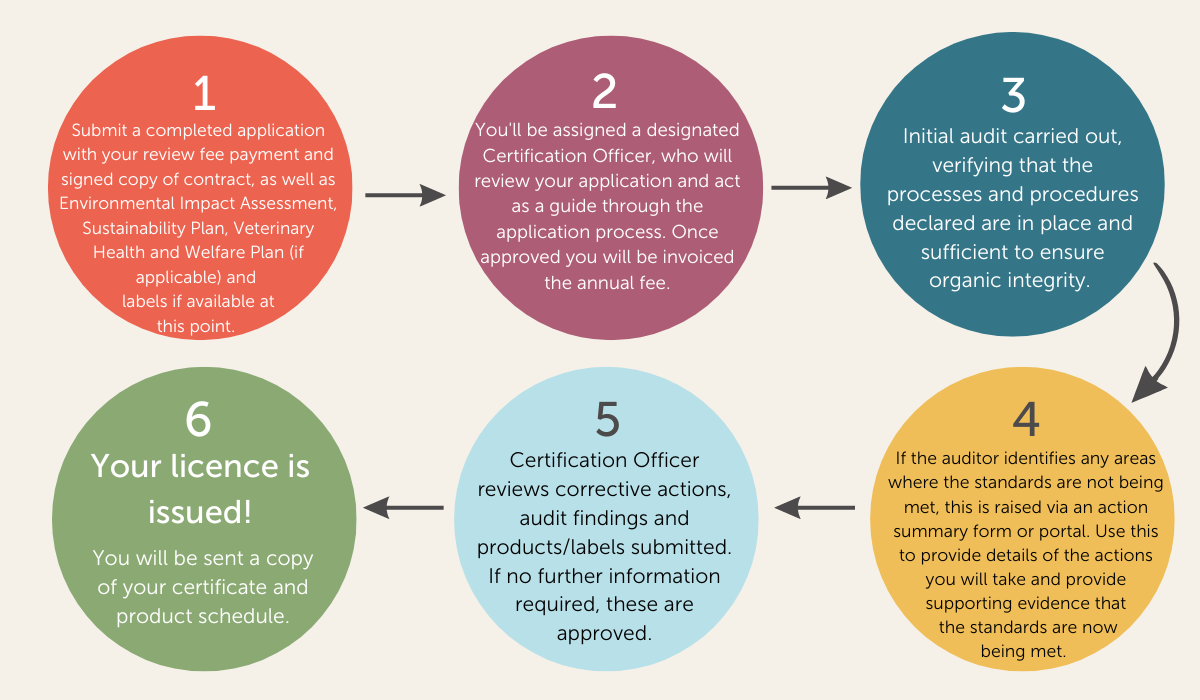 Submit a completed application with your review fee payment and signed copy of contract, as well as Environmental Impact Assessment, Sustainability Plan, Veterinary Health and Welfare Plan (if applicable) and labels if available at this point. 

You'll

be assigned a designated Certification Officer

, who will review your application and act as a guide through the application process. Once approved you will be invoiced the annual fee.

 

Initial audit carried out, verifying that the processes and procedures declared are in place and sufficient to ensure organic integrity. 

 

If the auditor

identifies

any areas where the standards are not being met, this is raised via an action summary form

or portal

. Use this to

provide

details of the actions you will take and

provide

supporting evidence

that the standards are now being met

. 

 

Certification Officer reviews corrective actions, audit findings and products/labels

submitted

. If no further information

required

, these are approved.

 

Your licence is issued! You will be sent a copy of your certificate and product schedule.

 
Wanting to go organic?
Get in touch with our dedicated team to find out more about organic certification for your business