Future Farming Scotland wins RSPB award!
Last night our Future Farming Scotland programme won the 'Food and Farming' category of the RSPB's prestigious Nature of Scotland Awards.
The programme provides information sessions, DIY farm trials (called field labs) and resources for farmers, growers and crofters across Scotland, supporting them to explore techniques that are good for the environment as well as for their businesses. The award was given in recognition of the partnership approach taken, and the impact on key areas ranging from soil health and horticulture to grassland management, reaching hundreds of farmers each year.
The RSPB Nature of Scotland Awards celebrate the people, projects and organisations across the country working to protect Scotland's internationally renowned precious wildlife and habitats. The Food and Farming Award was a new category for 2016, announced at the awards dinner at Prestonfield House Hotel in Edinburgh, in front of over 300 guests, including key decision makers and supporters from industry.
The Food and Farming Award celebrates individuals, businesses and organisations that work to reduce the negative impacts on the environment that food production can have: taking steps to reduce their own environmental footprint and helping consumers make good food choices. The Future Farming Scotland programme was selected in recognition of its work training and supporting farmers across Scotland to explore sustainable techniques. Lyn White of Soil Association Scotland and Emily Grant of Quality Meat Scotland accepted the award on behalf of the programme.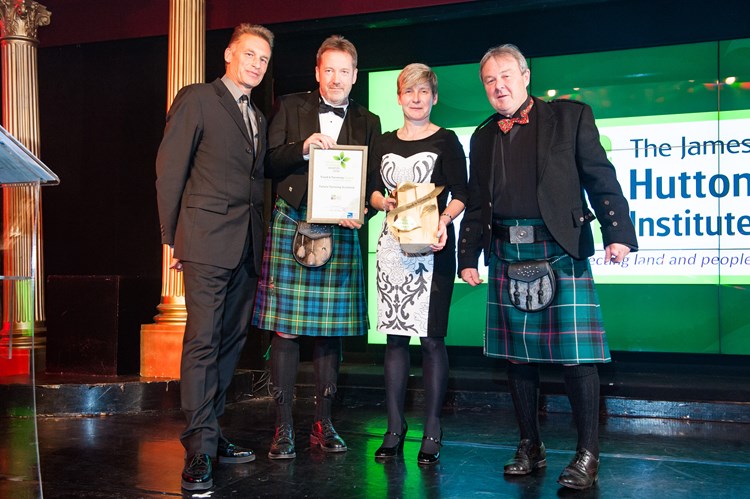 Stuart Housden, Director of RSPB Scotland, said: "The judges had a tough job to do with such a high calibre of entries to this category, but the Future Farming Scotland project really stood out to us. Developing and promoting sustainable farming practices which work in harmony with nature, as this initiative does, is so important for delivering environmental benefits like clean air and water, as well as rich habitat for wildlife and of course good, healthy food for us to eat. Soil Association Scotland are very worthy winners this year and their success at these awards is truly deserved."
This year's awards were supported by ScottishPower, GreenPower, Turcan Connell, The Ardmore and The James Hutton Institute. For 2016 the judging panel chaired by Stuart Housden, Director of RSPB Scotland, welcomed Ross Martin from the Scottish Council for Development and Industry, Ian Jardine from Scottish Natural Heritage, BBC Scotland's Euan McIlwraith and the Scottish Wildlife Trust's Susan Davies.
Laura Stewart, director Soil Association Scotland said: "We run the Future Farming Scotland programme in partnership with a range of organisations, and with the participation and support of farmers, crofters and growers from across Scotland. We are delighted that this award has recognised the hard work that we and all our partners put in, sharing and exploring sustainable farming techniques that are both great for business and great for the environment. It was wonderful to see such a range of exceptional work taking place on food and farming across the other initiatives shortlisted too – we are proud to be among such good company."
Funding for Future Farming Scotland is made available through the SRDP Knowledge Transfer and Innovation Fund (which is jointly funded by the Scottish Government and the European Union), with partner funding from Quality Meat Scotland, Forestry Commission Scotland, Innovative Farmers and The Prince of Wales's Charitable Foundation.
-
Here's Lyn from the team with the award this morning, looking very happy!