East Renfrewshire puts local on the menu
Catering staff in East Renfrewshire are celebrating after achieving the Bronze Food for Life Served Here award for their primary school meals for the fifth year running! To mark their success, we're taking a look at the innovative approaches and local partnerships that are helping ERC to put fresh produce on school dinner plates just a few miles from where it is grown.
East Renfrewshire Council first achieved the Food for Life Served Here award in 2014, and now serves up 4,800 Food for Life accredited meals every day across their 22 certified primary schools.
 As part of their work towards the award, primary schools in East Renfrewshire receive a weekly box of seasonal, locally-grown and organic vegetables from Locavore, a social enterprise based in Glasgow. Some of the produce is grown at Left Field Farm, a 2.5-acre plot at Neilston, and some under glass and in polytunnels in Rouken Glen in a former ERC plant nursery.
 The vegetables and fruit provided through the box-scheme supply the crudités within schools, as well as being part of the main meal. This small-scale project for additional vegetables has benefited pupils, pleased parents, increased staff skills and knowledge, supported a local enterprise, and met best environmental standards too.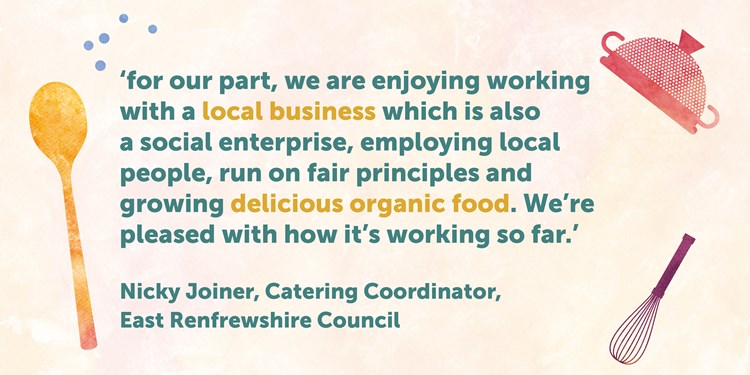 Reuben Chesters, Managing Director of Locavore CIC, said: "We're pleased to be able to work with East Renfrewshire to get some local organic produce into the Council's primary schools. Right now the locally-grown veg we are suppling to schools includes carrots, parsnips, leeks, cauliflower, apples and cavolo nero.
"We hope through the supply we are able to show that local organic produce is a viable option for public procurement, and that our relationship with East Renfrewshire Council and others can expand over time."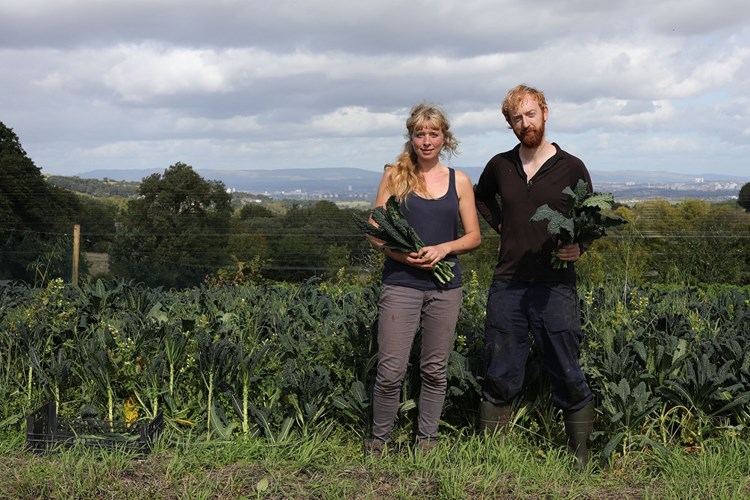 Locavore market gardeners Floortje and Louis, pictured at Left Field Farm.
Nicky and colleagues put some thought into how best to make the weekly veg box work. 'When some of the catering staff saw the harvest squash for the first time, they were unsure what to do with it, so we introduced a newsletter which accompanies the box. It gives information about the vegetables and ideas for preparing them.' Cooks also pass this information to pupils.
According to Nicky, 'the taste difference is phenomenal. The children and the catering managers were quite surprised about that. The pears, for example, tasted amazing. They don't look perfect, but we chop them up.'
Sarah Duley, Food for Life Scotland Programme Manager at Soil Association Scotland, said: "We're delighted to celebrate East Renfrewshire's continued commitment to providing fresh and healthy school food, and their support of local producers. Supporting local authorities to put sustainable Scottish food onto primary school plates is a key ambition for us at Food for Life Scotland."