A seasonal feast in Inverclyde
During February half-term, Food for Life Scotland headed to Inverclyde where 22 school catering staff from across the local authority gathered together in Notre Dame High School for a training session exploring seasonal Scottish fruit and veg.
The session was delivered as part of the council's preparation towards the Food for Life Served Here award for their primary school meals – introducing staff to the award standards, and taking the Food for Life ethos to the front line.
After an introduction to the principles of 'good food' – food that's good for health, good for the environment, and good for the local economy – staff got stuck in to exploring a veg box kindly provided by Glasgow-based suppliers George Carruthers & Sons. A selection of weird and wonderful fresh produce was passed around to smell and sample – the Jerusalem artichoke proved tricky to identify, while fresh horseradish packed a punch on the taste buds!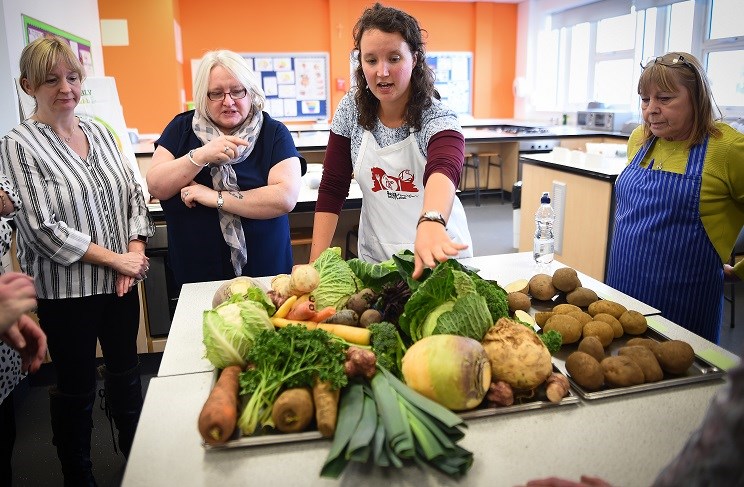 Then it was time to roll up their sleeves and split into groups to prepare a seasonal feast for lunch. Working together, the cooks prepared a range of delicious dishes, from cheesy broccoli jacket potatoes to celeriac chips and roasted carrot houmus (nut free). On the side was a freshly-prepared seasonal slaw, as well as 'Popeye' cheese straws (with added spinach!) and a dressed salad with grated apple, dried fruit, and kale crisps.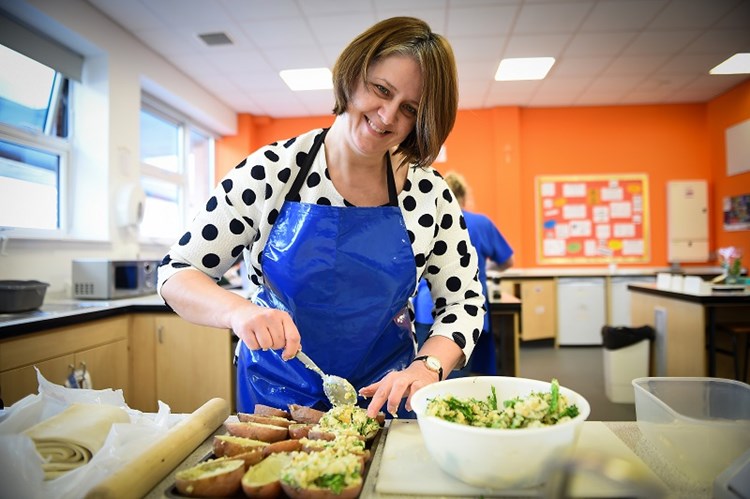 As staff cooked and ate together, discussion continued on how seasonal ingredients could be incorporated into school menus. Cooks shared their top tricks and tips – like including seasonal vegetables in cakes and muffins – and considered how they could spread the message of good food in their respective schools.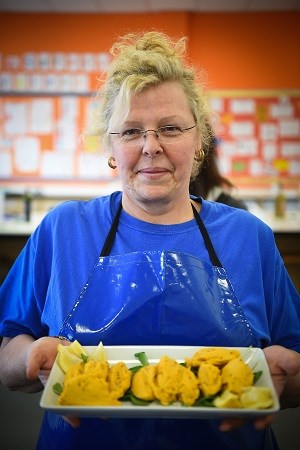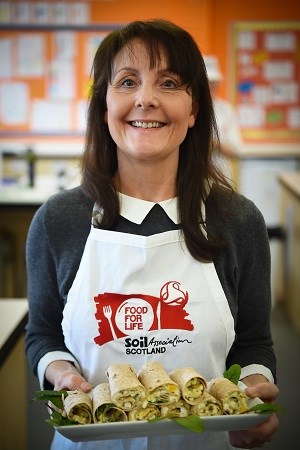 Lynn Lewis from St Mary's Primary School explained why she enjoyed the session: "It gave us more of an understanding on why we are going for this award and all the benefits that will be achieved. The practical side of it was good too, and the food that was prepared by everyone was delicious. It's good to see our school meals heading in this direction, with more wholesome foods making it healthier for the children."
Congratulations to all who took part in the seasonality session! The team at Food for Life Scotland look forward to continuing to work with Inverclyde Council on their Food for Life journey.