Seasonal school meals in Stirling
Stirling Council are celebrating receiving the Food for Life Served Here award for their hard work promoting fresh, healthy and sustainable school meals.
This is the seventh year running that Stirling Council have received the Food for Life Served Here award, and in that time they've served up more than 4 million Food for Life school meals.
They serve 3,600 Food for Life accredited meals a day across their 37 certified primary schools and 6 certified nurseries.
Receiving the silver award
The Food for Life award recognises that school meals are made from fresh ingredients, free from genetically modified ingredients and undesirable additives, and use free-range eggs and high-welfare meat.
Food for Life Served Here Silver award holders also spend at least 5% of their ingredient budget on organic produce, as well as gaining points for taking steps to making healthy eating easier and sourcing food produced in Scotland.
Stirling Council gained the Food for Life Served Here Bronze Award in 2012 and celebrated upgrading to Silver in 2014.
Stirling's seasonal school meals
The council offers a three-week menu cycle with hot and cold meals to suit every taste. Pupils are now enjoying healthy and locally sourced school dinners such as:
seaside-style salmon fillets with green salad;
meatballs with tomato sauce and spaghetti;
and savoury rice with homemade BBQ sauce.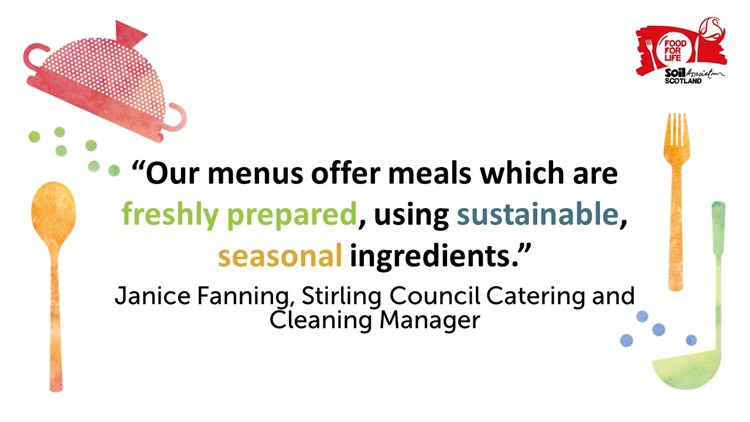 Janice Fanning, Stirling Council Catering and Cleaning Manager, said: "We are dedicated to providing appetising, delicious and nutritious meals for our school children. We're very proud of our schools catering service, who do a great job preparing healthy meals across the school estate.
"Our menus offer meals which are freshly prepared, using sustainable, seasonal ingredients and I'm sure parents will be pleased to know their children are getting such healthy, nutritious food."
Congratulations
We'd like to say well done to Stirling Council for their amazing achievement!
Sarah Duley, Head of Food at Soil Association Scotland, offers her congratulations to the council: "Huge congratulations to Stirling Council on their fantastic achievement in renewing their Food for Life Served Here Silver Award.
"Receiving the award is a testament to the hard work and dedication of everyone involved, from catering staff to Councillors, who are supporting local suppliers and providing fresh and healthy school meals. We're delighted to celebrate their success."