North Ayrshire Goes for Gold
North Ayrshire Council is boosting local business and reducing food miles, receiving the Food for Life Served Here Gold award for its commitment to putting local and organic food on school dinner plates.
This is the seventh year running that the council has achieved the Gold award, which recognises local authorities that are sourcing local and seasonal food for school meals so that children benefit from freshly prepared, sustainable meals.
North Ayrshire Council serves 6,730 Food for Life accredited meals a day across its 49 certified primary schools, 15 early years settings, and 1 secondary school, Arran High School.
Boosting local business
The latest figures show that the majority of ingredients for North Ayrshire school meals are from Scotland.
73 per cent of the Council's ingredients are produced in the UK, with over 57 per cent of fare coming from Scottish suppliers of which over 27 per cent of the annual spend is from Ayrshire food producers.
Children regularly enjoy school meals prepared using ingredients including:
Quality Meat Scotland farm assured butcher meat from Campbell Brothers;
Scottish organic milk from Müller Dairies;
Groceries including organic red lentils, flour, rice and pastas from Greencity Wholefoods in Glasgow.
Scottish potatoes, seasonal vegetables, and fresh seasonal fruit are all served every day.
Councillor Jim Montgomerie, Cabinet Member for Place, said: "We are proud of our continued record in using local produce and supporting businesses in Ayrshire and across Scotland.
"Our pupils are able to enjoy some of the finest school menus anywhere in the country and the quality of the food is second to none."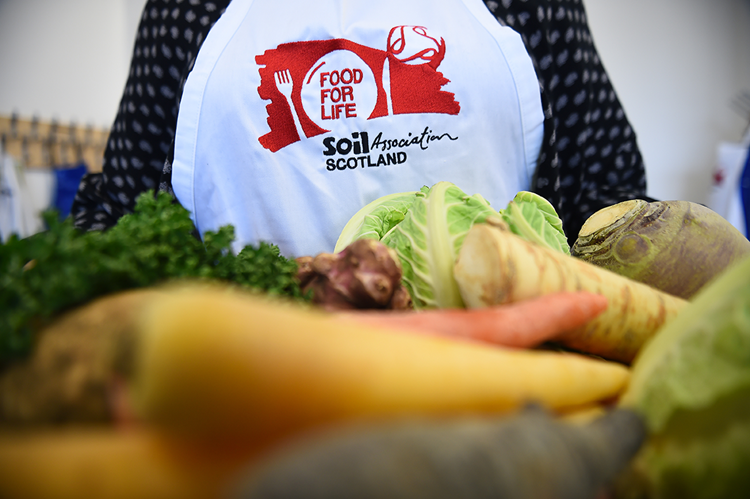 Meeting the Gold standard
The Gold Food for Life Served Here award rewards local authorities for every penny spent on food produced in Scotland, and is only given to organisations serving up meals in which 15 per cent of ingredients are organic.
North Ayrshire Council has achieved the Gold FFLSH award for its primary school meals every year since 2013.
Carolyn Hope, North Ayrshire Council's Senior Facilities Manager, says the Council goes to great lengths to ensure its catering team continues to use the best, local ingredients to retain the Gold 'Food for Life Served Here' award.
She said: "Each year, the Soil Association audits our Catering Units to inspect our food purchases, provisions stock and lunch menus to ensure compliance with their Gold Food for Life catering standard.
"We work hard to ensure we can support local suppliers by sourcing the healthiest possible ingredients. For example, almost 18 per cent of our fresh ingredients are organic including Scottish milk, pasta, rice, flour, meat and bananas.
"All the milk, yoghurt, cheese, seasonal fruit and vegetables are from Scotland when available, the eggs are free range from a local Ayrshire farm and our fresh fish is Marine Stewardship Council certified sustainable seafood and fully traceable. None of our food contains undesirable additives, artificial trans fats or GM ingredients and all our meat is ethically sourced to ensure UK welfare standards. We take a huge amount of care over every single ingredient which goes into our school kitchens.
"We want our children to get the best possible start in life and, for me, that means serving up healthy, nutritious, local produce in our dining halls every single day."
Congratulations
Finally, a big congratulations to North Ayrshire Council for their amazing achievement!
Sarah Duley, Head of Food at Soil Association Scotland, says: "We're delighted to celebrate North Ayrshire Council's longstanding commitment to supporting local producers and providing fresh, healthy and sustainable food for their pupils."