Integrating forestry and farming

Integrating forestry and farming
Peter Gascoigne and Chris Blyth of Gascoigne Farm, near Biggar in the Borders, explain how trees have improved their farm business
Since 2017, Peter Gascoigne has halved the number of sheep at Gascoigne Farm and taken them off the hill, planting it instead with 40,000 hardwood and softwood trees.
Trees are valuable and also provide important shelter for sheep.
Trees are a good thing to plant on less productive land that would otherwise create extra costs.
Trees are also good for wildlife. Hardwood trees in particular provide food for livestock and habitat for wildlife. 
In Broughton in the Borders, award-winning farmer Peter Gascoigne has transformed his farm business using trees. He has 850 acres at Gascoigne Farm, of which about 300 is productive haylage field, with the rest on the hill. Since 2017, he has halved the number of sheep and taken them off the hill, planting it instead with 40,000 hardwood and softwood trees. He says the trees provide tax-free income for his family, enhance his farm business and give him the pleasure of seeing more wildlife.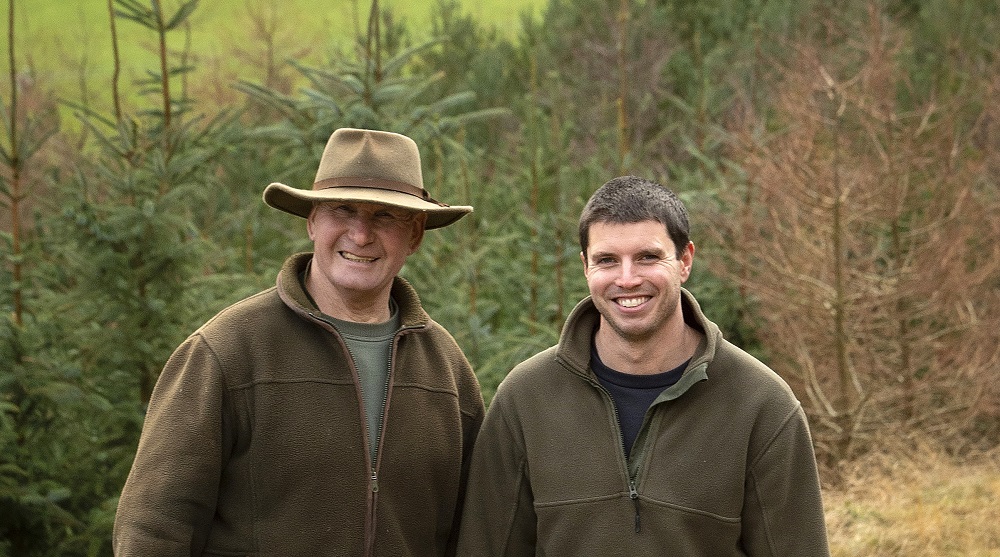 Picture: Peter Gascogine and Chris Blyth have been at Gascoigne Farm since 2002.
"We put the hill into forestry," he explains, "and reduced our sheep number by half, to 300 ewes. We've switched from the Blackface hill breed to a lowland Hampshire/Charollais/Texal cross because they mature earlier and give a better meat, so we're getting roughly the same income from the sheep. It's about looking at the profitability of the business overall."
Trees benefit the farm and the business
Forestry, he says, is about improving his farm business today and providing income in the future. "Trees are valuable," he says. "Sitka is valuable timber, oak and sycamore are very valuable – you get a tremendous, straight trunk. There's no inheritance tax on timber, or capital gains, or income tax. You can hand plantations to your kids with no tax! And there are grants available to do it."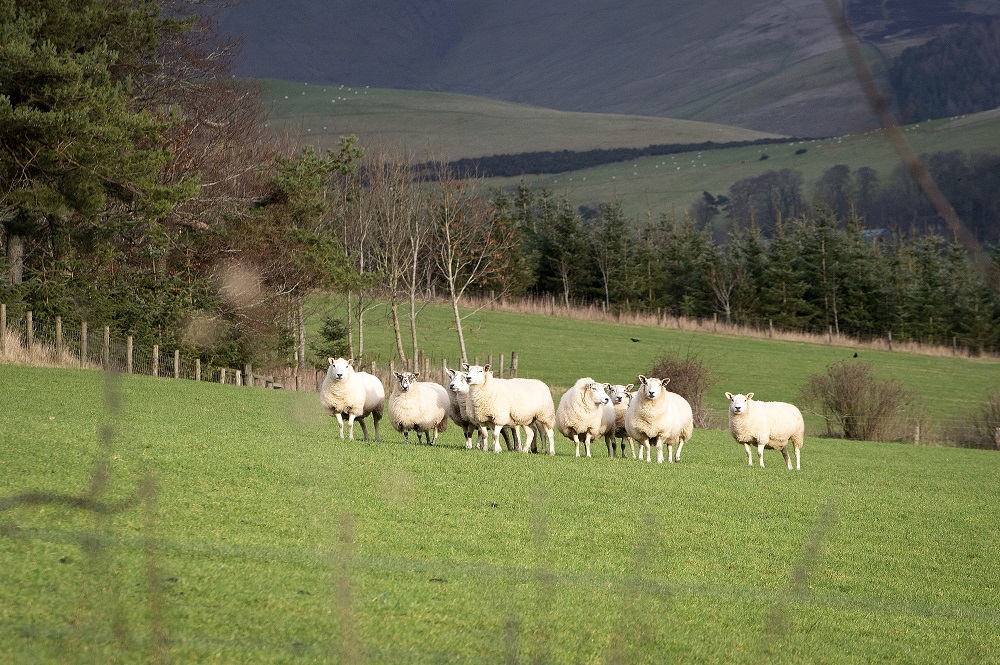 Picture: Peter says benefits towards animal husbandry as a result of woodland shelter belts outweigh any conversion of agricultural land to trees.
And there are business benefits today. "When we bought this place it was just open valley," he continues. "There was no shelter at all – the wind just ripped right through. On a stormy day those sheep are looking for shelter and by putting the tree shelter belts in we are providing that for them. Your lambs are not just lying out in a field shivering and you're not going out in the morning picking dead ones up. You'll always reduce your feed costs if something is kept warm - you'll find that if something is cold, wet and hungry then your feed costs go up. Also, if your ewe is subject to the cold and driving wind and rain, you end up with udder clap or mastitis and all the problems that you get at lambing time and then your lamb suffers. Ok, you lose a wee bit of land but the benefits to husbandry outweigh that."
Trees are a good choice for less productive land
Peter farms with his partner's son, Chris Blyth, who says trees are part of farming in a smarter, more profitable way. "Planting trees doesn't have to be a big thing," he explains. "You've got a wet, boggy area where there'll be fluke? Put some trees in. It's a good answer for less productive bits of land, and it gives you timber for fencing. It's a good idea to grow your own timber. The problem is, it's seen as trees versus farming but it should be trees and farming. Trees are a way of doing something with bits of land that would otherwise cost you money. Got dry land? Plant Scots pine. Boggy land? Plant alder and willow. On marginal land, plant sitka.
"Some of the farm is productive, then there's good, ploughable land. That's all about soil. If you're not testing soil, how do you know what fertiliser to put on it? You can save a fortune. If the grass is growing, give it less nitrogen. Grazing sheep on it improves the soil too. Trees enhance the whole operation. They provide shelter for livestock, they stop water run-off. They take carbon out of the atmosphere.

Picture: Peter has successfully combined forestry with his sheep enterprise, creating an additional tax free asset and helping secure the farm for future generations.
"There's space on every farm for wildlife"
As the years have gone on, Peter has become increasingly interested in another benefit of trees to a farming system – how they provide food for livestock and habitat for wildlife. "I want to get away from the blanket forest of sitka plantations," he says. "Deer hide in there, and sitka doesn't provide food. With hardwood trees livestock eat the leaves, birds eat the nuts, you get insect life. The oak tree provides more food and habitat for wildlife than any other tree."
He's now in his 70s, but in his 20s farming had nothing to do with wildlife. "Back in the 60s and 70s I worked in shifts for an American company," he explains. "Seven days a week, winter and summer, ploughing up the land to make fields, ripping up hedgerows. If I can do something to address that now, I will."
Peter used his first tree plantation in 2006 to create a wildlife corridor for red squirrel, pheasants, badgers and hares. The hardwoods he's planted since attract birds – woodpeckers, thrushes, tits, blackbirds, woodcock and grouse. In his large, modern sheep sheds he has tens of bird boxes in the eaves, and in the trees there are owl boxes. "I built a lake so I have frogs and newts, and I put trout in; it's not rocket science. Because the trees slow down the water flow I've got voles. My muckheaps have worms, beetles and hedgehogs. I have 14 pairs of breeding lapwings because I left a field wild. We could all leave five per cent of the land for nature as a recompense for working it: there's space on every farm for wildlife."
Funding woodland creation at Gascoigne Farm
Through the Forestry Grant Scheme, Peter received £338,321 of funding for a total of 81.23 hectares of woodland planting, including a maintenance grant spread over five years. Money covers woodland creation, fencing and tree protection. Under current rules, you are still eligible for the Basic Payment on land planted under the Forestry Grant Scheme.
It is possible to apply for fencing and planting works to be completed in separate financial years, helping to assist with cash-flow. Depending on the site and growing conditions you can start to receive timber income from year 15 to 20.
Grant monies are claimed retrospectively, so you may need a loan to cover the initial costs for planting, tree protection and any infrastructure, but you will have a contract from Scottish Forestry, which helps with any bank application.
Regional grant uplift rates apply in certain areas of Scotland –
find out more 
Agroforestry On Your Farm
Short documentary films, practical resources and articles you'll find helpful when thinking about implementing agroforestry systems on your farm.
Find Out More