Fresh, local school meals in East Lothian
Freshly-prepared, local and seasonal ingredients are at the heart of primary school meals in East Lothian, after the Council achieved the Soil Association Scotland's Bronze Food for Life Served Here award across its primary schools for the seventh year running.
Confirming that East Lothian Council had once again achieved the national award, Food for Life Served Here inspectors praised "a fantastic annual inspection" and noted that "the kitchen staff were engaged and knowledgeable about the Bronze criteria. The food being prepared was to a high standard."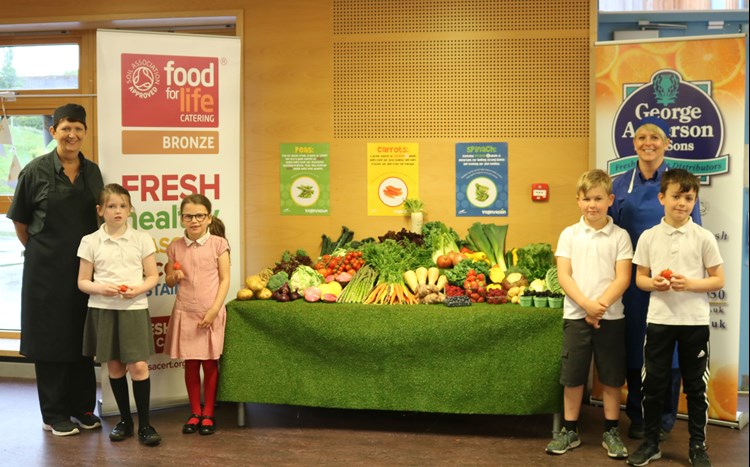 Image: pupils at Haddington Primary School in East Lothian enjoy the George Andersons & Sons fruit and veg roadshow.
Serving up seasonal recipes
East Lothian Council serves 3,700 Food for Life Served Here meals a day across their 35 certified primary schools. Menus are changed twice a year to reflect seasonality, with charts on display so that catering staff can select seasonal produce. Children in East Lothian primaries benefit from a range of healthy and tasty dishes including sausage and bean casserole with root vegetables, sweet potato and chickpea curry, and vegetable tagliatelle.
In East Lothian schools, a provenance map highlights locally sourced ingredients. One local supplier, George Andersons & Sons, even bring their fruit and veg roadshow into schools to show pupils what produce is grown in Scotland.
Highlighting local ingredients
The Soil Association's Food for Life Scotland programme, funded by the Scottish Government, supports local authorities to put more local food on school dinner plates, shortening supply chains and supporting thriving local economies.
Pupils in East Lothian primary schools regularly enjoy:
Locally sourced fruit and vegetables from George Andersons & Sons, including potatoes, cabbages and brussels sprouts from East Lothian, Scottish tomatoes, and rhubarb from local growers;
Scottish cheese from McLelland;
Scottish milk from Müller.
Setting sights on Silver
Vanessa Sanal, Service Manager at East Lothian Council said: "East Lothian Council's Facilities Management  team are delighted to have maintained the high levels required to retain the Bronze Food for Life Served Here award for the seventh consecutive year. We are currently undertaking a pilot study in six of our primary schools aiming to achieve the next level of Silver Award with a view to working towards rolling the Silver Award out across the school estate.
Earlier this year East Lothian Council adopted its Climate Change strategy. The school meals service continues to champion local produce and suppliers providing clear examples of a local, sustainable economy in action. Increasing the use of locally sourced ingredients goes some way to reducing our carbon footprint."
Sarah Duley, Food for Life Scotland Programme Manager at Soil Association Scotland, said: "Huge congratulations to East Lothian Council on this fantastic achievement. Renewing their Food for Life Served Here award for the seventh year running is a testament to the hard work and dedication of everyone involved, from the catering staff to the Councillors. We're delighted to celebrate East Lothian's continued commitment to providing fresh and healthy school food, and their support of local producers."