Any time is good to start a new Christmas tradition.
So this year, how about introducing the much-loved Eggnog into your repertoire. And the CRU twist? Pour this fabulously rich, creamy and merry concoction over a cup of CRU Intense Roast Espresso. Cheers to an amazing winter pick-me-up you won't want to put down. Get more great recipes from Cru here.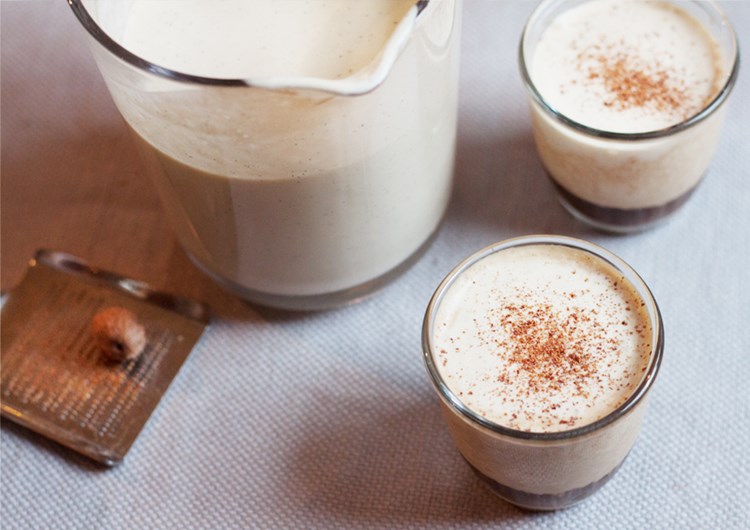 Ingredients
750ml whole milk
450ml double cream
1 vanilla pod, halved and seeds removed
2 cinnamon sticks
2 allspice berries
1 clove
Pinch of grated nutmeg
60g soft brown sugar
60g golden caster sugar
6 eggs, separated
75ml bourbon
Shot of CRU Intense Roast Espresso
Freshly grated nutmeg to garnish
Method
Toast your cinnamon, allspice berries and clove in a small saucepan over a low heat until they are fragrant.
Heat the milk, cream, vanilla pod and seeds and spices in a pan over a medium heat. Carry on heating it until it is steaming and slightly bubbling, but not quite boiling. Remove from the heat and allow to steep for at least 30 minutes. You can also leave it overnight in the fridge.
Beat the egg yolks and sugars together with an electric whisk or freestanding mixer until the batter is pale, golden and falls in ribbons from the whisk.
Strain the creamy mixture through a sieve and reheat until barely simmering (not boiling). Combine with the egg yolks and sugar, then heat gently whilst stirring constantly. The batter should start to thicken. Remove it from the heat after 3-5 minutes, as soon as it coats the back of a spoon and holds a line drawn by your finger.
Pour the mixture through a strainer and leave to cool.
Whisk eggs whites until stiff peaks are formed.
Add the bourbon to the cooled mixture.
Fold the egg white through the mixture and refrigerate.
Pour a shot of CRU Intense Roast Espresso into a cup and allow to cool.
Pour the refrigerated Eggnog on top of the Espresso and garnish with freshly grated nutmeg.
Allowing Eggnog to age helps its flavour to develop, but make sure you drink it within one week of making it.
Going to a dinner party in the run up to Christmas and want to take a special bottle with you? Why not take along our Excellently Cream Espresso Eggnog? Just make up a fresh batch and decant it into a pretty glass bottle and spread the merry.