Spicy Prawns with Mint Yogurt Chutney
Barbecues are a favourite on long warm summer days and this spicy Indian style recipe from Yeo Vally confirms why: 
"A light Indian inspired dish which requires very little preparation or cooking. Using Yeo Valley fat free natural yogurt is a great way to create a creamy flavour without piling on the pounds. This is a perfect dish when you need healthy food fast. The light aromatic chutney is also delicious for dipping crudities and strips of naan bread into."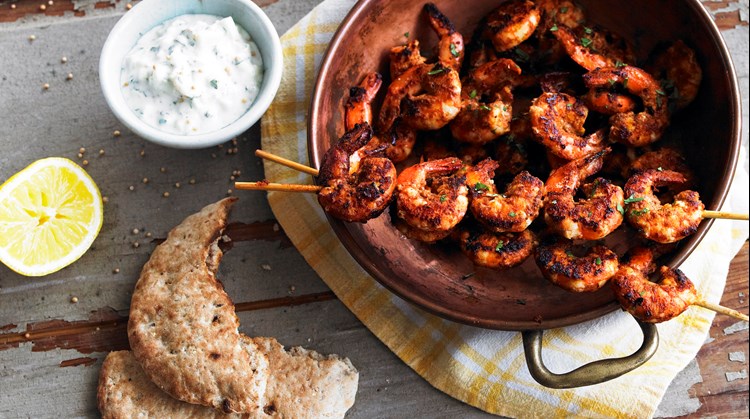 Ingredients, prawns
(serves 4)
 450g (16oz) large raw prawns, peeled and de-veined
100g (4oz) Yeo Valley 0% Free Natural Yogurt
2tbsp lemon juice
1 garlic clove, crushed
1tsp paprika
1tsp garam masala
½ tsp ground cumin
½ tsp ground coriander
1tbsp fresh coriander leaves, chopped
Metal or wooden skewers
Method
Mix together the prawns with the rest of the ingredients except the fresh coriander leaves. Cover and chill and marinate for 2 hours or overnight.
Thread the prawns onto skewers and place under the grill. Grill until golden brown (about 5 minutes) turning during cooking to ensure they are brown all over. Sprinkle over the fresh coriander leaves and serve with the apple and mint chutney. 
Quick tip: If using wooden skewers, soak them for 30 minutes in cold water to prevent them burning during cooking.
Apple and Mint Chutney
Ingredients
300g (10½oz) Yeo Valley Organic 0% Free Natural Yogurt
½tsp salt
1tsp finely chopped root ginger
2tbsp finely chopped mint
1 eating apple – peeled, cored and finely chopped
1tsp mustard seed
Little lemon juice to taste
Method
Whisk together all the ingredients except the mustard seeds.
Place the mustard seeds in a non stick frying pan and sauté until the mustard seeds start to sizzle and pop.
Add to the yogurt mixture and mix well.
Cover and chill until required. This will keep in the refrigerator for up to 2 days