Coronavirus: "People are wanting to support local farms and businesses"

Coronavirus: "People are wanting to support local farms and businesses"
How direct sales have helped organic supermarket Locavore respond to the coronavirus crisis
Glasgow-based organic produce business Locavore saw a surge in custom at their organic supermarket and for their veg boxes due to the coronavirus crisis.
The business had to close its cafes ahead of the lockdown, but Managing Director Reuben Chesters say they've been able to redeploy all staff into the shop and market garden.
Supply chain challenges have included sourcing British-grown veg, but international supply chains, including organic products coming from Italy, have held firm.
Locavore launched an online shop in just two weeks as another option for direct sales. 
Reuben thinks consumer appetite for online shopping and supporting local businesses will remain once the crisis is over.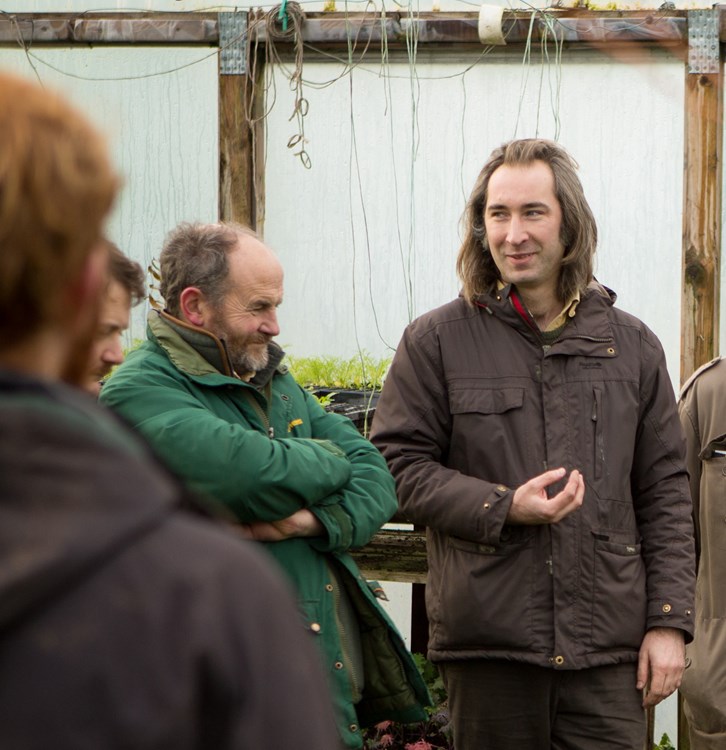 Picture: Reuben Chesters says Locavore's organic supermarket has seen 20 percent higher trade than usual due to the coronavirus crisis.
Reuben Chesters is Managing Director of Locavore. The Glasgow-based business comprises an organic supermarket, two cafes, a veg box scheme, market garden, and a wholesale organic supplier arm, Locavore Trading. Ahead of lockdown, Locavore closed the cafes, one of which has only opened a few weeks before. But shop custom and demand for veg boxes went through the roof. 
"There was a massive spike of sales at the shop in mid-March, when everyone was panic buying," says Reuben. "We then had a sustained period of 20 percent higher trade than usual. The Locavore supermarket is a big neighbourhood grocery store, and a big element of what we're doing is organic. We had a big loose food selection, which we started packing into bags. This was from a hygiene and peace of mind perspective, but also to get through the shop more quickly."
Keeping staff and customers safe was an early priority, and Locavore introduced measures including hand sanitizing on entry and two-metre markers on the floor through the shop. There's a more stringent level of cleaning and sanitizing, screens at the tills, and staff wear masks on the shop floor.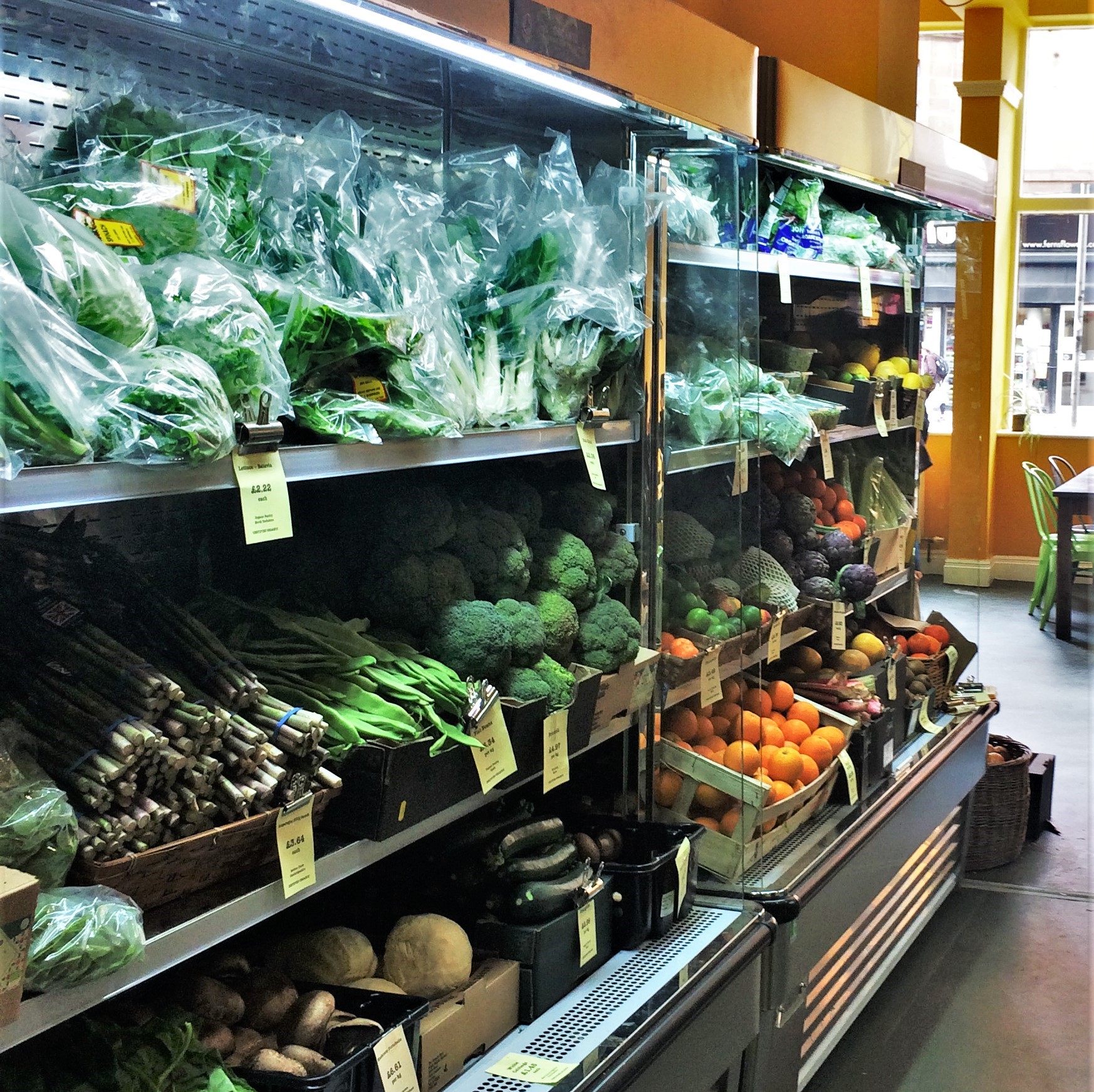 Picture: Keeping staff and customers safe in the shop has been a key priority for Locavore.
Another priority was redeploying café staff. "We've been able to do a full redeployment," says Reuben. "We've been able to move people from the café to the shop and the market garden. Switching from loose to packaged groceries became an employability project, where all the chefs and people who were working in the café before are now packing things down into bags for the shop."
Increased demand for veg boxes
In line with trends across the UK, Locavore's veg box scheme had a massive surge in sign ups, too. "About a week into lockdown, we had to close to new sign ups," Reuben says. "During that period, we signed up probably 300 or 400 new customers and we just didn't have the capacity to deal with any more. That's partly because the way we do veg box packing has had to change to allow distancing in the workplace. We have two shift pattern, with fewer people in for a longer amount of time, which puts a cap on how much we can pack at one time. But we're looking at how we can increase capacity to meet the demand." 
Locavore works with the open source Open Food Network for some elements of their veg box scheme, so customers can add extra items for example. "We've seen those sale shoot through the roof during coronavirus – people adding bread, eggs or treats," he says.
Reuben says supply chains were affected in the early weeks. Locavore's veg boxes usually only contain British-grown vegetables, but sourcing these became challenging. "It looks like we're going to have to make an exception for that this year and bring in suppliers from elsewhere to get us through," says Reuben. "The supply's not there, and we've also seen supermarkets entering what was the independent veg box supply chain."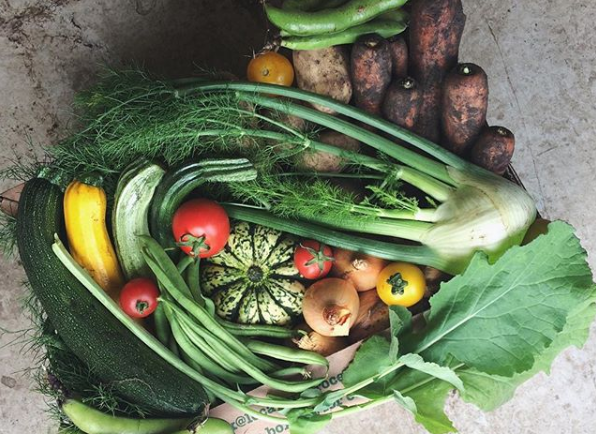 Picture: Demand for veg boxes has gone through the roof as people have looked for alternative ways to access food at home during the lockdown.
However, international supply chains for the company's wholesale arm, Locavore Trading, have held firm. Reuben says: "We're an importer of organic food and we supply other shops around the UK. In March, we had three times our usual trade. In April, it was one-and-a-half times the usual. Just that surge in demand meant that we ran out of a number of lines. We were worried we wouldn't be able to get food out of Italy, for example, but the supply chains are still there. There haven't been problems, there's just been a slight delay.
Introducing direct sales online
The company also launched an online shop on Shopify, with a growing range of products. "We'd wanted to do an online shop for years and never got around to it," says Reuben. "Then this came along and a couple of people from the team were in self-isolation, so they used the time to put a website together in a couple of weeks, which was amazingly fast. As part of social distancing for staff, we've introduced a night shift for a couple of staff members who couldn't be in the shop during the day. They pack direct orders overnight and our driver comes in the morning and delivers them out in her wee electric van.
"We've tried to set the website up so it's quite slick from the beginning. It's not perfect - we've struggled with stock control and getting the geographical area right, but we've aimed to have quite a streamlined order process to take the admin out of it." 
Will new customers stay post-Covid?
"For people thinking about selling direct I would say, it's alot about evaluating your own time and being efficient, so look at systems to reduce your admin. And consider going more direct and selling to places like us- even if not fully direct, it could be a good option.
"Our main growth has been in the veg box customers. We hope they will stay. Maybe we were an option when they couldn't get a supermarket order for the next eight weeks, but I think a good proportion will stay.
"We had been planning to take on a second shop, but now we're wondering if we should look at a warehouse space to be able to do more veg boxes. At the same time we are probably going to go into a deep recession.
"However, the market is out there. People are wanting to do online shopping, and they're wanting to support local farms and local businesses."
Related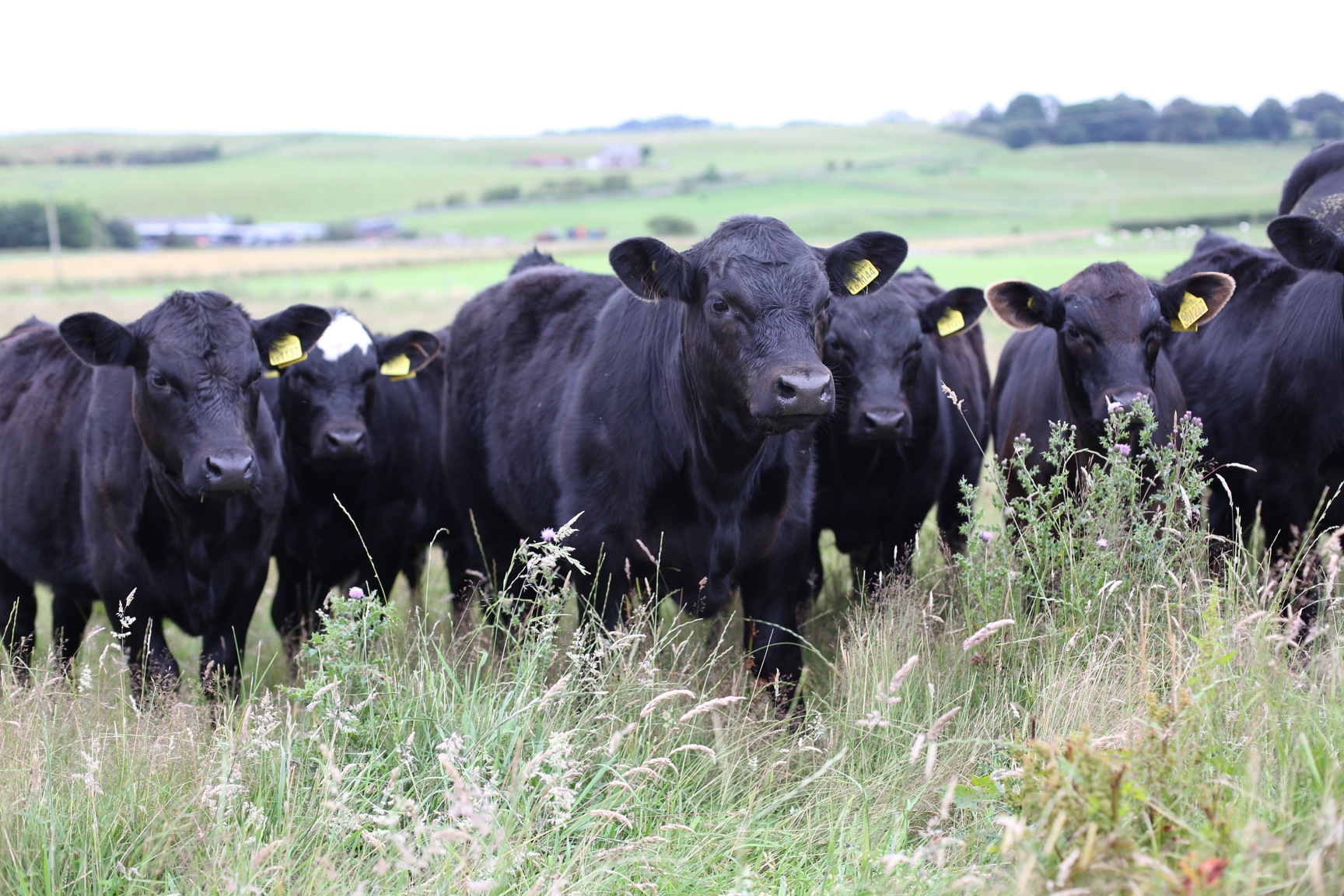 Coronavirus: how one farmer is using direct selling to get organic meat to Scottish families
Read more