Trees, organics and biodiversity at Royal Highland Show
The combination of 200th anniversary celebrations – and the first event in three years due to the Covid pandemic – made for a huge turnout at the Royal Highland Show.
In fact, such was the demand that tickets sold out for the first time ever on the Friday and Saturday.
As ever, there was a lot going on at the Royal Highland Centre in Ingliston, but Soil Association Scotland – along with partner organisations – ensured that agroforestry, organics, biodiversity and climate change were front and centre of discussions.
Trees on farms and crofts
Trees were a hot topic, with a new report launched by Soil Association Scotland and Woodland Trust Scotland Integrating trees on farms and crofts in Scotland featuring on BBC Scotland new bulletins.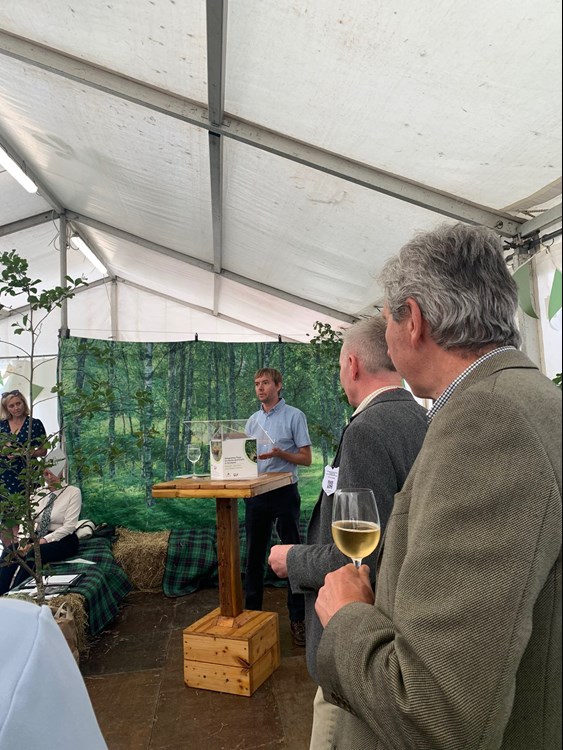 Case study farmer Roger Howison featured on the TV and radio, talking about his decision to plant apple trees in a silvoarable system at his farm in Newburgh, Fife. 
Scottish Government Minister for Environment and Land Reform Mairi McAllan opened the launch event with a speech that recognised the benefits of integrating forestry and farming for both climate and nature. The MSP also spoke at a Scottish Land and Estates/Integrating Trees Network event earlier in the day, stating "the Scottish Government is clear that forestry and farming can co-exist".
And in response to media coverage of the report, Cabinet Secretary Mairi Gougeon – who was forced to miss the RHS due to Covid – said the government is considering ways of making small woodlands on farms more attractive. This could include incorporating tree planting as an option to support Ecological Focus Area requirements under 'greening' rules.
This feels like a welcome step in the right direction and Soil Association Scotland will continue to make the case for co-ordinated policy support for farmers and crofters to plant more trees.
Biodiversity and climate change
Another project that Soil Association Scotland has been involved with was the Scottish Government Agriculture and Biodiversity Climate Change (ABCC) Network. We were delighted to attend the launch event at the show on Thursday.
Attendees heard from Soil Association Scotland farmer ambassador Denise Walton from Peelham Farm in Berwickshire, as well as Dee Ward from Rottal Estate in Angus.
Both spoke passionately about the changes they had made on their farms to improve biodiversity and reduce emissions.
Trailblazers like Denise and Dee will be part of the new network – backed by the Scottish Government, NFU Scotland, Quality Meat Scotland, SAC Consulting (through the Farming for a Better Climate programme) and Soil Association Scotland – to highlight and share best practice on climate and nature friendly farming and crofting.
We look forward to working with the network to increase awareness of the steps that all farmer and crofters can be taking to help address the climate and nature emergencies.
Pointing the way for organic farming
A third event that the Soil Association Scotland team were involved with at the Royal Highland Show on Thursday was the launch of the Scottish Organic Stakeholders Group (SOSG) report, Pointing the way to an Organic Action Plan for Scotland.
This was the culmination of the work of four sub-groups comprised of SOSG members, looking at conversion, public procurement, supply chains and research/training.
We were delighted to be joined on stage by Ross Paton, chair of the SOSG and organic dairy farmer, Pete Ritchie, executive director of Nourish Scotland and organic farmer, John Davidson, deputy chief executive of Scotland Food and Drink and Vicki Swales, head of land use policy at RSPB Scotland.
The report is full of clear, practical recommendations for increasing demand for organic produce, increasing the number of organic producers as well as the amount of organic food produced here in Scotland. Members of our Food for Life Scotland team contributed to the discussions on public procurement, and the programme was highlighted in the procurement sub-group report as an existing mechanism to drive organics in public procurement.
We will continue to work with the SOSG to ensure the Scottish Government delivers on its ambition to grow the organic sector in Scotland and develop an Organic Action Plan to help drive that growth.