Organic Poached Eggs in Beef Bone Broth
"The quantity of waste produced in the UK is staggering. Modern palates and sensibilities have led to a preference for cuts of meat which are the furthest removed from the reality of meat eating."
This beautifully simple bone broth recipe is a great one to try if you're rethinking the way you eat meat. It comes from Borough Broth Company, an organic business devoted to reducing food waste by creating rich, flavoursome broths from otherwise unused or incinerated meat products.
Founder Rosamund Heathcote explains that 'by slow cooking what was fast becoming a 'waste' product, we have created a range of organic bone broths which extract flavour and nutrition from what was formerly considered useless.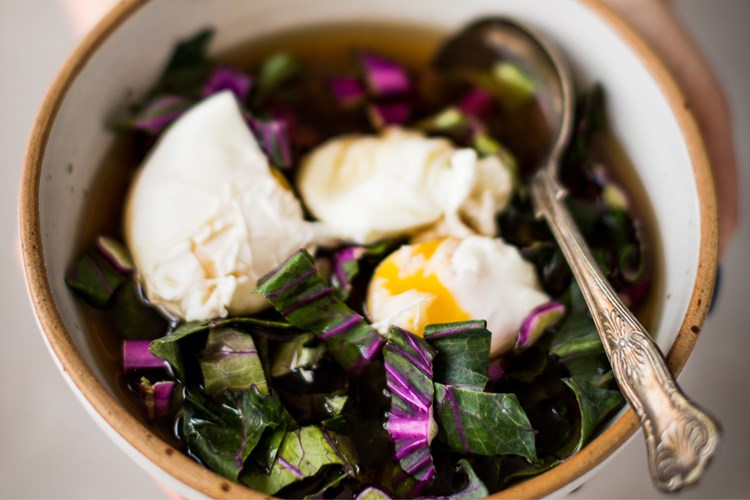 Ingredients
* indicates optional ingredients
1 pouch of Borough Broth Co. Grass-Fed Organic Beef Bone Broth
1 handful of Organic Purple Kale (this can be substituted for any organic greens)
2 organic eggs (medium sized)
*chilli, sriracha & spring onion are also a great addition
Method
1. Line a bowl with chopped greens.
2. Bring the beef broth to the boil in a saucepan.
3. Reduce to a simmer and stir vigorously almost creating a whirlpool in the pan.
4. Crack an egg into the centre of the pan and allow to simmer for 3 minutes.
5. Scoop the egg out and place onto the bowl of greens and repeat with the second egg remembering to create a whirlpool in the pan first.
6. Once both eggs are laid out on the greens, gently pour the broth over. And that's it! *top with optional extras