Workplace Catering
Are your employees hungry for great food on site?
Would you like to demonstrate your commitment to their health and well being? Studies show that workplace health promotion could help companies see a return on investment of up to £3.8 million.
Many employers and their caterers, including Pearson PLC, Jaguar-Land Rover, City Hall in London, the Scottish Government and the National Trust are already leading the way by serving Food for Life Served Here Standard meals to their staff in offices and factories across the UK. These make up a considerable part of the 1.6m Food for Life Served Here meals served across the UK each working day.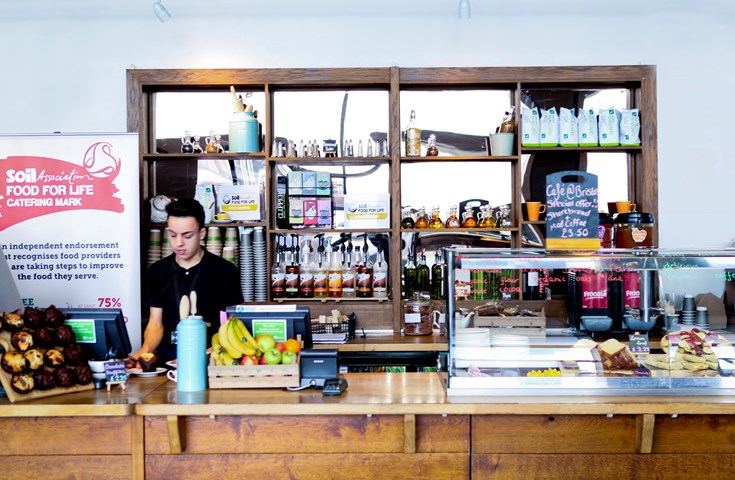 Why choose Food for Life Served Here?
Food for Life Served Here is a robust framework and inspected award designed to help you make sure that the food you serve is ethical, sustainable and fresh, free from nasty additives and transfats. It's a clear signal to your staff and other stakeholders that you are committed to the quality of the food you offer.
Boosting staff wellbeing by serving more fresh food and making healthy eating easier.
Linking sustainability and food in a pioneering and meaningful way proves your commitment to ethical consumerism.
Championing local food producers and contributing to your local economy (Silver and Gold awards).
Increasing food sales by providing more appetising, freshly prepared meals for staff.
Keep control of cost: Many caterers report that improving quality doesn't necessarily increase costs. Making more food from scratch and buying from the Food for Life Served Here Supplier Scheme members can actually save money.
Business Support for Award Holders

Access FREE marketing & business support to help you promote your award.

Find out more
Food for Life Supplier Scheme
Use our useful supplier scheme to find suppliers who understand your needs as an award holder.
Find out more
Read the latest Food for Life Served Here news
Stay up to date with news, business opportunities & events.
Find out more