Bringing wading birds back to Scottish farmland

Bringing wading birds back to Scottish farmland
Numbers of wading birds are declining fast in Scotland. In the last 20 years, curlews have declined by 60%, lapwings by 50%, and oystercatchers by 40%. If we don't act now, we risk these iconic species disappearing from our farms altogether.
UK population numbers of wading birds are crashing - but with small changes, it's easy to bring waders back to your farm.
Start by creating waders scrapes. 

 They can be as large or as small as you want, but you want them to be very gently sloping into the water.

Rotavating ground near wetland areas loosens up the soil so waders can more easily dig around in it for worms and grubs.
You don't have to give up grazing ground - by grazing sheep right down to the edge of ponds, they make the edge muddy, which is what waders like.

 
In the face of the rapid decline of wading birds across Scotland, farmers are beginning to see how easy it is to reverse this trend by making small changes to their farming practices. At Threepwood Farm in the Borders, farmer Colin Strang Steel has seen populations of wading birds flourish.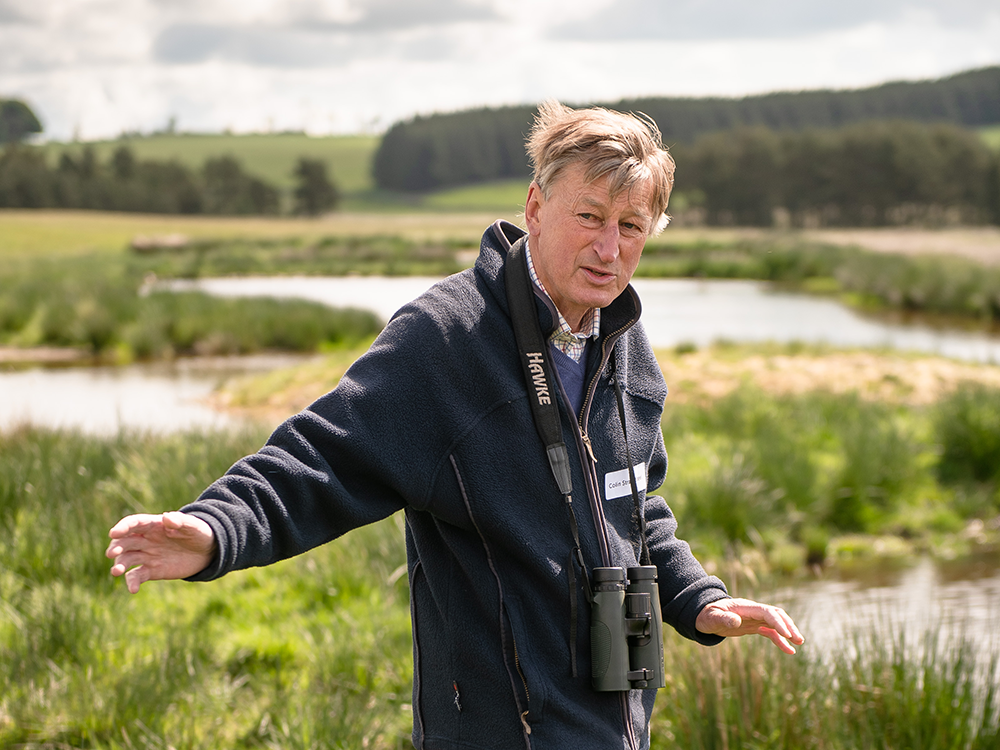 Picture: Colin Strang Steel of Threepwood Farm. "I just think it gives you a much richer countryside if you can see these birds. I spend a lot of time – probably far too much time! – just watching them."
"In more recent years we've created a series of wetland areas where we now see lapwings, oyster catchers and the occasional curlew," Colin tells us. "Last year I saw a greyhen [female black grouse] on adjoining ground, which is the first one I've seen here for 25 years."
Colin says it has been a pleasure to see these birds returning to his land, and that changing his farming practices to encourage them hasn't had a negative impact upon the farm. "Where we're concentrating on the waders is on the least productive ground on the farm, so we're not foregoing much if anything to make things more attractive for waders."
If anything, Colin reports seeing positive impacts for his farm as well as for the wading bird population.
We asked him to run through the practical measures he's taken to integrate wading birds conservation into his farming practices.
Creating wader scrapes
"We ploughed up one field to reseed it," Colin explains, "and the moment we did, lapwings started arriving. To encourage them to stay, we created some scrapes on the adjoining field so they could have access to water."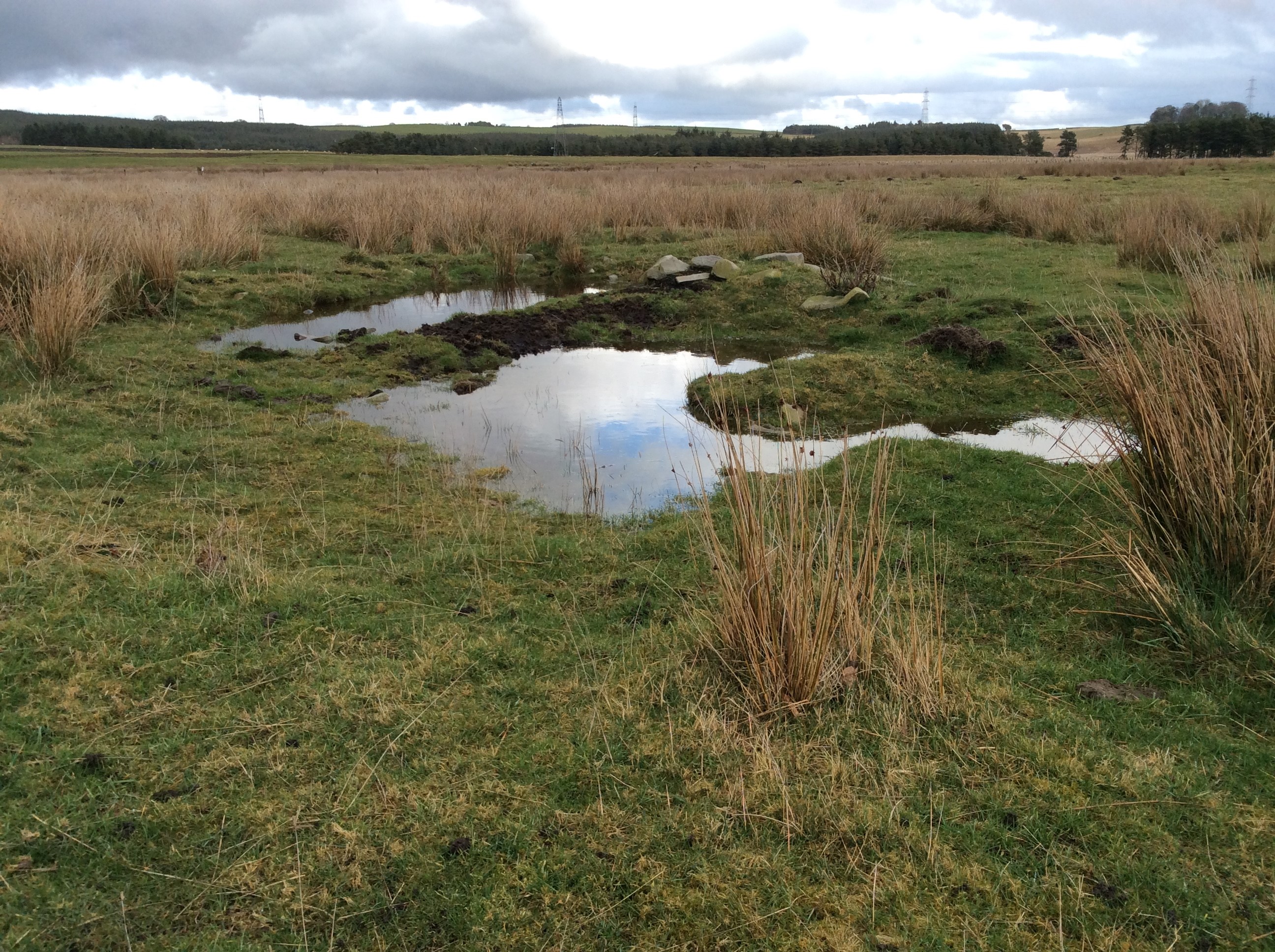 Picture: Wader scrape. CREDIT: Colin Strang Steel.
"The scrapes we originally created were no more than 15 foot by 3-4 foot, but they can be as large or as small as you want. You want them to be very gently sloping into the water.
"One of the important things is that you don't want them sited to close to any trees or woods, where wading birds are at higher risk from crows and buzzards."
Rotavating the ground
 "When we do work like rotavating the ground it's usually a very quiet time of the year. We rotavate a bit of ground near where we've got the wetland area to loosen up the soil so the lapwings, in particular, can dig around in it for worms and grubs."
Grazing methods for wader conservation
Colin says: "When we first started, we fenced off the ponds, closing the gates when the lapwings started arriving in February and only allowing stock in that area from August. But we found another created area grazed right down to the pond by sheep was much more attractive to waders.
"With the sheep grazing right up to the water's edge, they make the edge muddy, which is what the waders like, particularly lapwings."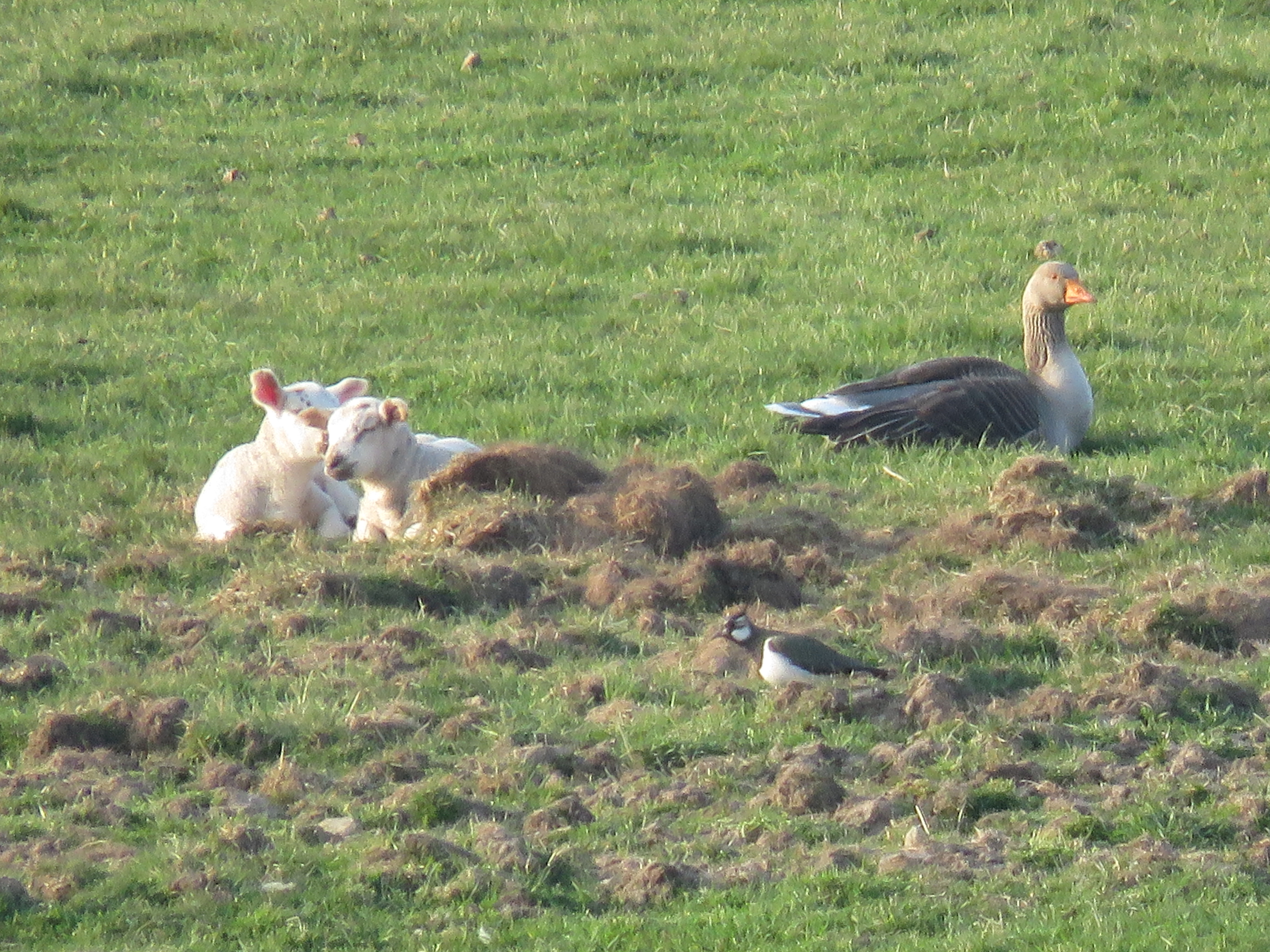 Picture: Lambs, a goose, and a lapwing sharing a field. CREDIT: Colin Strang Steel
"On some of the rougher areas we've introduced cattle grazing, which makes the ground more attractive to waders. The cattle have grazed out some of the roughest ground, so we've been able to put sheep on. So it's benefitted the livestock here as well."
And what does he advise for others looking to get started?
Colin advises farmers to start small by creating a wader scrape. "The first step is to create an area where these birds can access broken-up ground. Just plough a tiny area and leave it fallow. Water is essential, but it doesn't have to be a huge area and it can be very shallow.
"It's very easy to do this, and to create the right sort of conditions you're not taking a lot of good ground."
Want to know more about wading birds?
We run regular, free events for farmers. To see when we have a new event on wading bird conservation or other farming with nature topics, take a look at our events page: