Robert Burns Organic Farmer

Robert Burns Organic Farmer
Bryce Cunningham gambled everything on organic conversion at Mossgiel Farm. He says another former tenant, Rabbie Burns, would have done the same.
Robert Burns, the Bard of Ayrshire, was tenant farmer at Mossgiel Farm near Mauchline. He wrote 

'To a Mouse' and possibly even 'Auld Lang Syne' at Mossgiel, but the farm itself was struggling.

Bryce Cunningham took over the farm from his father in 2013. He's made significant changes in order to be able to keep it, including converting to organic.
They started processing their own goods to have more control over price. The sell beef at farm shops, and milk to the speciality coffee industry in Edinburgh and Glasgow. 
Picture: Bryce Cunningham and his son Arran on Mossgiel Farm, which is now an organic livestock farm.
The farmer who now works the land once farmed by Rabbie Burns says he's sure the Bard of Ayrshire himself would have been behind the farm's conversion to organic.
Bryce Cunningham, now a tenant farmer of Mossgiel Farm near Mauchline, as was Burns 234 years before, says the beloved Scottish poet's passion for nature and community comes through in his writing, as does his love of farming, "even though he wasn't very good at it!"
"I'm sure Burns would have been into what we're doing," says Bryce. "He was quite a man for community spirit and he mentions nature a lot."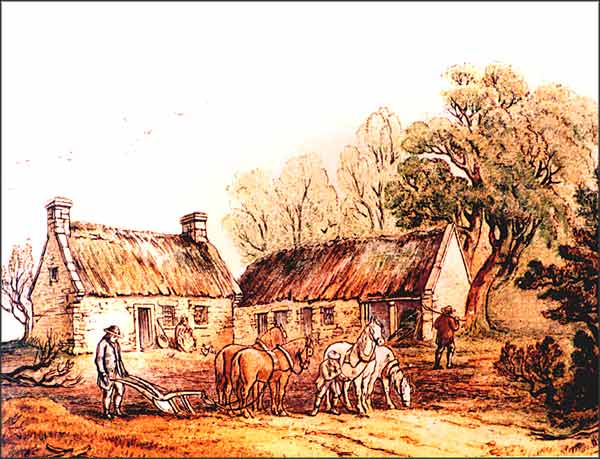 Picture: Mossgiel Farm in the days of Robert Burns.
Burns wrote 'To a Mouse' and possibly even 'Auld Lang Syne' at Mossgiel, but the farm itself was struggling. "He'd had a couple of bad summers and his flax had failed," says Bryce, "and he was about to jump ship to Jamaica when his book of poems [Poems, Chiefly in the Scottish Dialect] was published, making him famous and keeping him in Scotland."
Reconsidering soil health
Bryce had a similar 'make or break' scenario in 2015, when plunging milk prices forced him into a stark choice: give up the farm or farm completely differently. He says his father's business model, of using industrial farming methods to "push out as much milk as possible" was "just not working any more". During that time the price he could command per litre fell from 28 pence to as little as nine pence.  
"Even before I took over the farm in 2013 I had noticed changes in the last ten years. The farm wasn't as green and lush and diverse as I remembered it as a child. There was no clover, the hedges seemed quite dead and the woodland sparse – I used to get cuts and grazes from the thick branches when I was little and now there was barely a tree."
After taking over the farm when his father died he "went on a few soil management courses" and learned that his soil had a low PH, with too much magnesium and not enough calcium. He questioned his father's "blanket use of fertilisers" and adopted technology such as a GPS tractor that fertilises in a targeted way. "Too much sodium in the soil was causing havoc and locking up the phosphorus," he says.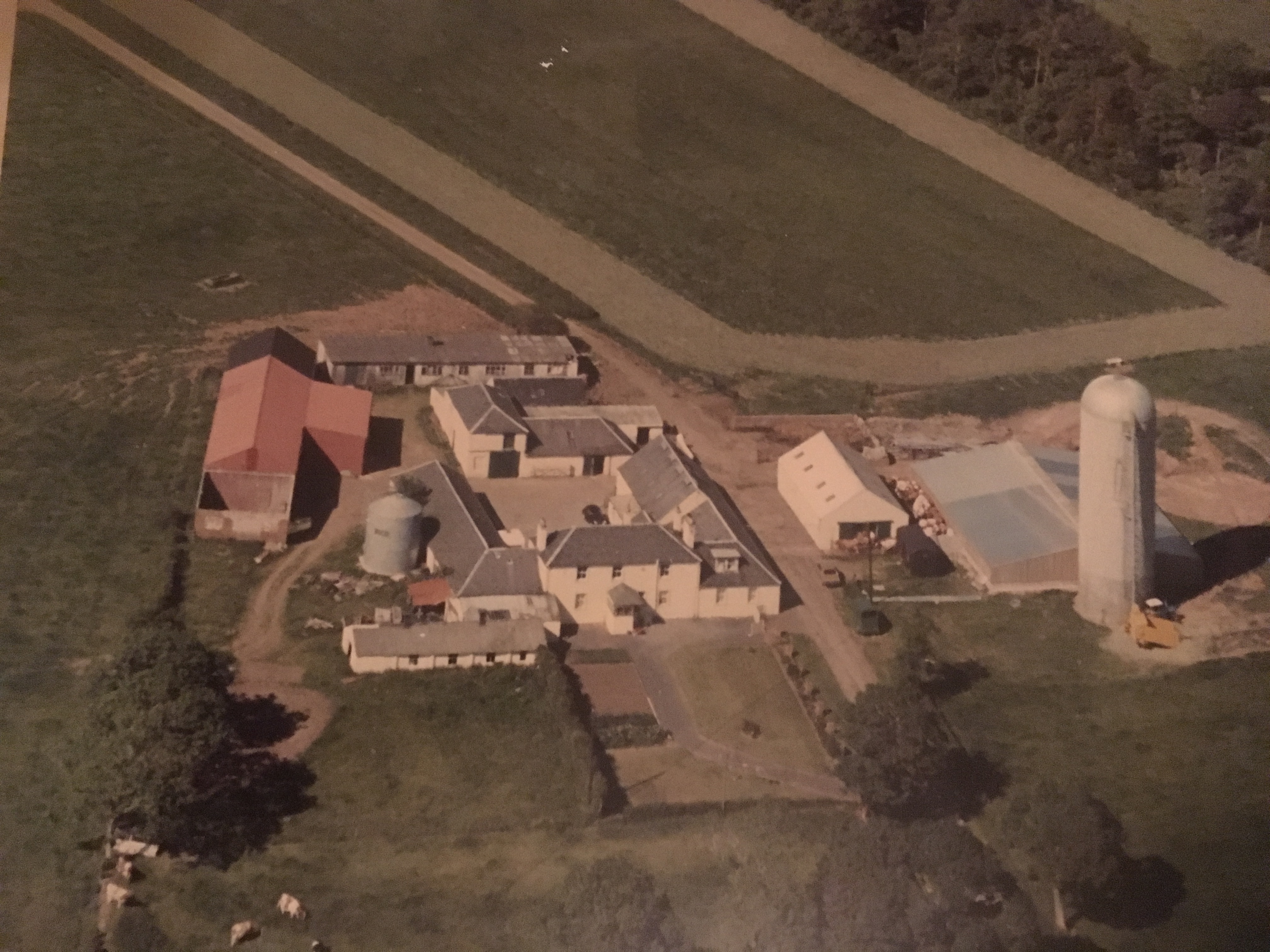 Picture: Mossgiel Farm in 2013, when Bryce Cunningham took over the farm. 
"We gambled everything on organic"
Already interested in combining his grandfather's farming methods, "which were basically organic", with modern scientific knowledge, he decided to go organic or bust. "Actually giving up the farm wasn't an option – my disabled grandmother would have lost her house. We sold half our cows – all the Holsteins, because we saw our future in Ayrshire cows –  we sold a piece of land .. we gambled everything!"
"I also decided I was not letting anyone else dictate the price of my produce, so we started processing our own goods. We now have a beef enterprise, I take the bulls myself to a nearby abattoir and we sell the meat in our own and other farm shops. We process our own milk – we have a pasteuriser and bottle it ourselves – and we sell it to the speciality coffee industry in Edinburgh and Glasgow.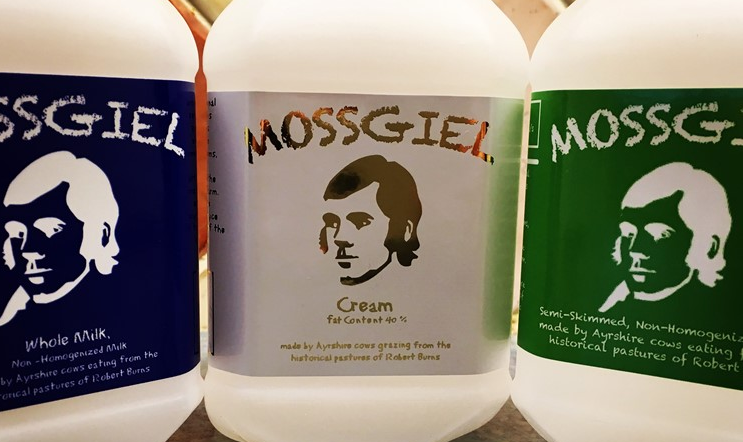 Picture: Mossgiel's Ayrshire cow's milk, which is bottled on the farm and sold to the speciality coffee industry in Edinburgh and Glasgow. 

"Alongside this, we also regularly invite people on to the farm – schools, colleges, anyone who's interested, to show them a real dairy farm. I can't say I'm successful yet, but I'm getting there. I'm learning all the time."
Bryce is working with Soil Association Scotland on the UK's only mob grazing field lab; a group of farmers trialling this regenerative grazing method and attempting to measure its effectiveness. He is also part of our Rural Innovation Support Service cow with calf group, looking at upscaling the high animal welfare system of keeping dairy calves with their mothers until weaning.