By Wendy Stirling of Botanicals
Winter can take its toll on the condition of our skin.   The chilling, cold air robs exposed skin of its natural moisture, often leading to dryness, flaking, chaffing and redness. Then there's the contrasting warmth of our centrally-heated homes, which can deplete the skin of moisture even further. Those with existing sensitive or dry skin, including those prone to eczema, rosacea or other skin related concerns, are particularly susceptible at this time of year and can find caring for their skin during winter an uphill struggle.
In winter, air has a low moisture content causing exposed skin to dry out quicker. So it's important to choose natural cream-based cleansing products that don't strip the skin of its natural oils and emollient moisturisers that soothe the skin and help lock-in moisture. Using a vitamin-rich facial serum twice a day also helps provide winter skin with an intensive boost of nourishment. Above all, avoid skin care products that contain synthetic ingredients and petrochemicals, as these can have a drying effect on the skin.
If you find caring for your skin during winter a challenge, follow Wendy's helpful tips on how to winterproof your skin and beat the winter-skin woes.
1. Go Natural, Go Organic
The number one rule during winter is to avoid skincare products that contain synthetic ingredients and petrochemicals, as they can have a drying effect on the skin. This is the last thing you want when your skin is already parched and thirsty. There are some super natural ingredients to look out for. My favourite is organic shea butter as it's one of nature's miracles for protecting our skin. Its wonderfully healing and nourishing to the skin, also incredibly versatile, and for this reason finds its way into most Botanicals products. I also love the fact that it provides much needed work for women in Africa where it's sourced.  
Secondly, go organic! The latest study by the Soil Association proves that organic crops, fruit and vegetables have up to 60% higher levels of anti-ageing, antioxidants present than their non-organic counterparts. They also contain significantly lower levels of toxic heavy metals.
2. Keep on Cleansing…. But Gently
During winter it's vital to keep skin clean and clear but without stripping away its natural oils and depleting moisture levels. Use natural, organic cleansing products that gently remove impurities whilst keeping the complexion nourished, such as Botanicals Nourish Cleanse Melt (rrp £24 for 60g).
This gentle yet nourishing cleansing balm dissolves make-up, lifts impurities and leaves skin feeling nourished, hydrated and ever so soft. Botanicals deep-cleanse melts are formulated to penetrate the skin's lower layers, removing impurities and restoring natural balance, without stripping the skin of its natural oils.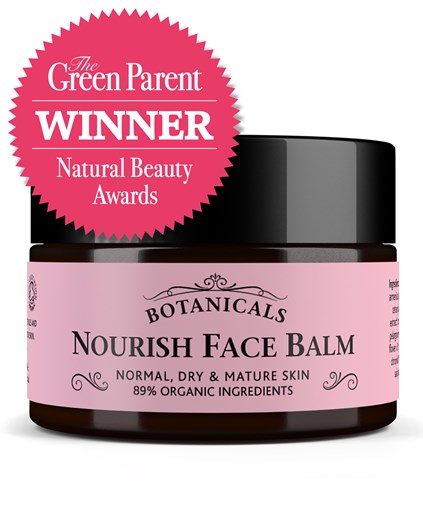 3. A Nod For Nourishment 
Moisturising your skin during the winter months is a must! However, be sure to use a moisturiser that feeds the skin with nourishment, locks-in moisture, soothes any discomfort and provides a barrier to the elements, whilst also letting the skin breathe and doesn't block the pores. Try Botanicals Nourish Face Balm (rrp £22.50 for 30g). This face care gem won Bronze in the Face Care (Leave On) category of the 2015 FreeFrom Skincare Awards.
Enriched with certified organic shea butter and infused with wild rose and rose geranium, it's perfect for nourishing, revitalising and soothing the complexion during winter months. Made entirely of active plant derived ingredients, with no water or fillers, this beautiful botanical balm also supports the skin's natural ability to regenerate new skin cells; just the ticket for dry, dehydrated skin.
4. Off With The Old
Ensure your complexion looks 'bright as a button' during winter; exfoliate regularly toremove dead skin cells and reveal the bright new skin below. It helps keep skin radiantand renewed and also helps improve the efficacy of your nourishing face care products.
Once or twice a week gently exfoliate with Botanicals Cleanse & Polish with Rose & Camellia (rrp £24 for 60g), a delightful combination of certified organic shea butter, virgin coconut oil, white and green tea extracts, rosehip, wild rose, palmarosa and rose geranium. Crushed rosehip kernel helps brighten dull, dehydrated skin by removing dead skin cells and restoring moisture balance
5. On With The Oil
It's important to give your skin some extra TLC during winter and a great way to do this is to massage your complexion with a nourishing face oil or oil-based serum. It works wonders on dull, dry skin as it boosts the skin's moisture levels for added vitality. UsBotanicals Nourish Anti-Ageing Serum (rrp £30 for 30ml), an antioxidant-rich organic oil serum that's a real treat for the face.  It contains rejuvenating rosehip oil as well as camellia and carrot, which works in harmony with the body to support skin's natural ability to regenerate new skin cells.   Using this natural organic face serum helps skin look visibly plumper, firmer and lifted, with a healthy glowing radiance.
6. Give Botanicals A Go!
To give Botanicals nourishing face care products a go for the first time or the perfect present this Christmas, opt for Botanicals Nourish Skincare Collection (rrp £46.50). This special Christmas edition organic beauty box contains a full size Nourish Cleanse Melt and full size Nourish Moisturiser, with a complimentary trial size Nourish Anti-Ageing Serum and complimentary gift packaging. This beautiful gift usually retails for £63 and provides a festive saving of £16.50.
All products in the Botanicals Natural Organic Skincare range are certified by the Soil Association, smell divine, are aesthetically pleasing to use and produce clearly visible improvements in the look and feel of the skin. Using strict performance and ethical standards, all Botanicals products are still made by hand, in small batches, to preserve the active properties of the botanicals used and to ensure the vital life-force of the plant isn't destroyed by heating or over-processing.  The entire Botanicals range is vegan-friendly and also listed in the Naturewatch Foundation Compassionate Shopping Guide.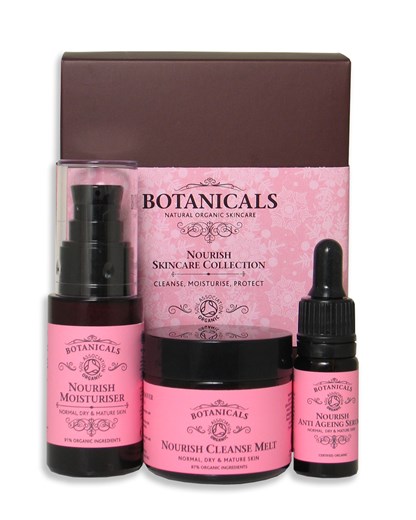 You can find out more on http://blog.botanicals.co.uk/
or follow Botanicals on Twitter, Facebook and Instagram