Food You Can Trust With National Trust
Whether you've spent the day trekking through wintery woodland, relaxing by dramatic coastline or soaking up historic sights, no day out is complete without a bite to eat. And it's even better when you know the food you're eating is having a positive impact on the wildlife and environment around you, too.
The Food for Life Catering Mark works with caterers across the country to help them improve the standard of food served to visitors, children, workers or patients in places they visit every day. That's why the Soil Association and National Trust have been working together to look at the food available at the conservation charity's cafés, tearooms and restaurants. Through the Food for Life Catering Mark, the National Trust has looked much more closely at the menus it offers, their suppliers and the quality of their ingredients.
Matt Drew, Head of Food and Beverage says; "Food is an incredibly important part of what we do at the National Trust. Not only because we have such a variety of special places for people to eat at but because – together with 1,500 tenant farmers and producers – we care for 500,000 acres of farmland."
This relationship with farmers and producers gives the National Trust a unique opportunity to source ingredients that have been carefully reared or grown on the land that they care for. And thanks to Food for Life Catering Mark, the National Trust is now teaming up with more tenant farmers than ever before.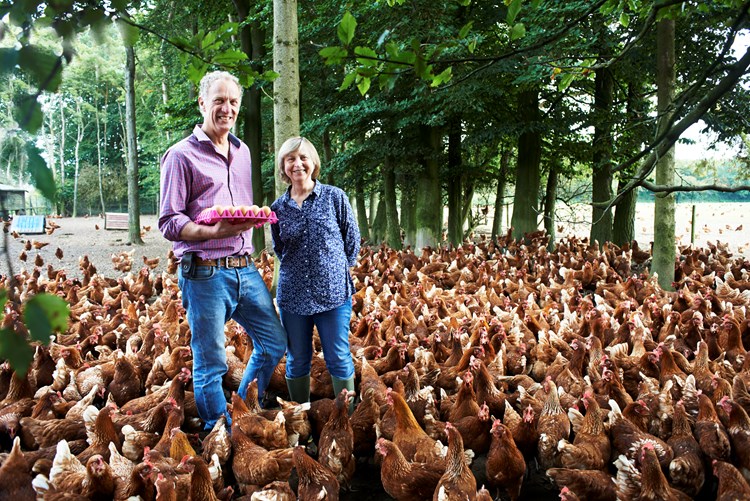 Charles Spencer, a farmer at the National Trust's Stourhead estate in Wiltshire, produces almost all the eggs that go into Catering Mark meals in England, including in the 265,977 slices of Victoria Sandwich cake that are sold each year. The Food for Life Catering Mark stipulates that all eggs must come from free range hens – this is a fantastic example of how the charity is able to follow the supply chain right back to the farm.
It's links like this that improve the Trust's connection with food. Local food builds a stronger community, from creating employment to empowering people through work and shared responsibility. Having been awarded the bronze Food for Life Catering Mark award at 134 locations, the Trust will continue to improve the sustainability of its food by looking for even more free range, LEAF and organic ingredients. This means more delicious, freshly cooked seasonal dishes and more of those steamy veg stews that winter's all about.
So grab yourself that hot cuppa, a slice of Victoria sponge or a freshly made lunch after your chilly walk, in the knowledge that the food you're enjoying is making changes in the right direction this winter. 

Photographs courtesy of National Trust Images

Editor's Note: From April 2017 the Catering Mark scheme will be renamed Food for Life Served Here, providing a clear signal to customers about the levels of local, fresh and honest food they can expect on the menu.