New interactive technology to trace your food from field to fork


DO you know where your dinner came from last night? Or your bacon sandwich this morning? To celebrate Organic September we've partnered with British Tech Start Up Provenance for an exciting pilot to enable shoppers to trace their organic food from supplier to shelf with a simple scan from your mobile phone.
Following the supermarket horsemeat scandal and the recent mass egg recall, shoppers continue to question the origin of their food purchases. Food transparency is now an ever-growing trend. The nation wants to know EXACTLY where their food comes from and the precise journey it made from field to fork.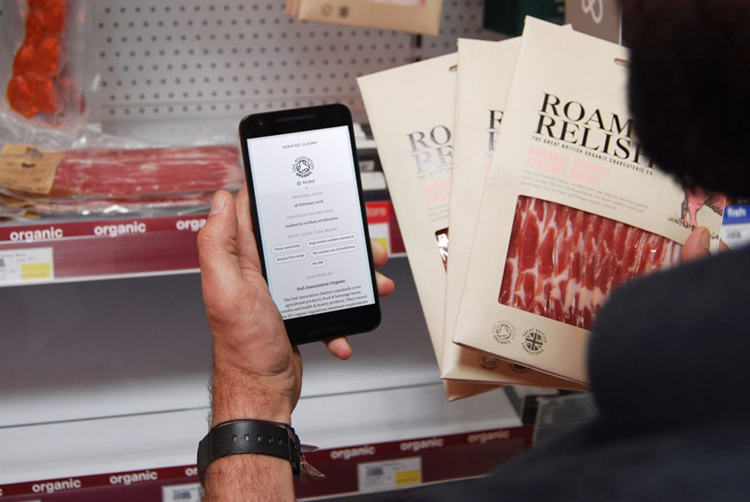 Organic certification already means consumers can be sure of what they buy from farm to fork. The certification process is fully traceable and all organic farms and food processors are inspected once a year.
As part of this exciting new partnership we want to showcase 'the future of food' and make the organic food chain, not just traceable but also completely transparent. Digitally savvy customers will be able use pioneering, interactive software to discover the people, places and certifications behind the organic products they buy.
This cutting-edge technology brings a revolutionary dimension to the way we shop, letting customers discover the journey of their food through an interactive label – where it was grown, reared or harvested, how it was processed, transported, when and by who. It also gives producers an opportunity to share the story behind what makes their products so great.
Using three types of labels and identifiers; barcode, QR code and NFC tags, shoppers simply scan or hover their smart phones to find out the unique journey behind their food. This includes information about its origin, ingredients, and any special attributes such as organic, gluten-free, dairy-free etc. Photos of the product's creation, as well as farmer or producer profiles can be viewed too.
Clare McDermott, Business Development Director from Soil Association Certification, comments: "This latest technology in food traceability enables us to track the journey of our food with exact times and locations from field to store, accreditations of the farm including the Soil Association Organic Certification symbol and even an image of the animal itself.
"This takes our Soil Association Organic symbol to the next level, arming shoppers with detailed information via their smart phones at the point of sale. Customers who interact with the digital symbol can find out more about what it means to be organic, including; fewer pesticides, no artificial additives or preservatives, it's always free range, has the highest standards of animal welfare and no GM ingredients."
Shoppers can road test Provenance's technology at the As Nature Intended store in Chiswick, West London from 6 September. Participants will be given the opportunity to scan and trace the journey of their organic bacon from the shop shelves back to its production at Eversfield Organic Farm in Devon.
Anna Bury, Sales and Marketing Director of Eversfield Organic Farm in Devon, comments: "We are honoured to be part of this new programme. This is a huge step towards a future for all shoppers to choose authentic products with a positive impact on our planet. It's long been our dream to produce the best quality organic meat, from the happiest of animals, making it available to everyone. Now consumers can follow the journey of our animals every step of the way."
Jessi Baker, CEO and Founder of Provenance, comments: "Our tech brings an easy, secure and trustworthy digital dimension to our food and drinks. Working with the Soil Association Certification we've created the world's first digital certification symbol, with key verified data and batches of product stored on the blockchain. For a shopper, this means when you look for products certified by the Soil Association, you know you are looking at a mark to trust and the food we all buy meets the highest standards now and in the future."
With 82% of Brits already buying organic, Organic September is dedicated to helping shoppers understand what organic means and raise the profile of organic food in the UK, highlighting the amazing farmers, producers & brands who work hard to produce food the way it should be. Get involved with Organic September here!