Progress towards a transition to agroecology and sustainable diets

Progress towards a transition to agroecology and sustainable diets
Regenerate now: achieving a transition to agroecology and sustainable diets
2021 report of UK progress to 2030 goals
So much has happened over the last year, and summarising a year's activity in food and farming feels ever more difficult. Our new report tracks the progress achieved in 2021 towards our transitions to agroecology and healthy and sustainable diets.
It looks back over the key events of the past year, including government policies, scientific evidence, and crucially, the lived experience of people throughout the food system. It also looks ahead to the next 12 months, assessing the key challenges and opportunities ahead, with an eye always on the 2030 vision of agroecological land-use and good food for all.
What does a ten year transition to agroecology and sustainable diets look like?
The Ten-Year Transition offers a positive and inclusive vision of a future food system, where power is redistributed back into the hands of producers and citizens, where we are healthier and more connected to where our food comes from, and where our soils, farm animals and wildlife are thriving.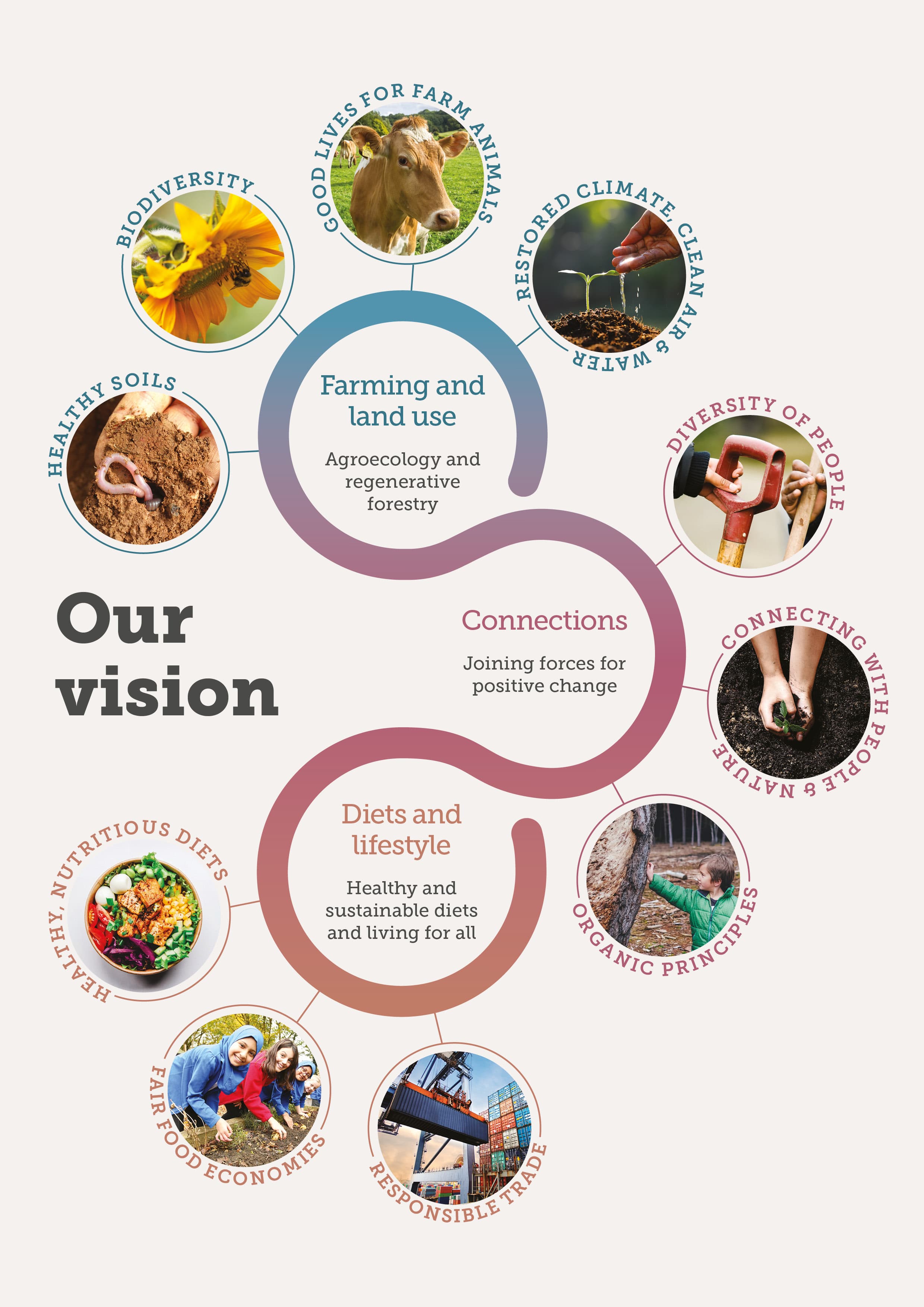 Farming and land use

By transitioning to nature-friendly farming, land management and forestry, in 2030 we want to see:

Healthy soils

Soil carbon loss is reversed, and all soils are sustainably managed.

Biodiversity

Declines in abundance and species diversity of pollinators, butterflies and birds are reversed.

Good lives for Farm Animals

All farmed animals experience a 'good life', reducing antibiotic use in UK livestock farming and aquaculture by 90%.

Restored climate, clean air and water

Environmental pollution from farms is reduced by 90%.

Connections

We're joining forces for positive change in our transition to agroecology and sustainable diets. In 2030, we aim to see...

Diversity of people

A great diversity of people, through careers in agroecological farming, food and forestry.

Connections between people and nature

Experiencing meaningful connections with each other and with nature through food.

Organic principles

Citizens living by the organic principles of fairness, care, health & ecology.

Diets and lifestyle

By transitioning to good food and sustainable living, and reducing our environmental footprint, in 2030 we will enjoy...

Healthy, nutritious diets

Every child enjoying at least one healthy and sustainable meal a day

Fair food economies

Sustainable food strategies being applied by all UK cities and authorities. Healthy and environmentally-friendly menus across the public sector, with more than 50% of food sourced being organic.

Responsible trade

No net environmental harm is associated with the UK's food, farming and forestry consumption footprint.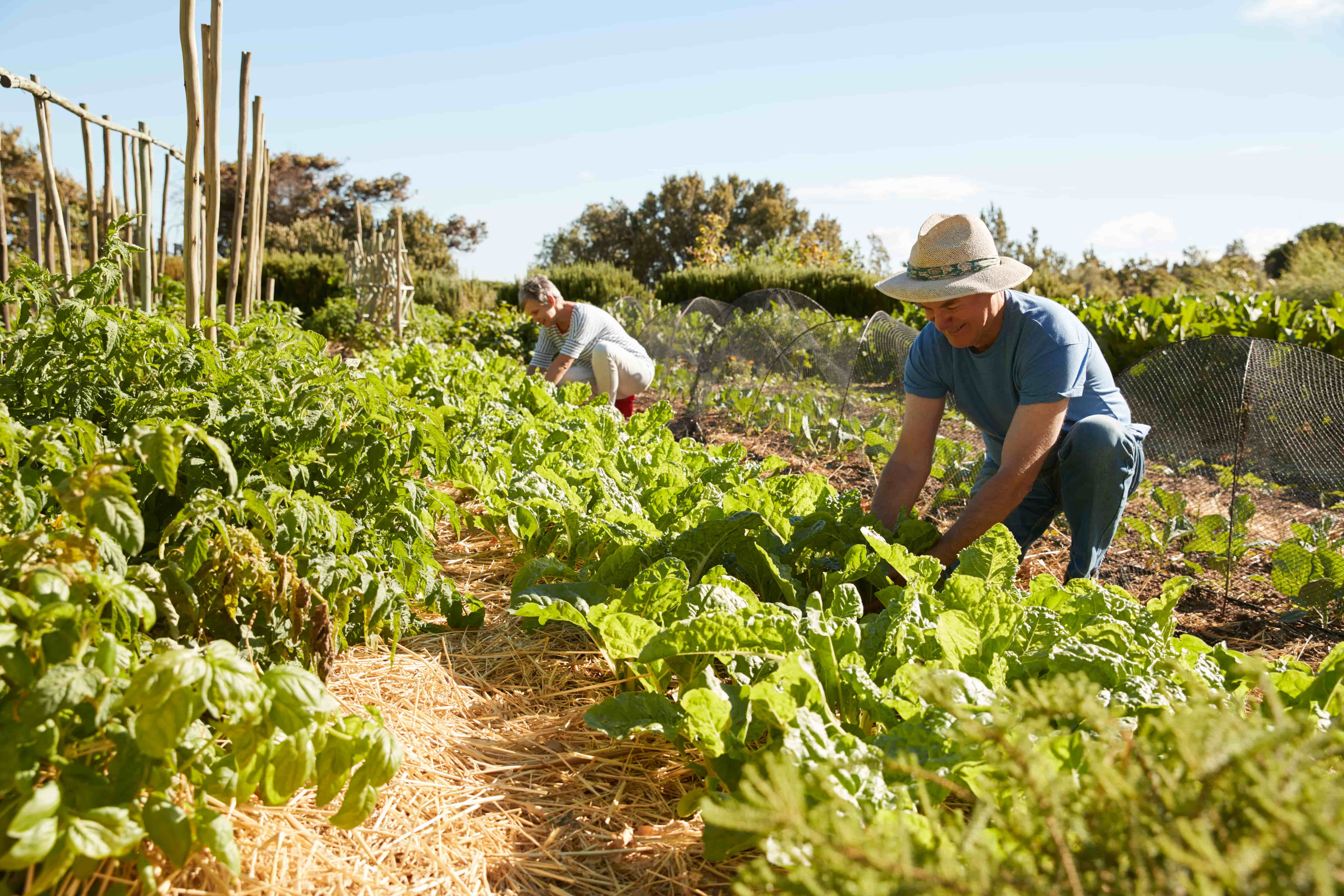 Our progress so far
2021 was a hugely difficult year for many, but it may also be remembered as the year that ignited action on the urgent change we need in our food and farming systems. Most importantly, we know without any doubt that citizens are concerned and care deeply about the state of our planet and food system. 
In the year of COP26, the 2021 Progress Report finds that we now have the foundations to transform our food system. Whilst we've taken some tentative steps forward, from 2022 onwards we need to see the giant leap that is required to transition to agroecology and sustainable diets.
Positive

There was plenty to be positive about in 2021. In particular, we saw steps taken forward for soils in England, for organic farming in Scotland, and for environmental protection across the UK.
In progress

2021 saw progress for local food and school meal provision in Scotland, increasing farmer engagement in agroecology and support for agroforestry in England.
More to do

In 2021 we saw a regressive trade deal with Australia and inaction around increasing healthy diets for children. In the years ahead, we need to see delivery on commitments made in climate and nature to reach our 2030 goals.
Explore the evidence behind agroecology