The application process
Applying for organic textile certification
We offer international certification for organic textiles to the Global Organic Textile Standard (GOTS).
Find the information you need: 
Application timescales
The certification process takes approximately:
8-12 weeks for UK-based companies
12-16 weeks for countries outside of the UK
We advise applicants to allow 8-12 weeks (12-16 for non-UK countries) from the start of an application, but the more detail you provide and the more promptly you can respond, the less time it will take to complete the process. Do let us know if you're working towards a specific deadline and we'll do our best to help you meet it.
Application process
Our fee Sheets for GOTS are all available to view online. These will give you information on how much each scheme costs.
If you then decide that you'd like to apply, we will send you more information in an application pack. If you're unclear about anything at this point, you can book in a chat with one of our friendly and knowledgeable certification team.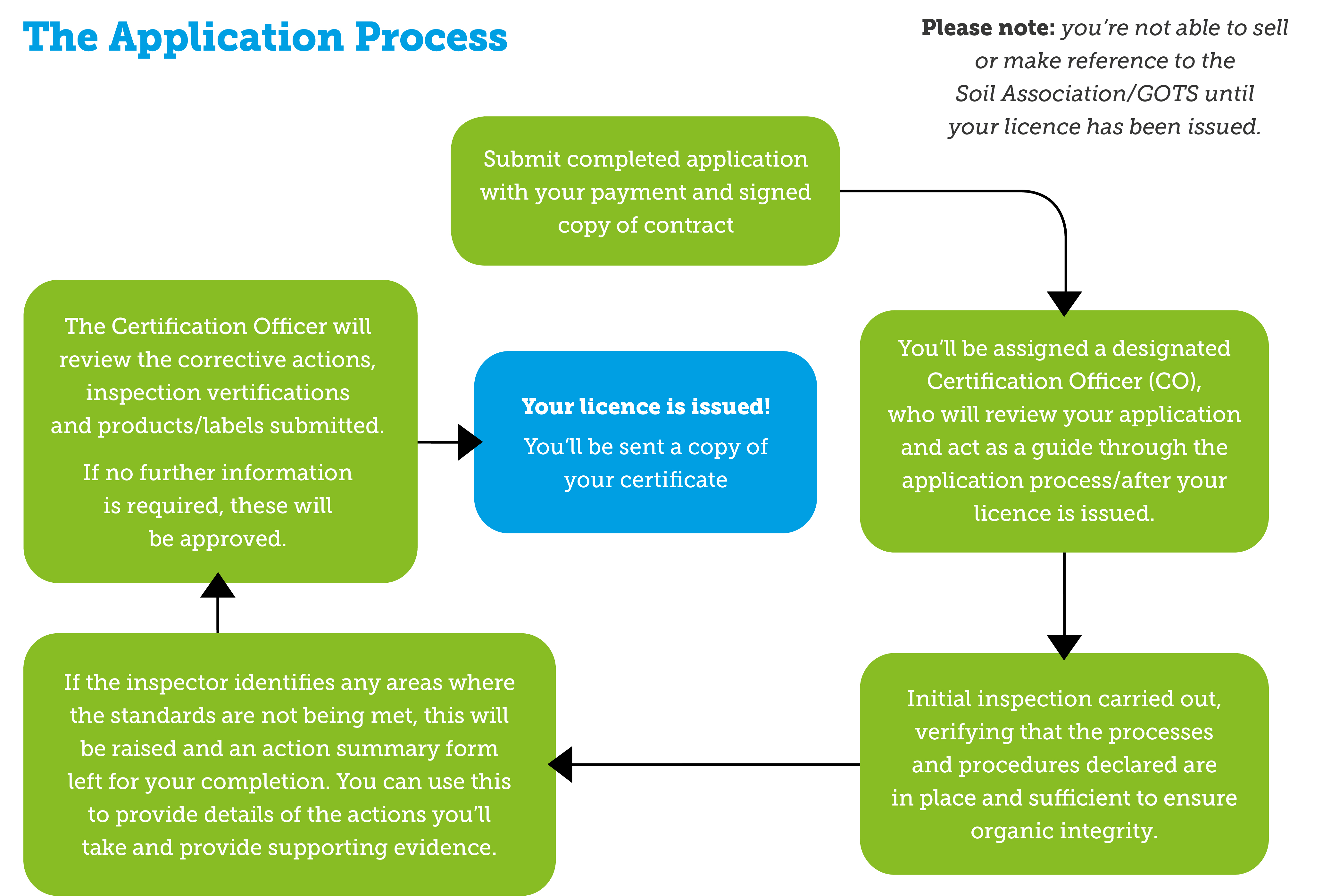 What to expect once you've submitted your application form and contract 
Firstly, we'll invoice you for year one.
When this is paid, you'll be assigned a personal Certification Officer, who will help you review your products and enterprises (the activities we will certify such as printing and trading), to ensure you are prepared for your first inspection.
Once you've had an inspection, and we can prove you are compliant with the relevant standard, we will issue your scope certificate.
Throughout your contract with us, you will receive continued support from your Certification Officer so that you can sell your products and services as organic. You'll also be welcomed by our Business Development team to make the most of the additional benefits of certifying with us.
Cost of
 

certification

Please view our fee sheets below. Please note, if you're not based in the UK, there will be additional costs for inspection travel expenses.
Apply for organic certification

To apply, or to find out more about the certification process, please contact us by completing our enquiry form.

Get In Touch
In this section...
Wanting to go organic?
Get in touch with the Go Organic team to find out more about how we can help you go organic and sell organic. Want to know more about Soil Association Certification?