Types of organic certification

Types of organic certification
With shoppers increasingly looking for transparency in what they buy, certification is becoming essential.
Organic certification is proof that the claims you make are backed up.
There are two independent organic certification standards in the UK:
As the UK's largest organic certification body, we certify to both schemes.

Global Organic Textile Standard (GOTS)
GOTS is a voluntary processing standard, which means that it regulates the manufacturing stages of the textile supply chain such as the ginning, spinning, knitting/weaving, cut, make & trim.
The standard stipulates requirements for both ecological and labour conditions in addition to ensuring the integrity of organically produced raw materials (for example wool and cotton).
The raw materials will have been grown to Organic principles that maintain soil health without the use of toxic pesticides and synthetic fertilisers. Organic production also includes animal welfare standards and prohibits the use of genetically modified organisms.
We have long been told that Organic Farming is better for people and the planet, but by certifying to GOTS, businesses are ensuring that the organic principles (health, ecology, fairness & care) are adhered to throughout the entire supply chain, from farm to finished product.
Key facts about GOTS

 

GOTS approved products must contain at least 70% organic fibre content
GOTS approved products never contain potentially harmful chemicals which can be found in conventional textile production
GOTS approved companies are better for the environment (by managing their environmental impact, have high social standards, reduce energy and review water usage)
GOTS means safe working conditions, no discrimination and no child labour
GOTS approved products have the entire supply chain verified, even the farms must have certification to a legally recognised standard.
The details matter - buttons, threads, zips have to meet strict residue criteria of GOTS
It is a voluntary standard

 

GOTS Certification is carried out by independent experts who physically inspect companies and facilities to verify standards are met.

Benefits of GOTS

People – A large part of the Global Organic Textile Standard is dedicated to ensuring textile workers are protected through the Social Criteria. This includes a ban on forced and child labour, the right for adequate health and safety equipment, the right to freedom of association, a ban on harassment and violence and remuneration and assessment of the living wage. Workers are interviewed to gain a greater understanding of the workplace culture in addition to a review of company records.
Planet – GOTS have strict rules around the use of chemicals in textile production. Although chemical additives such as inks and dyes are permitted, they must be approved by GOTS before use. This is to prevent potentially toxic substances being released into the environment. Packaging is also regulated in GOTS, card or paper packaging must be recycled from pre-or post-consumer waste or certified according to a program that verifies compliance with sustainable forestry management principles. Use of plastic must be minimised and should be PVC free.
Product Integrity - GOTS state that all products must have a fibre composition of at least 70% organic fibres with the remaining 30% being tightly regulated. For example, a product could be 70% organic cotton, 30% recycled polyester. Virgin polyester is not permitted under GOTS.
Organic Content Standard (OCS)
The Organic Content Standard (OCS) is an international, voluntary standard. By certifying to OCS, businesses are verifying the organic content of their products and monitoring the chain of custody to ensure organic integrity. 
This scheme verifies that a product has met organic standards throughout its journey – from raw material to finished product. When we certify to OCS standards, we work with producers to ensure a final product contains the accurate amount of a given organically grown material.
The Goal of the Organic Content Standard (OCS) is to ensure trust in organic content claims.
The OCS accomplishes this goal by verifying the presence and amount of organic material in a final product. It provides a strong chain of custody system from the source of the organic raw material to the final product through certification.
Key facts about OCS

OCS has two different types of Certification: 

OCS 100 logo is used for only for product that contains 95% or more organic material.
OCS blended is used for products that contain 5% minimum of organic material blended with conventional or synthetic raw materials.

OCS approved products have the entire supply chain verified, even the farms must have certification to a legally recognised standard.
OCS Certification is carried out by independent companies and facilities are physically inspected to verify standards are met

Benefits of OCS

Verifying Organic Content – Only material from certified organic farms (under one of IFOAM's Family on Standards) is accepted into OCS.
Chain of Custody – Certification ensures that the identity of the organic content is maintained from the farm to final product
Customer Confidence – Certified OCS products have been audited at each stage in the supply chain, ensuring that the claims being made are accurate.
How do the GOTS and OCS organic certification standards compare?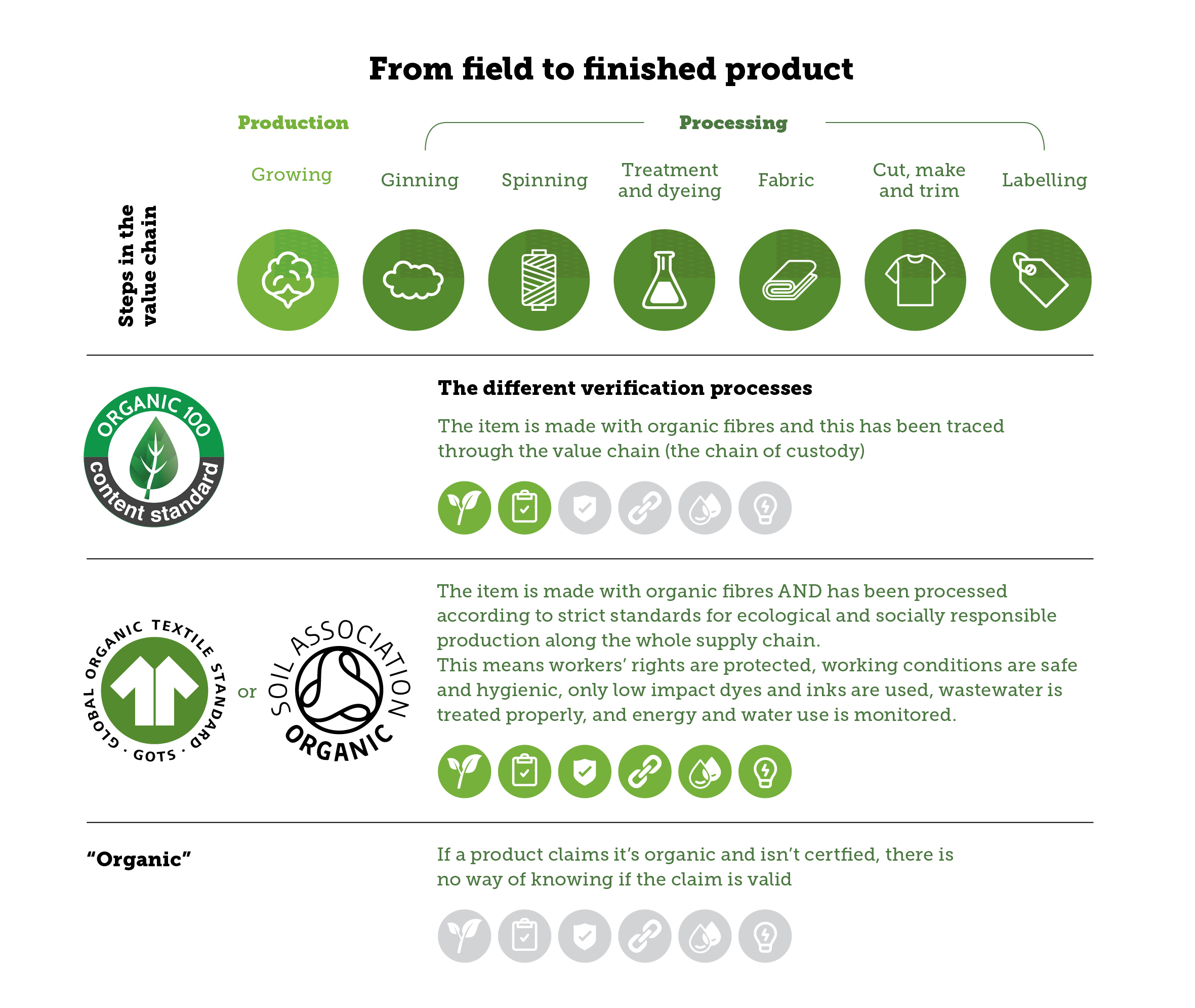 Want to go organic?

Get in touch with our dedicated team if you have any questions about certification or the application process.

Enquire today
In this section...
Wanting to go organic?
Get in touch to find out more about organic textile certification
Read more about textiles certification