Support for Independent Retailers

Support for Independent Retailers
Thank you for taking part in Organic September!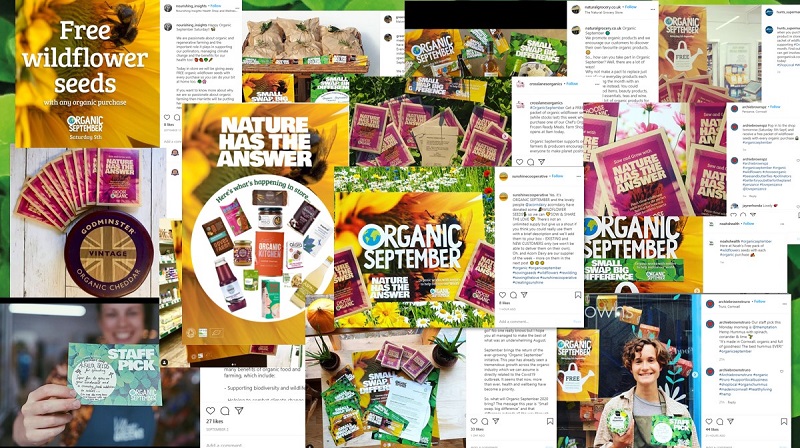 A huge thank you to all of you for taking part in this year's Organic September campaign, which centred around the theme "Nature Has the Answer". Hundreds of you requested our point-of-sale packs, which featured organic wildflower seed packs for you to distribute to your organic customers. 
Watch our Organic September highlights video:
Grow your organic sales
As the organic market grows, organic consumers are shopping more often, more ethically and more locally. There hasn't been a better time to sell organic.
Soil Association Certification is committed to supporting continued growth in all areas of the organic market, highlighting the role that food systems can play in:
mitigating climate change,
halting biodiversity loss,
improving soil fertility, and
farming in a way that's better for animals, people and the planet.
By working in partnership with independent retailers, we can reach a wider consumer audience, build awareness of what organic is and reasons to buy organic.
We have a number of ways you can get involved, such as:
ordering a FREE point of sale pack to help clearly communicate the benefits of organic to your customers,
taking part in one of our Organic Learning Days,
downloading a visual merchandising guide, or
signing up to our Indie News e-newsletter.
Whether you're an independent retailer or run a farm shop, when you choose organic products for your shelves, you're offering your customers the chance to help change our food system for the better!
Sign up to Indie News
Have you signed up to our dedicated newsletter for independent retailers yet? Submit the form below to keep up to date with all the latest news and campaign opportunities. 
Sign up to Trade News
Get the latest organic news, campaign updates, events and business support opportunities delivered to your inbox
Sign up