Support for Independent Retailers

Support for Independent Retailers
Let's make a world of difference this Christmas
Christmas 2019 falls at the end of a landmark year of global environmental protest and activism. Because of this, there's never been a better moment to highlight the role that food systems can play in mitigating climate change, halting biodiversity loss, improving soil fertility, and farming in a way that's better for animals, people and the planet.
With a little effort and imagination, we can reduce the environmental impact of the holiday season. By buying less, but better, and by choosing to support a system of farming that's kinder to the planet, you're casting a vote for fewer pesticides, more wildlife and the highest animal welfare standards. Whether you're an independent retailer or run a farm shop, when you choose organic products for your shelves, you're offering your customers the chance to help change our food system for the better!
Get involved in organic Christmas in the following ways:
1. Order your Organic Christmas POS pack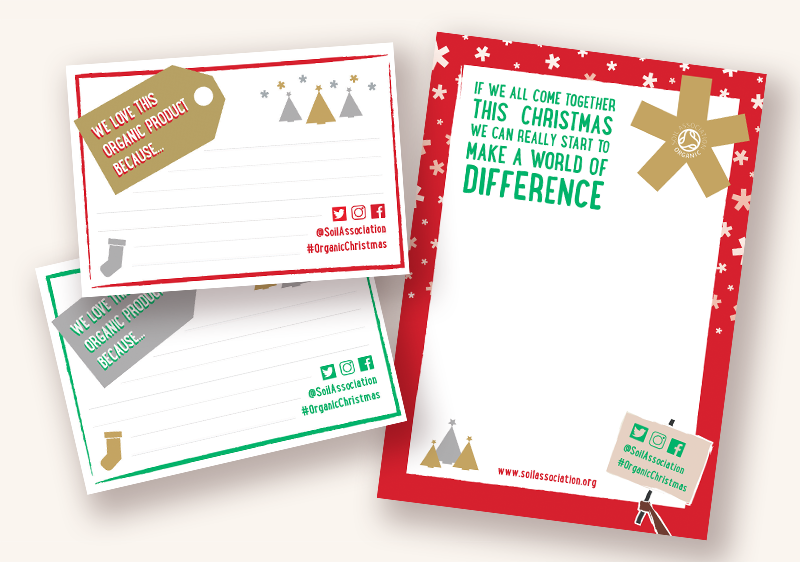 What's in the pack?
Poster – Use the empty belly poster to tell your customers about organic offers or write your own message about sustainability this Christmas
STAFF PICK CARDS – Use the 'staff pick' cards to draw customers' attention to best sellers, products that you and your staff love, and local organic products - these can be used for social media or to highlight your products on-shelf/in displays.
Order for your pack by Monday 18th November to receive it by December.
A maximum one pack per shop - if you have more than one store, please make separate orders for each one.
2. List your farm shop or independent retailer
Sign up to be included on our regional listings to help citizens find organic in their local area.
3. Co-host your Christmas Event  
We'd love to help you promote your Christmas events. Co-host your event with us on Facebook and share this with our 77k followers.  
Sign up to Indie News
Have you signed up to our dedicated newsletter for independent retailers yet? Submit the form below to keep up to date with all the latest news and campaign opportunities. 
Sign up to Trade News
Get the latest organic news, campaign updates, events and business support opportunities delivered to your inbox
Sign up