The Organic Supply Chain Report
Growing at over 7%, the UK organic market is just one of many organic markets around the globe showing strong growth. Prospects for organic in both domestic and international trade are now as good as they have ever been. However, with growth comes challenges.
Not only is this global growth outpacing organic production, but supply chains are become increasingly complex and longer, as businesses look farther afield to feed the current food trends. This arguably leads to less transparency at a time when – as Soil Association research shows - trust continues to be a priority for organic consumers.
Add to this uncertainty surrounding Brexit, food inflation, and fraud, businesses at all points in the chain within this rapidly expanding market are going to be vulnerable to a series of new and difficult tensions.
In recognition of the changing trade landscape and the need for our industry to ensure ongoing consumer trust in organic, Soil Association Certification hosted an important event for organic businesses in June this year. With lively discussion around supplier relationships, product testing and the role technology could play in reinforcing integrity, trust was a consistent theme throughout our 'Building Trust in Organic Supply Chains' event.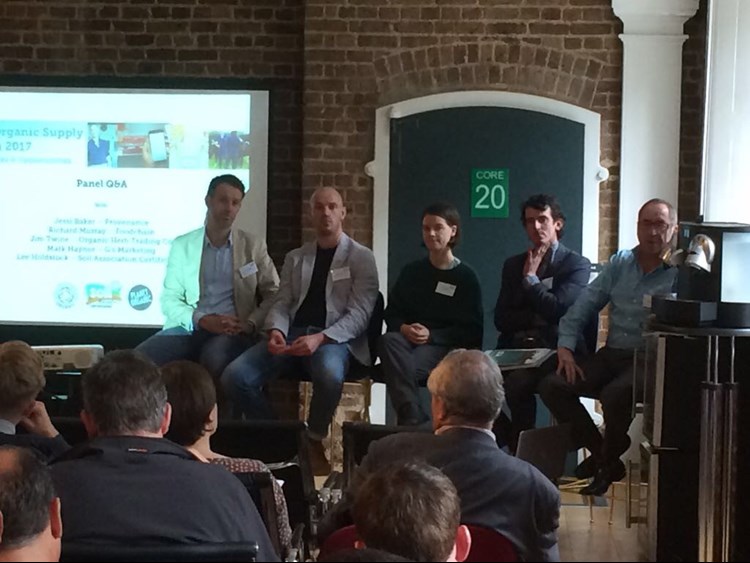 "It was reassuring to discover that we all seem to share the same belief that there is a need to improve trust in organic supply chains and that there are potential solutions we have not yet explored"  
Following this successful event, we continued to work with a wide range of organic businesses to establish a consensus on not just trust and integrity, but the wider challenges and opportunities faced by the industry. The culmination of this work is our latest trade insight report, which we launched to a trade audience at Planet Organic's Devonshire square store today, Tuesday - 10th of October.
Continuing trust and integrity themes 'Organic Supply Chain 2017 – Challenges & Opportunities' explores several other key areas. From supply & demand, to efficiency, emerging routes to market, stimulation of UK production and better cooperation, the new report makes key recommendations in support of building resilient, sustainable supply chains which are best placed to meet future demand.
In researching this report, many innovators who are leading 'best-practice' in supply chain were identified. All form case studies within the report and we were pleased that two could join us at the launch event.
Sharing perspectives on the role of technology in delivering trust, Jessi Baker of UK technology start up Provenance, reminded our audience of the key role that technologies such as block chain can play in de-risking supply chains and delivering additional transparency to certification.
Continuing the technology theme Richard Murray, whose digital supply platform Foodchain presents an alternative to traditional wholesale, contributed to the discussion on efficiency. Facilitating connections between growers nationally and restaurateurs, Richard described how his platform, enables foodservice to reduce logistical costs and receive goods more quickly. Having been quizzed by our audience, Richard was keen to point out that Foodchain can complement traditional wholesale, whilst simultaneously helping growers reach new customers and receive a price more reflective of their efforts as organic growers.
As our Q&A quickly moved on to the subject of supporting smaller growers, it became more obvious how inter-related many of the issues truly are. We were reminded that many smaller growers still see the regulatory bar as too high. Alternative way of assessing these 'open-gate' growers could be an option, if regulation allows. As low-risk enterprises, a less detailed or costly assessment may be sufficient to maintain integrity, whilst allowing entry to the certified market
For those dealing with produce at the larger end of the scale, such a Mark Haynes from G's marketing, managing chains is all about the 'five C's' ; Commitment, Collaboration, Control, Consistency and Continuity. But for businesses such as Mark's, possibly the biggest challenge remains a lack of commitment from some of the larger retailers. By acting more like continental retailers and taking a more strategic view of organic, Mark believes that retailers could make a significant difference to the sector.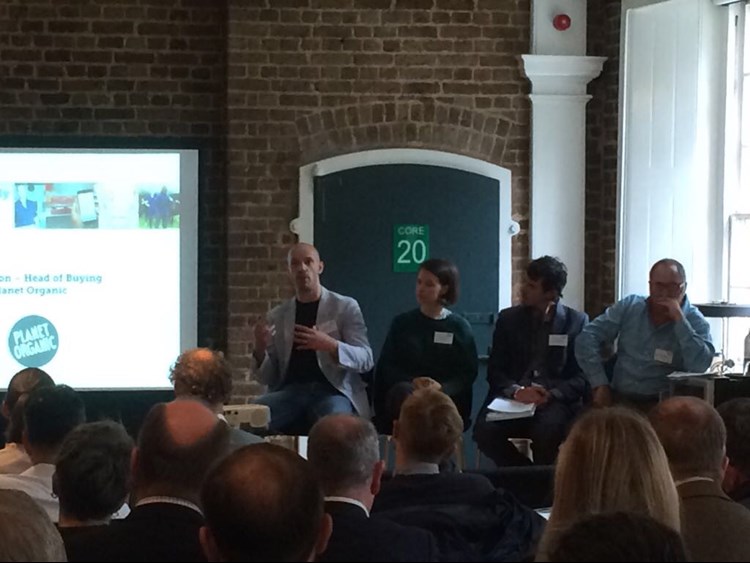 However, as our panel acknowledged, it's not all down to retailers. Some of the most successful brands in the organic market place today have heavily collaborated with and supported groups of growers, this forming a key part of the brand story to consumers. This level of collaboration can deliver confidence and stability for growers and is something we all agreed, we'd like to see more of.
With the report now available, we look forward receiving feedback and working with industry to bring the report's recommendations to life. If there is one clear message from both our report and the launch, it's that future growth is more certain if we embrace both technology and collaboration. Oh, and we need to tell consumer what we've achieved, as they will increasingly want to know.
Organic Supply Chains 2017 is the most comprehensive report covering supply chain challenges and opportunities in the UK today and is an essential read and reference document for anyone working within the industry selling organic products or assisting businesses in selling organic in the UK. Get your copy of the report here.