Exporting Organic? Goutez France.
If you've seen the Soil Association's 2016 Organic Market report , you'll know that sales of organic in the UK increased by 7.1% in 2016, taking the overall market value to £2.06B. Whilst impressive, it's important to remember that we are still playing catch-up with a number of our continental cousins who didn't experience the downturn of 2008-12.
Having grown by a whopping €500 million in the first half of 2017, the French organic market is a case-in-point. With an overall value of more than €7 billion, it's three times the size of the UK market and now the second biggest organic market in the world. This is a market that differs from ours in some key respects: not only is 'bio' now widely available, with diverse ranging in many stores, but around half of the sales go through independents and specialist stores. In the UK, where 69% of organic sales are via multiple retailers, UK organic is rather more vulnerable, being subject to the sometimes wavering commitment of a small number of market players.
Being geographically so large and very close, you'd think France would be an obvious choice for UK organic export. The truth is that UK businesses view the French organic food market as rather internalised and this can be off-putting. A trip to the nearest 'boutique bio' quickly reinforces this perception. First, you marvel at the ranging and then you're struck by the distinct lack of British organic fayre.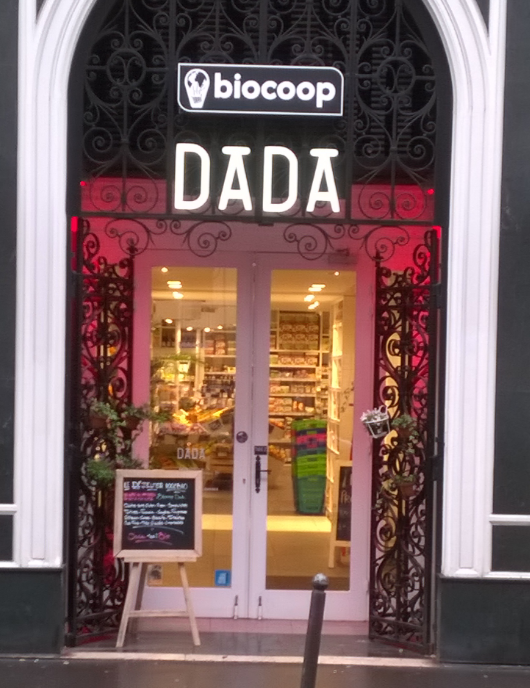 On a recent visit to Paris, I took a trip to the bio indies nearest to my hotel in the 10th arrondissement. Although the ranging was impressive, I could only find 5 UK organic brands in the fixtures of three stores. It was a similar story at NatExpo, the largest organic trade show in France. This is an event boasting over 750 exhibitors, yet only 6 of these were organic food brands from the UK.
As I walked the floor at NatExpo, it started to look like the French simply had it all. Not just a mind-boggling range of store cupboard essentials, but with raw, fermented and an array of superfoods, there were plenty of on-trend organics, too. Other large markets, such as the US, may also have 'clean energy' and detox beverages, but here they have an interesting take on energy, with products such as Akal Foods' 'Spritonic'. What's more, you'll find seriously artisan non-alcoholic beverages, some of which look like they could compete with the best champagnes.
You are also reminded at such shows that although the French embrace organic, there remains real amour for provenance and tradition, so there were lots of regional organic products, as expected. Perhaps a step further than your average herbal infusion, Le Benefique's teas doff their beret to the ancient wisdom of traditional herbal remedies. The big surprise is the prevalence of convenience: despite having a solid reputation as a nation of foodies, Natexpo confirmed my suspicion that even the busy French are finding it hard to spend time in the kitchen. Interestingly, there seems no obvious tension between organic and prepared foods in this market.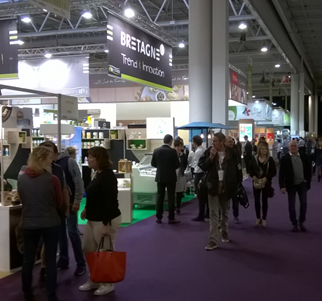 So, is there room for UK product? Whilst this apparently self-sufficient market might seem to say 'non-merci', there certainly seems to be potential and the UK government agree. The Department of International Trade's (DIT) ambitious plans to support UK food export over the next five years not only include organic, but it's identified as a specific focus for food export to France.
One of the other reasons I happened to be in Paris was to support 'Goutez Great Britain', a celebration of British organic and free-from foods. Attended by a number of British organic pioneers, including Yeo Valley, G's Fresh, Pip Organic and Wyke Farm, the showcase was followed by an exclusive industry diner. Hosted by British Ambassador to France, Lord Llewellyn, 'Diner Bio' consisted of five courses using some of the finest British organic ingredients, expertly curated by River Cottage's highly talented Head Chef, Gelf Alderson. No small challenge, given that representatives from some of Paris's most respected cookery schools and restaurants were among the guests!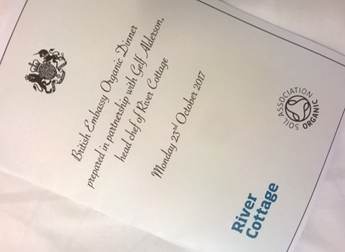 It was over the dinner that I had my chance to ask some of distinguished guests, what specifically we in the UK might have that would be of interest to French consumers? Having exclusively distributed premium UK products to the French market for over thirty years, Emma Bernabeau of Emma's Corner should know. Over the candlelit selection of UK cheese, Emma assures me that although innovative packaging and branding counts, a product must have a story. The French consumers' deep interest in food, and those who create it, means they will want to know. Alain Pancelot of Wyke Farms agrees. Yes, the back story is important, but Alain assures me that what the French value above all is quality. French consumers recognise and respect quality above all else, and if it's truly there, they can be notably price insensitive.
As we part company, I'm left feeling much more optimistic about the prospects for UK organic. This market can seem intimidating, but it pays to remember that we too have the 'terroir' in many of our high quality UK organic products. Better still, we happen to have a symbol that says 'soil', serving to remind French consumers of the connection between the earth and food, something that is so very important on both sides of the channel.
If you would like information about the organic market in France, or Soil Association Certification's support for organic export, visit our Export Support pages