Susie Hewson celebrated at Oak Awards
On Thursday 25th October, the inaugural Oak Awards took place at Yeo Valley's Canteen in Blagdon, near Bristol - Susie Hewson, founder and CEO of Soil Association licensee, Natracare, was awarded the Oak Award, which was accepted on her behalf by Madeline Graham (also from Natracare).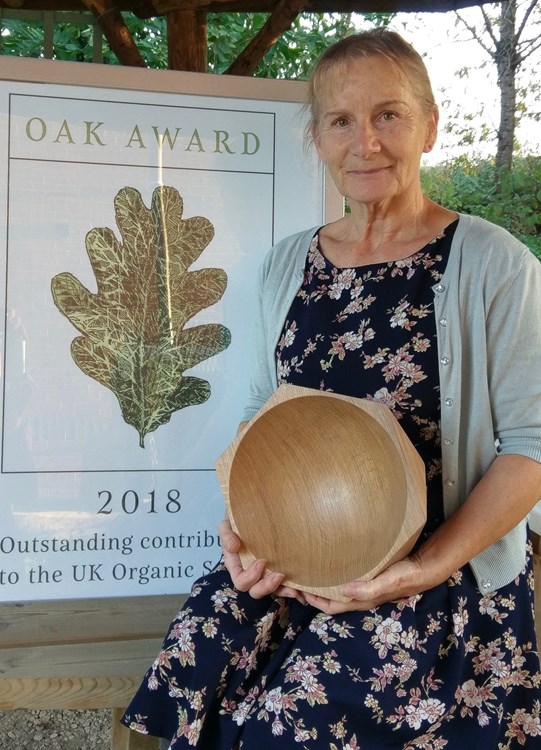 Susie has been a pioneering force in organic since 1989, when she created an organic  feminine hygiene  company. Inspired by a documentary about the growing danger to human health and the environment of dioxin pollution, Susie set up Natracare - makers of natural menstrual products, their products included the world's first certified organic cotton tampons and plastic-free sanitary pads.
A lifelong environmentalist, her aim was to develop an alternative that respected women's bodies and our planet. Susie campaigned from 2000 to have organic personal care standards for feminine hygiene, eventually succeeding with GOTS v5. All of their menstrual, incontinence and baby care products use only organic and natural materials, and they have a commitment to the highest ethical standards, plus a focus on organic principles and compostability. 
On receiving the award, Susie said: "For the past 30 years, I've been fighting a battle in a market dominated by global giants to fulfil my passion of putting people and planet first. At times, it has been brutally tough, exhausting and challenging, but the rewards of eventually seeing organic period products becoming established and Natracare's global reach makes all that hard work worthwhile. I'm honoured to receive the very first Oak Award and I thank the OTB for recognising my contribution to making organic menstrual products an important category in the organic industry."
Susie's award is made from 150-year-old oak, representing the lasting impact that Susie has already had on the organic landscape. The hexagon-shaped award echo bee hive chambers - nature's building blocks.

An award was also presented, posthumously, to Peter Melchett in recognition of his contribution to the organic sector and beyond - it was accepted on Peter's behalf by Joanna Lewis, Strategy and Policy Director at Food For Life and the Soil Association. Two candle holders, made from oak, were awarded in recognition of his outstanding contribution to the organic and political landscape. Every time the candles are lit, Peter's light shines on, as will his legacy for organic farming, for years to come.

Geetie Singh Watson was a guest speaker and introduced the shortlisted nominees. The event helped to raise funds for the Organic Research Centre and bring together many people from the organic sector to celebrate pioneers and shine a light on creativity, innovation and excellence.