Big opportunities, but use those experts
Yesterday saw the Soil Association Certification and FDEA host our second successful territory specific export event at Mary Ward House in Bloomsbury, a wonderful building that I hoped would enhance the experience, particularly for our visiting speakers from the U.S.
With a focus on the US, both we and our partners pulled in as much experience as we could draw from our networks, ensuring that our delegates could expect guidance and insights covering pretty much every conceivable aspect of export to the US. A mercifully small number of cancellations meant that rather appropriately, we kicked-off with exactly 50 delegates – one for each state in the union.
Following a brief introduction, and some organic export context from Soil Association Certification, the US Organic Trade Associations' Monique Marez took the floor. Being personally responsible for projects leading to over $90M of US organic food and drink exports, Monique was quite a catch for our event. I knew that at $50B per year, the US organic market was the world's biggest, but as Monique demystified the market, what I hadn't appreciated was the distribution of organic sales. As the big map of the US came into view, it's was immediately obvious that not all states buy into organic to the same extent. With just ten states, mostly on the east and west coast, accounting for 78% of all sales, it appears that living within sight of the ocean coincides with organic consumption. This is particularly useful to know, given that not thinking of the whole U.S. as one market, and not trying to take it all on, were both key pieces of advice that emerged repeatedly as the day progressed. After all, you wouldn't think it wise for a U.S. business to see the whole of the EU as one market. With the biggest organic spend happening in California (a state with a population two-thirds that of the UK), perhaps the sunny west coast is a big enough export target to begin with?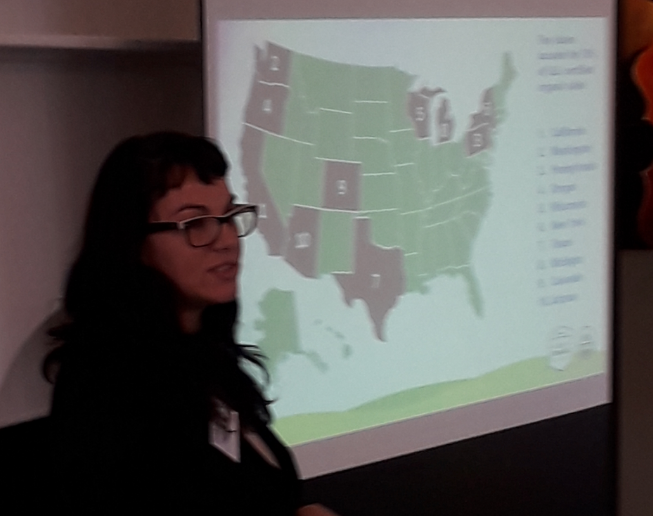 The really big insight from Monique was the millennial family time bomb. In common with the UK, Millennials are big organic spenders in the U.S. Amazingly, the 25% of Millennials who are currently parents are currently driving half ($25B) of all U.S. organic sales. With 25% set to become 80% within ten years, the organic market had better buckle up, as further growth from 'Mom and Pop' Millennials seems inevitable. 
I love a good celebrity feature in a presentation and Transatlantic Business Britain's CEO, Jeffries Briginshaw, didn't disappoint. Following a steady flow of excellent trade policy context - including some interesting Trump insights - Jeffries rounded off with a quote from an unlikely source. Although not involved in export (as far as I'm aware), Beyoncé it's said, can "never be safe". Tirelessly going against the grain, as soon as the glittering lady with the moves accomplishes one thing, she just sets a "higher goal". If you're a prospective exporter to the U.S., Jeffries believes you could do a lot worse than thinking like Beyoncé.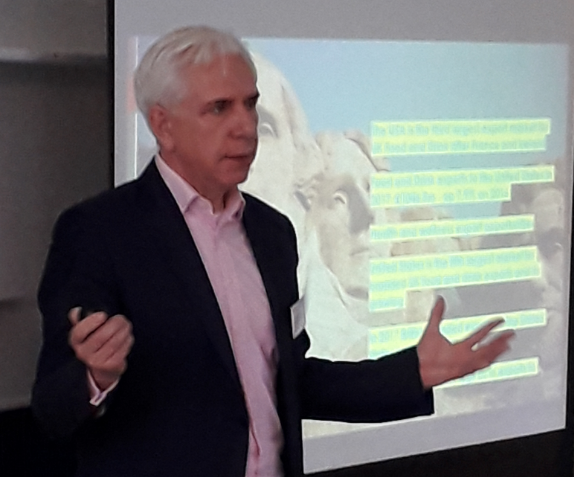 Whether focusing on regulation, labeling or wise words from those who are already doing it, many of our presentations served to clarify the effort needed to make it in the US. If you really want a challenge, Chris Parker of London and Scottish recommends you try exporting alcohol. I hadn't appreciated this, but there are not just different laws on alcohol in different states, but apparently in different counties, too. And there are even dry counties where you can't sell any alcohol at all.
A seasoned exporter to the U.S., Brian Brannigan of Linwoods summarised what future organic 'pond crossers' should be asking themselves. Do you have the resources and right people? Are you being realistic and focused about the size of the prize and what it is? And, crucially, do you know what your USP is? Given the importers, distributors and brokers that will all be needed to get (and keep) you there, you could end up being eight times more expensive on shelf than the local equivalent. If you can't genuinely differentiate yourself, you need to think again.
After a little early foreboding at the complexity of it all, our Q&A session livened things up again, with a reminder that brands such as tonic water success, Fever Tree, now enjoy sales of more than $50M a year stateside. As a more positive mood prevailed, I was heartened to hear one delegate report that after many years of attending export events, this was the best one yet (and we hadn't even handed out the organic gin and tonic at that stage).
The final consensus? Follow the advice of the experts in the room, be patient, think where you want to be in five to ten years, and the prize could be well worth the effort in the end. As Brian's final slide advised, above all, "Stay calm ….and good luck!".