Organic 2020: The Time is Now
Brand new sales figures reveal highest UK organic market growth for over a decade
Over 3 days in October, more than 400 delegates from across the organic sector tuned into a series of virtual insight sessions for our popular annual Organic Trade Conference, sponsored by Fyffes and Wessanen UK. For the first time ever, the conference has taken place entirely online, with an even bigger audience and wider range of speakers inspiring, informing and encouraging innovation in organic.
The conference, titled 'Organic 2020: The Time is Now', delved into key insights into current and future trends in the organic market – and highlighted the importance of organic for purpose driven businesses and brands.
Opening the conference on the first day, Helen Browning, Chief Executive of the Soil Association, said:
"We're in 2020 now, the beginning of what is the most important decade that humanity has ever faced. It's time to come together to shift the way we eat, farm and care for the natural world. Organic has a key role to play, as a solution to so many of the challenges the world is facing. If we do it well, we can reverse the loss of biodiversity, feed people healthily, and reduce our impacts on the climate. That's an extraordinary place to be in as a sector - and it's a huge responsibility, too. 
The next ten years will be crucial. A charity like the Soil Association coming together with businesses can be a real force for change. We can share and learn together. We can collaborate and make the case to governments and policy makers about the change we need to see in the world. The time for organic really is now."
Watch Helen's keynote talk, filmed directly from her organic farm, below:
Record growth in the UK organic market
As part of the 'Inform' session on day 2, we released new Nielsen market data, revealing that the UK organic market has reached its highest growth level in over a decade, with buoyant growth of 9.5% year on year - this includes strong growth throughout the COVID-19 crisis. The market is now on track to reach £2.6bn by the end of 2020, exceeding expectations*, and indicating that £50m per week will have been spent on organic during 2020.
According to Nielsen data, this growth of 9.5% outperformed non organic sales at +6.65 in the same time period**. Delegates at the conference heard that shoppers are recognising that buying organic plays a key role in the nation's drive towards sustainability.
Download the presentation slides on the UK organic market below: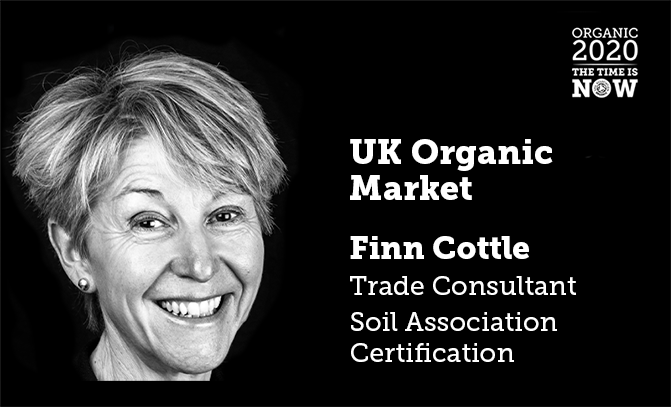 Data also included sales figures for the month of September, revealing the remarkable success of the Organic September campaign, which increased organic sales through supermarkets by 12.5% for the 4 week period**, again outperforming the trend in non-organic sales at that time. 
New consumer shopping habits for 2020
Findings of new research have demonstrated that consumers are shopping and eating in new and different ways – making less frequent shopping trips, taking time to plan meals, and shopping online. Many are thinking more carefully about where their food comes from, and are looking for new recipe ideas and inspirations, particularly when eating out isn't an option. Many of these changes are helping organic position itself as the ethical and trusted choice.
Delegates at the conference heard from speakers from the industry around the UK and Europe, including the Director of Global Insight at IGD, Simon Wainwright; Heather Granato, Vice President of Content - Health & Nutrition at Informa; and Amarjit Sahota, Founder of Ecovia Intelligence, who reported on trends and opportunities for organic in the global market. 
Clare McDermott, Business Development Director of Soil Association Certification, closed the conference by saying:
"Organic has shown the vital importance of a farming system that works with nature – rather than against it – to protect and restore biodiversity, look after our soils, and help to tackle the climate crisis. Consumer habits are shifting, and as people prioritise choices that are good for the environment and biodiversity, organic stands out for its benefits of transparency and integrity. With more people than ever understanding these connections, I think the sector has a lot to feel proud of – and confident about. The time for organic is definitely now.
Thank you to our sponsors, Fyffes and Wessanen UK, and all of our speakers for making this year's trade conference one of the most informative, insightful and hopeful yet.
* Originally predicted £2.5 billion target in Soil Association Certification Organic Market Report 2020
** Nielsen Scantrack Total Coverage Food & Drink Sales 52 & 4w/e 3rd October 2020