Gimme shelter: the benefits of trees
During times of warmer weather, it's increasingly important to consider shelter for your livestock to reduce the risk of heat stress. Andrew Griffiths, a Senior Certification Officer at Soil Association Certification, looks at the benefits of providing trees as shelter for your livestock.
Why is it important to provide shade for livestock?
Cattle, sheep, pigs and poultry all need sufficient shade to escape the hottest temperatures whilst grazing out in fields. Farm animals can all suffer from the effects of exposure. Adverse effects to high temperatures and solar radiation include sunburn, dehydration and respiratory disorders amongst others, which of course all impact on the wellbeing of the animal.
Grazing livestock in fields with ample amounts of shade can lead to increased productivity during periods of higher temperatures. This may include increased feed uptake, reproductive performance and resistance to disease. Trees and substantial hedgerows also help prevent neonatal deaths from exposure, and are essential for successful outdoor calving and lambing on upland farms.
For poultry farmers, increased tree cover has been proven to increase ranging away from housing, reduce injurious feather pecking and the number of egg seconds.
What other benefits can farmland trees provide?
As well as their aesthetic properties, trees can play an important role in agri-environment schemes, with some agreements providing financial incentives for establishing new trees on farmland. In addition, trees can also:
Improve soil drainage (this can have the effect of reducing habitat for mud snails acting as vectors for liver fluke) 
Help boost crop yields by slowing wind speeds and improving crop-water efficiency, especially in times of drought
Attract numerous pollinators and support integrated pest management
Help to protect local streams and rivers by slowing down surface runoff during times of heavy rainfall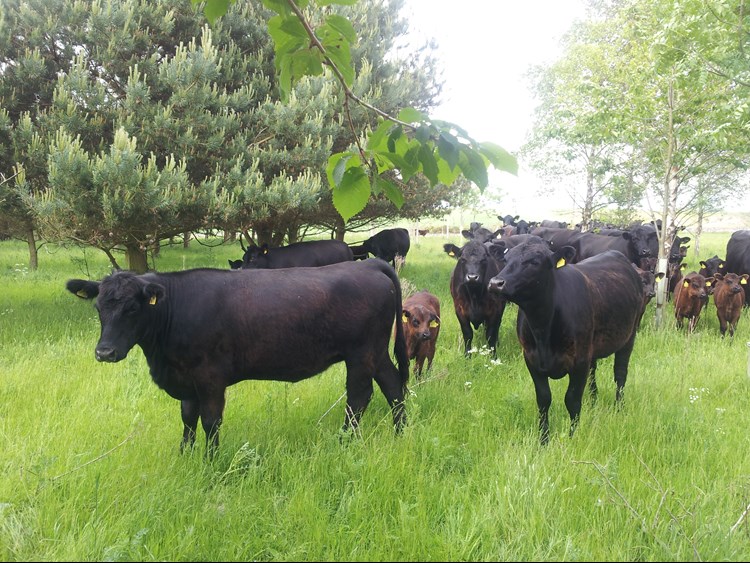 How do I go about sourcing trees to plant for my farm?
Organisations such as the Woodland Trust are able to offer support and assistance to farmers looking to plant trees on their farmland. Advisors are able to guide you through the process, and can provide more information about funding available for covering the costs of tree planting on farms.
Please note that you will need to contact your Certification Officer for permission to plant any trees which are non-organic. Once permission has been obtained, you will need to ensure that all substrate is removed from the roots before planting the trees into organic or converting land.
When choosing tree species, you should try to select trees which are local to your area where possible. Trees can be planted in existing hedgerows, in new plantations, or in the middle of fields. It's important to give consideration to native coniferous species, which may provide better protection for livestock during the winter months. Always ensure that adequate protection from grazing livestock is provided, and consider the implications for weed / grass control whilst the newly planted trees become established.