BOOM Winner – Café St Honore
Café St Honore is a real trailblazer for organic dining in Scotland. The restaurant was the first recipient of the 'Organic Served Here' award and it has now gone on to take top honours in the 2017 BOOM Awards Organic Eating Out category.
Described as "one of Edinburgh's best-kept secrets", Café St Honore serves the very best Scottish produce in an authentically Parisian-style bistro interior. Chef Director, Neil Forbes, and his kitchen team pride themselves on producing everything in-house using ingredients sourced from local producers and suppliers thus supporting the local economy and reducing food miles in line with their 'Slow Food' philosophy. 75% of the ingredients they use are organic and every dish they produce contains an organic element.
On finding out they'd been nominated for a BOOM Award, Neil said: "We're so thrilled to be shortlisted for a BOOM Award. To be included amongst so many other great places to eat is testimony, not just to the hard work the team at Cafe St Honoré, but to the small-scale producers, growers and true artisans who work hard to provide us with the finest produce our soils can grow. Getting to this stage is such an honour, and shows what a wonderful relationship we have with our producers."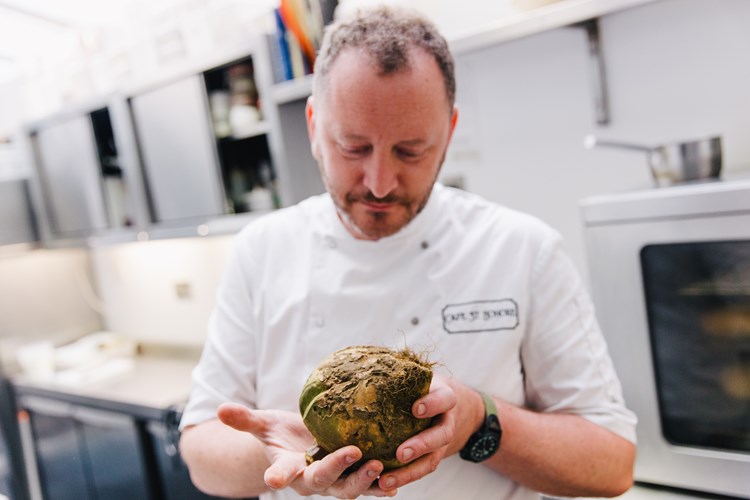 At Café St Honore the a la carte menu changes daily, reflecting the seasons. Sample dishes range from 'Isle of Lewis Mussels, Shallots, Garlic, Cream & White Wine' to 'Gartmorn Farm Free Range Confit Duck Leg, Braised Wing, Champ, Arran Mustard Greens.'
Neil is passionate about good food and describes cooking as an "emotional experience that uses all the senses". Born into a family of chefs, it was his granny's soup that first inspired a young Neil to get behind the stove, and inspires him still. Like the soup, the menus at Cafe St Honoré make the most of good, honest ingredients cooked simply. Organic is at the heart of the whole experience, with Neil saying "it's a way of life and we shout organic from the rooftops!"
Find out more at www.cafesthonore.com