Energising Snicker Doodle Donuts
These moreish bites are gluten-free, dairy-free and refined-sugar free. Recipe makes 24.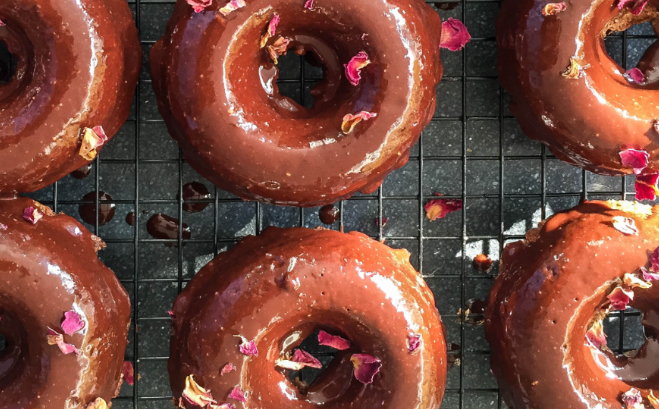 Ingredients
4 organic eggs
4tsp vanilla extract
660g unsalted nut butter
300g coconut sugar
200g oat flour
4tsp baking soda
4tsp maca
1/2tsp salt
For the glaze: 
3tsp peanut butter
3tsp coconut oil, melted
3tsp cacao
3tsp yacon syrup
pinch of salt
Method
1. Whisk the eggs, peanut butter and vanilla extract in a bowl along with a pinch of salt. 
2. Add the coconut sugar and whisk once more until well combined.
3. Now, add the oat flour and baking powder. 
4. Bake in a pre-heated oven for 12 minutes at 180C.
5. Take the donuts out of the form and cool on a rack. 
6. Whilst the donuts are cooling on a rack you can proceed with making the glaze. Simply add all the ingredients to a bowl and mix vigorously until you have a silky smooth chocolate sauce. 
7. Once the donuts have cooled completely dip them one sided into the sauce and sprinkle with some Of The Earth Superfoods for extra elegance.