Our BOOMbassador Rosie Birkett has shared her latest recipe, this stunning Romanesco tart - perfect for summer! Find out more about Rosie and the BOOM Awards here. 
"I am a little bit in love with romanesco cauliflower (also known as broccoflower). It is, to me, the most beautiful brassica of them all. Having first spotted it while working in Italy where it beautifies many a fresh-food market stall, I now buy it whenever I see it. Visually and texturally, it's a feast: its swirling green florets a cross between broccoli and cauliflower, and it works with the same ingredients as its siblings, being especially compatible with strong hard cheese. If you can't find romanesco, these little pies work just as well with cauliflower, or purple sprouting broccoli, or a mixture of both".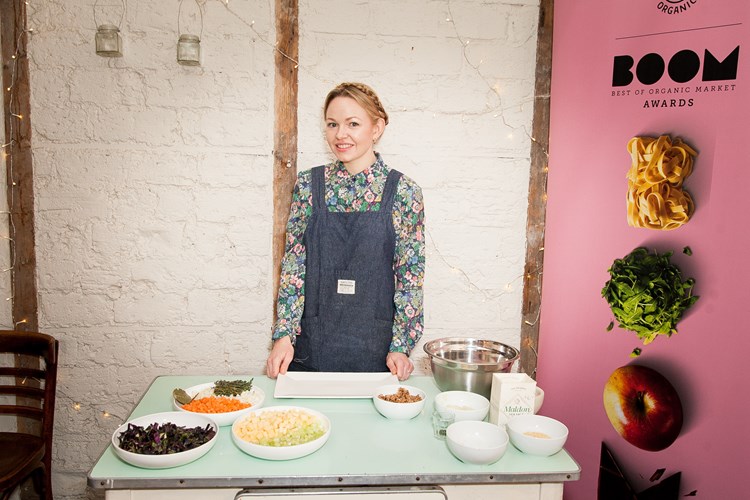 Ingredients
1 batch shortcrust pastry, chilled, (see recipe below)
For the pastry 
225g organic plain flour 
120g unsalted organic butter 
ice cold water 
butter, for greasing
plain flour, for dusting
For the tart
1 organic romanesco cauliflower, cut into little florets (remove the stalk, but save it to roast another time)
3 organic eggs
150g organic Pecorino, Gruyere or other similarly potent hard cheese, finely grated
30g organic parmesan, finely grated, plus more to finish
30ml double organic cream
150ml organic whole milk
pinch red chilli flakes
salt
freshly ground black pepper
Special equipment - 12-hole muffin tin
Method (pastry)
To make the pastry, sift 225g plain flour and a pinch of salt into a bowl, add 120g chilled unsalted butter, cubed, and lightly rub them into the flour until you have a breadcrumb consistency, or whizz the flour and salt briefly with the butter and lard in a food processor then transfer to a bowl. Make a well in the middle and add 2-3 tablespoons of cold water. Mix it in and gather the dough together with one hand to form a ball. If it's too dry, add another tablespoon cold water a drop at a time until the dough comes together. Wrap the dough in cling film and chill in the fridge for 30 minutes.
Method
Preheat the oven to 180°C and lightly grease the muffin tin. Roll out the chilled pastry on a lightly floured work surface to 2–3 mm thick and cut out rounds slightly bigger than the holes in the muffin tin. Line each hole with the pastry so that it's level with the top of each hole.

Chill the pastry for 15 minutes, then use a fork to prick the base of each case. Line with pieces of baking parchment and fill with baking beans. (Scrunch up the baking parchment before you line each case and it will be more pliable and fit more snugly into the holes.) Bake 'blind' for 10–12 minutes. Remove from the oven, remove the beans and parchment, and bake for a further 3 minutes to avoid a soggy bottom. Remove from the oven (keep the oven on) and leave to cool while you make the filling.

Blanch the romanesco florets in salted boiling water for barely 1 minute – just until it turns bright green – and drain. Crack the eggs into a mixing bowl and add the cheeses, cream, milk and chilli flakes. Season with salt and pepper, and whisk to combine. Divide the filling between the cooled pastry cases, leaving about 1 cm of space to add the romanesco and allow for the custard to expand.

Arrange the romanesco in the filling, keeping half of it above the filling for presentation (you want to see those gorgeous florets!) and grate over a little bit more Parmesan. Bake for 15–20 minutes, or until the custard is set and the pastry is golden and crisp. Cool on a wire rack.