Nominate Your Organic Hero
Nominate Your Organic Hero
Make some noise about your organic hero
More than just the amazing products, the BOOM's aim to celebrate the people leading change in the organic market today; people like chef's, bloggers, product development specialists, farmers, brand managers, buyers and journalists who are taking the initiative and putting organic front of mind.  We want nominations for the people you see are making a difference in organic, raising the profile and taking us to the next stage of growth.  Let's make some noise about our organic heroes!
Nominations are now closed. we will be announcing the winners at the Awards Ceremony on July 5th. 
Categories 


Organic Food Blogger
Sponsored by Health Bloggers Community
We're looking for the person who talks organic and cooks organic; the person that recognises what's important and shows how you can use organic in your day to day recipes.  We want someone who is creative and has inspired their followers to cook organic.  We want to know their followers, their reach, why you feel they make some noise about organic and social media accounts.  If you are a blogger and you think you meet the criteria, ask your readers or followers to nominate you! 
Organic Market Innovator
This is the award for those people that are changing the industry.  It could be a new product development specialist developing exciting new ways to eat and buy organic, it could be a Brand Manager who champions organic or it could be a Buyer who pushes the category forward.  It could be a Commercial or Marketing Manager, where they can show that their formats / business plans / investment in organic are leading market growth or opening up new territories.  It's about innovation and change and that's what we'll be looking for in the submissions; who's going to be driving the market growth in 2020? 
Organic Rising Star 
Sponsored by Balanced Magazine
The Organic industry thrives on ideas, creativity and change right back from when the movement started, to the amazing brand founders in the 1960's and 70's to the chefs, new brands and retailers and producers of today.  We want to recognise those people in the early stages of their organic careers who are leading the change, full of ideas that they are using to change the market, launch new products, develop new stores.  Who will be our industry leaders of the future?  Let us know the people in your business with the passion and drive to make a lot of noise about Organic.  Tell us what they do and why and send us the links to their work.
Organic Farmer of the year (New for 2017!)
Sponsored by Yeo Valley
Without Farmers, there would be no products and no market.  The backbone of our industry, we're looking for the Organic Farmer who has made an outstanding contribution to organic farming this year.  This could be through new ways of doing things, approaching the market differently, being a voice for the industry.  It can be any size or type of Farmer, new or established within organic, a family farm or a business.  It's the people making a difference and taking the industry forward whether that's through participating in our charitable work, our innovative farmers programme, involvement with food for life or developing new business opportunities, we want to hear about them.  Please tell us the background, what they are doing and why you feel they are the organic farmer of the year.
Make some noise about YOUR organic heroes!
It's free to enter and totally anonymous to nominate someone, all you have to do is fill in the form below. 
With thanks to our sponsors: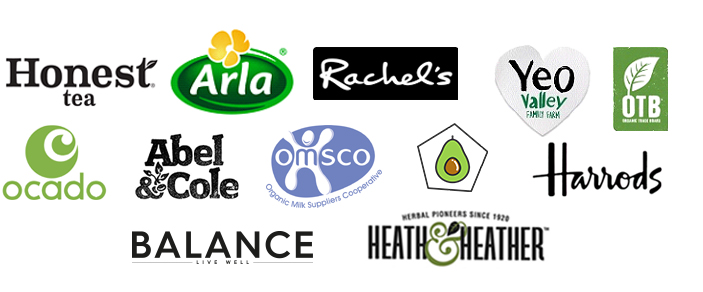 In this section...
Organic food is something I am really passionate about and I can't wait to see and try some of the best at this year's BOOMs!

Rosie Birkett - cook, writer and 2017 BOOMbassador
Do you have a question?
Call the team on 0117 914 2414
Find out more