Local routes to market in the public sector

Local routes to market in the public sector
Local authorities and suppliers across Scotland are working together to boost the local economy and to get more good food into school meals
Supplying produce to the public sector, including for school meals, is an excellent route to market for suppliers.
Partnership examples from Argyll and Bute and East Lothian demonstrate the mutual benefits of short, local supply chains. 
By starting small and reaching out to existing contacts, suppliers can explore public sector opportunities.
Jayne Jones, Commercial Manager at Argyll and Bute Council and Chair of Assist FM, says: "We want food that's sustainable, healthy and nutritious so that we can make good quality hot meals for our children and young people."
Short and local supply chains are good for the economy, the environment and for health. And, as the impact of the coronavirus pandemic has shown, they are also more resilient. The Scottish Government and Scottish local authorities are actively seeking to source more of the food that goes into school meals as locally as possible – making the public sector an excellent route to market for Scottish suppliers.
"Collaborative procurement and shared services have a key role to play in saving money to protect front-line public sector services," says Sam Whitehead, Senior Procurement Specialist at Scotland Excel. "A strategic approach to procurement also supports and encourages innovation in service delivery, and brings wider environmental, economic and social benefits to communities."
Putting good food on school plates is one key example of these wider community benefits. And it's one that local authorities across Scotland are working hard to achieve through the Food for Life Served Here award. Jayne Jones, Chair of Assist FM and Commercial Manager at Argyll and Bute Council says providing that sustainable and nutritious food doesn't simply happen in school kitchens; it's delivered through the entire supply chain.
Jayne says: "I have a big ambition: to make sure every child in Scotland receives school meals that are hot, nutritious, tasty, locally produced, sustainable – but within public sector budgets – using food that's good for their health, good for their communities, and good for the planet."
For Scottish producers and suppliers, schools in Scotland represent a market of 2,500 different units, serving 350,000 meals every day. Outside of pandemic times, schools and health care settings represent 26 percent of meals served outside the home in Scotland. It's a lucrative market – and a growing one, as increased provision of free school meals is rolled out to all children in P1–3.
Local authorities offer Scottish suppliers an excellent route
to market
Working with local authorities can offer producers and suppliers good business opportunities, and it's not always as tricky to access contracts with them as is often thought to be the case. In Food for Life Served Here (FFLSH) Bronze award holder Argyll and Bute Council area, 83 percent of the Council's corporate and education spend is on contract. In 2019/20, 67 percent of the Council's procurement spend was with SMEs. The Council have been working with local suppliers for many years, providing opportunities in ways including using smaller lots – such as individual islands – for geographical areas, holding supplier engagement events to talk directly with suppliers, and helping suppliers navigate the tendering process.
Jayne says the public sector, particularly school food, is a great opportunity for suppliers: "We want supply outwith peak hospitality times. We're shut in the summer, Christmas and Easter – but we want the supply the rest of the year. We aren't going anywhere, so that makes us reliable. And we largely pay our bills on time, so we're a good way of regulating cashflow for business."
One of those businesses is family-run fresh produce wholesaler, JM Breckenridge, which is based in Oban. The business initially supplied schools in Oban and have since expanded to supply sites in Campbelltown and Dunoon for Argyll and Bute Council. Scott McDonald, Partner at JM Breckenridge, says "The contract grew by almost 50 percent over the past five years. There are lots of benefits to working with the Council, including guaranteed payments and guaranteed volumes. With a local authority contract, you know what products you're going to use, and it enhances your blend of customers and consolidates your customer base."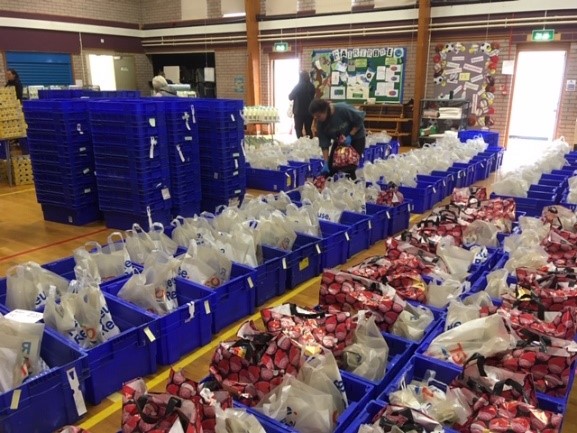 Picture: Argyll and Bute Council worked with local suppliers like JM Breckenridge to get food to those who most needed it during the pandemic.
Scott says this customer blend between hospitality, retail and the public sector has been crucial during the pandemic. While hospitality experienced a downturn, shops and local authorities still needed supplies. "We were only able to meet the food needs of our communities through our local food partnerships and it was those relationships that kept the food going to doorsteps," says Jayne. "It was the local food that was so important, and our relationships with local suppliers like Breckenridge that got us through the pandemic. That enabled our communities to feel supported and cared for, and that is what mattered.
"It's all about people and it's all about relationships, and while that might be true of most commodities, I think it's even more important when we're talking about food and drink. We want food that's sustainable, healthy and nutritious so that we can make good quality hot meals for our children and young people. And that food will only get like that if people care about what they're doing with it, and that starts at the very beginning of the food chain and ends with empty plates, little or no food waste, and full bellies."
Public sector and supplier partnerships are mutually beneficial in East Lothian
Lorraine Faulds, Senior Officer, Facilities Management Services at East Lothian Council, says she has seen similar benefits to working closely with local suppliers. "We're very lucky in East Lothian to have a lot of growers locally and we have held the Soil Association's FFLSH Bronze award since 2013, meaning that we've consistently provided sustainable food on our primary school menus" she says. "A huge part of us being able to achieve and maintain the Bronze award is down to the hard work of our local distributor of fruit and vegetables, George Anderson and Sons. As our sole supplier of fruit and vegetables, the business continually works on our behalf sourcing produce as locally as possible. And an added bonus is that they too are based in East Lothian, so we're also supporting a local employer."
Fresh produce distributor George Anderson and Sons is based in Macmerry, East Lothian, and currently supplies five local authorities in East and Central Scotland. Ken Wright, Sales Manager at George Anderson and Sons, says "our default position is always to buy local produce wherever it's available, so we're always looking for new suppliers to give us these products. We really appreciate the regular business and the mixed customer base of hospitality, retail and the public sector – it's a great way of working. Scottish produce makes up 45 percent of our sales to East Lothian Council this year, which is great to see; why would you buy things from outside Scotland if you can get it inside Scotland?"
Lorraine acknowledges that shrinking budgets in local authorities are a factor, but says the Council works hard to find ways to make contracts work and pay a fair price. She says suppliers looking to provide produce to local authorities could work collaboratively with other suppliers and distributors to get products in. She acknowledges the tendering process can be complicated, but Scotland Excel and councils are there to offer advice. And it's a two-way process: local authorities want to buy local produce and wholesalers like George Anderson's offer the expertise to deliver this. "We really couldn't continue and progress with Food for Life without a supplier like George Anderson," says Lorraine.
How Scottish suppliers and producers can navigate public sector opportunities in school meals
Scottish suppliers and producers looking to supply the public sector can take some simple steps to access this beneficial market. Ken says bidding for a Scotland Excel framework contract, for example, can be challenging at the beginning, but is well worth it. The Supplier Development Programme's Gillian Cameron says a key goal of the SDP's programme is to improve the tender readiness of local suppliers looking to access the public sector market, and to help them seek out contracts in the sector. Jayne's advice for local authorities looking to get started is to "pick up the phone to see who the contacts are in your local council if you don't already know, or talk to the team at the Soil Association. Have a look at Council websites to see if you can get a bit of a feel for what they do around food and drink. Just speak to people who you already know, start small and take it from there."
Related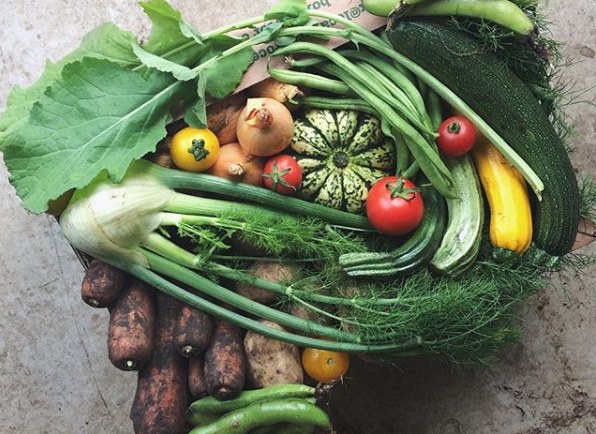 Coronavirus: how Argyll and Bute Council's focus on fresh and local food kept communities fed
Read more