Coronavirus: Flexibility is key for George Anderson & Sons in challenging times

Coronavirus: Flexibility is key for George Anderson & Sons in challenging times
"We just made the decision one morning and off we went"
Like many food wholesalers across Scotland, George Anderson & Sons saw a significant drop in demand for produce from the public and hospitality sectors when lockdown hit.
The crisis gave the company the push they needed to set up a home delivery offer for the first time.
As a smaller, family-run company, they found that their flexibility gave them an advantage.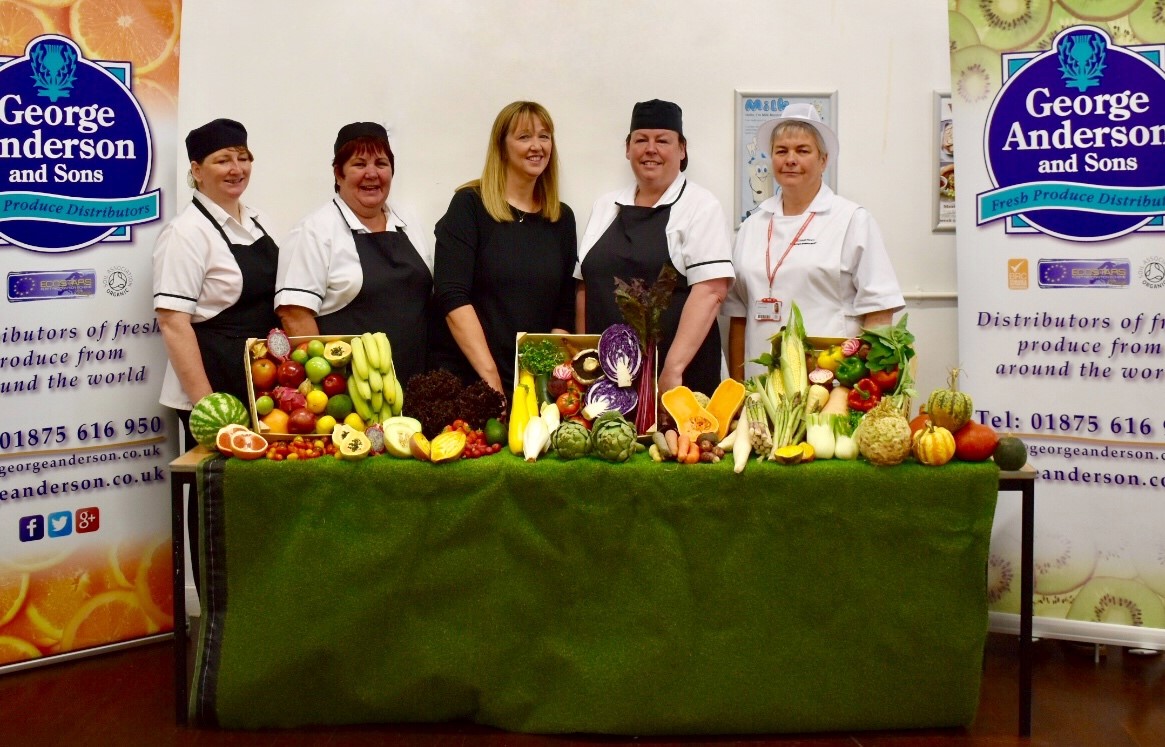 Image: Prior to the lockdown, the team at George Anderson & Sons took their fresh fruit and veg roadshow into schools.
Like many food wholesalers supplying schools, universities, hotels and restaurants, fresh produce distributor George Anderson & Sons saw the bulk of their business disappear "instantly" when the country went into lockdown in March.
With only a few hub schools open, councils are making far fewer hot meals. Some demand for produce to be included in food packages continued – primarily fresh fruit, along with some eggs and bread, but at far lower levels than before. "We've taken a huge hit", says Ken Wright, Area Manager.
With most of their usual customers out of action, the Tranent-based company had to adapt quickly. "We had a warehouse full of fresh produce, and we were thinking: "what are we going to do with this stuff?", says Ken. "But when you see people that are not able to get out the house, you want to help them. So, we started doing home deliveries."
Pivoting to a new model
George Anderson & Sons had previously considered offering home deliveries, but the time had never felt quite right. The lockdown gave them the push they needed to make it happen, and they found that their flexibility gave them an advantage.
"As a smaller, family-run company we can make changes quickly," says Ken. "We just made the decision one morning and off we went."
"We've got an online website that you can click away and get your order delivered to you next day or the day after. A lot of people are coming back as repeat customers. We've got accounts open for private residences, which we've never really thought about doing before."
The fall in demand from usual public sector clients has freed up the company's drivers to handle more private deliveries. And with some staff on furlough, the company has instituted physical distancing measures for the remainder of the team.
Ken says, "Our office is manageable. We've got plenty of space for the packers in the warehouse. People have access to PPE – gloves, hand sanitisers, masks, wipes for their desks. It's all quite doable.
Searching out local produce
With their new model up and running, George Anderson & Sons didn't rest on their laurels. They've been actively searching for new local produce to offer to customers. Ken says, "We've got six or seven new local companies on our website that we didn't deal with before. There're new suppliers being added in all the time, like McKirdy Brothers Butchers, Yester Farm Dairies with cheeses and yogurts, Edinburgh Preserves doing jams and jellies. There's a lady in East Lothian who does spice mix pots."
At the same time, local fruit and veg is coming into season. Fresh English asparagus and Scottish tomatoes are in stock, with berries on the horizon. "We've got lots and lots of lovely East Lothian rhubarb at the moment. Cauliflower is a wee bit short, because of the lack of rain, but it'll come back."
Ken is optimistic for the future of George Anderson & Sons new model. "I don't think our home deliveries will ever finish now, I think it's up and running and it will continue. It's about being flexible enough to meet and respond to the challenges that are coming up. You never know what's going to be next."