Coronavirus: how Argyll and Bute Council's focus on fresh and local food kept communities fed

Coronavirus: how Argyll and Bute Council's focus on fresh and local food kept communities fed
"We need to normalise using the food chain to make sure we support our local suppliers."
Argyll and Bute Council's emergency response to the coronavirus crisis involved setting up food hubs across the region. 
They used local suppliers to source the produce they needed to supply school meals and get food to the region's most vulnerable people.
They supplied a combination of fresh and ambient parcels, prioritising high quality fresh produce and varying what was included.
As the Council looks ahead to schools reopening, the focus will remain on food that's good for health, good for the environment and good for the economy.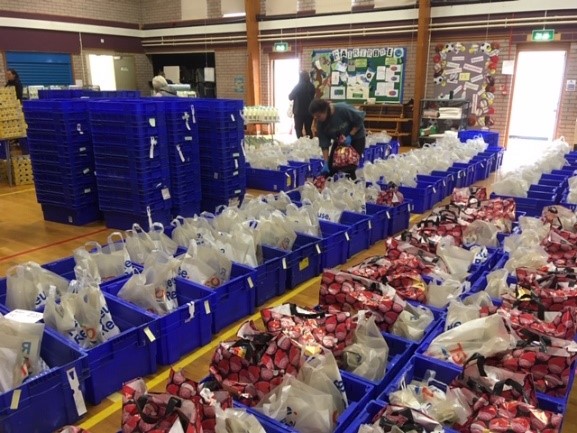 Picture: Fresh food parcels ready for delivery at one of Argyll and Bute's food hubs.
CREDIT: Argyll and Bute Council.
As a local authority coming up on its eighth year as a Food for Life Served Here award-holder, Argyll and Bute Council has already demonstrated a long-term commitment to putting freshly prepared and locally sourced food on the public plate through its school meals service. But, like everywhere else in the UK, the Council's catering service was disrupted by the effects of Covid-19.
When the lockdown first hit, the council went into "emergency response" mode. As Christine Boyle, Catering and Cleaning Officer at Argyll and Bute Council says, "we basically asked ourselves: "where can we get food, and how can we get it, and how soon can we get it?"
The Council had 12 school hubs open for pupils that were children of key workers and to provide free school meals in those areas for those entitled to them. At the same time, they began providing ambient boxes of food to members of the community that were in isolation or were vulnerable, and, according to Christine, were quickly providing about five or six hundred of the ambient boxes each week. From the middle of April, fresh food parcels were added to ensure a supply of fruit and vegetables, as well as chilled items such as dairy, to those who were shielding.
As Christine explains, accurately identifying individuals' needs was key to being able to meet them. A helpline was set up which people could call if they were in need of food or support, and dedicated food coordinators in each area would assess the most appropriate provision from a range of options including the food parcels, access to the Council's credit facility with the Co-op, or help obtaining a slot for food deliveries.
Supporting Local Suppliers
With their provision in place, the team didn't rest of their laurels. As Christine explains: "While all this was going on, we were also feeding free school meal pupils, and we were looking at how could we do it better. We slowly started removing the free school meal provision and providing those households with the food parcels instead. It meant that the whole household was getting fed, rather than just one or two people within it."
With the addition of free school meal households, the Council were sending out approximately 3,000 fresh food parcels and 2,000 ambient food parcels by the beginning of June. Christine was determined that the content for the food packs should be sourced in a way that supported Argyll and Bute's local suppliers as far as possible.
"We had an arm of the project called 'Food from Argyll, for Argyll', which was looking at any suppliers within Argyll that we could support by buying products from them to put into our food parcels. In the ambient boxes we supplied potatoes from JM Breckenridge, who are based in Oban. We also included bread and rolls – the rolls are made here by Black of Dunoon. And in fact, buying those local rolls has meant the bakery was able to bring someone off furlough and back to work."
The Council were also able to work with some local suppliers for the first time. Island Bakers on Mull supplied biscuits for the ambient parcels. They've since received orders from some care homes in the region. Christine says some of the parcels also included shower gel and soap packs from Purdie's of Argyll. The business reported increased interested in their products as a result. These new relationships speak to the determination of the Council to not only support local people, but the local economy, too.
Prioritising high quality fresh produce
For the fresh food packs, fruit and vegetables were sourced from JM Breckenridge. Eggs were also included, as well as chilled dairy products such as Kintyre cheese (until demand exceeded supply) and Graham's Dairy milk, butter, and yoghurts.
Jayne Jones, Commercial Manager at Argyll and Bute Council, believes that the quality of the fresh food parcels was key to making sure their community felt supported. "Providing that local fresh food produce was what people really valued. Yes, they needed tins of soup and packets of pasta and basics or cupboard essentials. But the quality element of it is what mattered most, and the wider benefits to our communities of keeping businesses running was another key factor."
As the weeks went on, Christine made a conscious effort to vary the contents of the fresh food boxes depending on what was available. After a box which included Scottish strawberries and cream, members of the community got in touch to express their appreciation.
Jayne says "We had a call from someone who was shielding and has a son with special needs. He told us that he used to look upon the council as a faceless entity, but his view had been completely turned around by the caring and personal support his family had received in this difficult period.
"He even told the call handler about how lovely it was to receive the Scottish strawberries and cream in the fresh food parcel from the council. He and his son kept a couple of strawberries back and planted the seeds. So that whole community food element has been captured in some of these parcels."
"They're doing more than supplying our food; they're supporting the whole project"
Christine says that the bigger national suppliers, who supply much of the content for the ambient boxes, have been "really supportive and reactive". They've done everything they can to help; but some stock hasn't always been available when the Council needed it.
"Our fresh parcels, which are fully supplied by local suppliers, have been the easy ones. They're contacting us on a weekly basis with stock updates, letting us know what's on offer. The number for the parcels varies week on week and Breckenridge are right there, giving us more product if we need it, or taking away product we haven't used."
And it hasn't just been simple food provision. The local suppliers have also helped with transporting packed food between hubs, or picking up and re-distributing the tote bags that Argyll and Bute have been using for their fresh food parcels.
Christine is clear that the Council couldn't have delivered their emergency response without the support and "can do attitude" of their local suppliers. "They have been absolutely unbelievable. Whatever we need, they have fulfilled the ask and more. The suppliers aren't just supplying our food. They're supporting us and the whole project."
Moving forward with a focus on 'good food'
As the Council moves out of the emergency situation and into recovery, it's not yet clear what service will look like in the long term. Planning is continuing at pace ahead of the schools' return in August, and Jayne is clear that, for Argyll and Bute, the focus is on providing "good food" as soon as possible. By that she means "good quality, sustainable, locally produced freshly made hot food available across as many schools as we can, and provided to as many children and young people as possible."
One thing both Jayne and Christine are sure of is that the Council will continue its commitment to supporting local suppliers where possible. As Jayne says, "we need to make sure that we focus on food that's not only good for our health, but helps to drive those bigger agenda items through supporting the local economy and protecting the local environment.
"We need to have a firm eye on the long term aims of our food and drink industry to help build a more sustainable future so that if crisis hits again, we're better prepared. We need to normalise using the food chain to make sure we support our local suppliers, and channel income into our local economies and help them to thrive."
For Christine, that's something that was front and centre from the very start of the crisis. As she explains, "The community food team was made up of people from all departments. So, although we were in an emergency situation and had to get food where we could, I needed to make sure I was protecting my suppliers and the relationships I have with those. And I think we've done that. It has brought people closer together."